Nothing says "freedom" quite like a hot dog and a parade. At Rexburg's Fourth of July parade next week, you can get both — free of charge. Local accountants and business consultants Rudd & Company will be giving out hot dogs and water to nourish parade-goers at next week's Fourth of July celebration.
"We just wanted to give something back to the community," says Blayne McArthur, CPA and partner at Rudd & Company.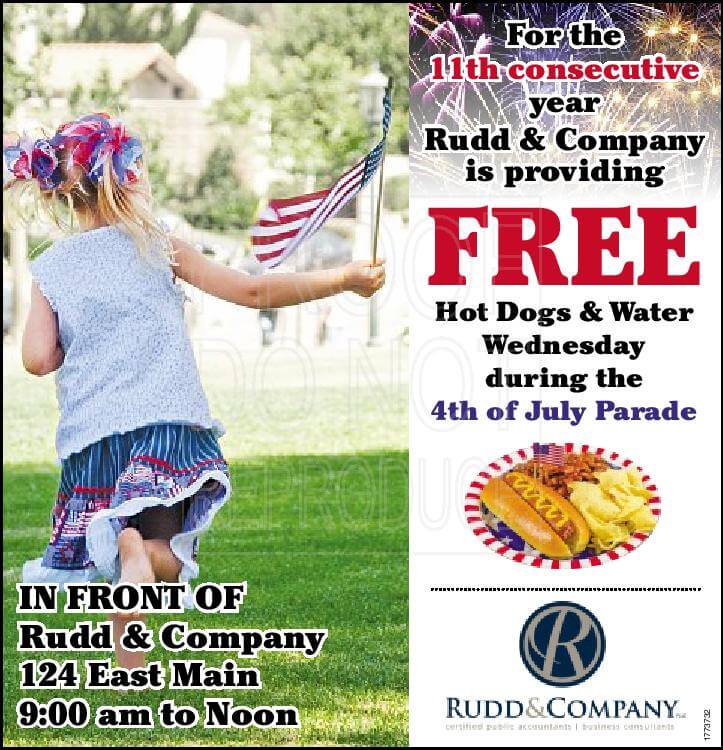 If you have been to the Rexburg Fourth of July Parade in the past, then chances are you've seen them; Rudd & Company has been giving away free hot dogs for 11 years now. Hopefully, this year you'll be lucky enough to snag one.
McArthur and the other CPAs will set up a couple of grills and serve hot dogs in front of their office at 124 E Main St. They plan on serving 1500 hot dogs and handing out 1800 water bottles between 9 a.m. and 12 p.m. — or until they run out. And they calculate that they will run out pretty fast.
"We usually don't have many hot dogs left over," says McArthur.
You know have one more delicious reason to go see Rexburg's Fourth of July Parade next Wednesday. Be sure to arrive early to get a good spot, set up your chair and grab yourself a free hot dog and water courtesy of Rudd & Company.
"We wanted to give a nice gesture to all the families for the Fourth of July," says McArthur. "We like the people we work with. It's just something to give back to the community."