This recap story originally published on GameChanger. It has been used with permission.
A walk-off left Madison Bobcats Varsity on the wrong end of a 7-6 defeat to Jerome on Thursday. The game was tied at six with Jerome batting in the bottom of the seventh when #18 doubled on a 1-1 count, scoring one run.
Despite the loss, Madison Bobcats Varsity did collect 12 hits in the high-scoring affair. Unfortunately, Jerome had 12 hits on the way to victory.
Madison Bobcats Varsity got things moving in the first inning. Matt Hansen singled on the first pitch of the at-bat, scoring one run.
Bos got the start for Jerome. He surrendered five runs on nine hits over six innings.
Davis Berry got the start for Madison Bobcats Varsity. He allowed four hits and three runs over two innings, striking out four and walking one. Trey Holloway and S entered the game as relief, throwing four innings and two-thirds of an inning respectively.
Madison Bobcats Varsity collected 12 hits. Jaden Schwab, Carter Boice, Nick Fullmer, and Hansen each managed multiple hits for Madison Bobcats Varsity. Boice and Schwab each managed three hits to lead Madison Bobcats Varsity. Madison Bobcats Varsity was sure-handed and didn't commit a single error. Hansen made the most plays with nine. Schwab led Madison Bobcats Varsity with three stolen bases, as they ran wild on the base paths with nine stolen bases.
Jerome tallied 12 hits on the day. Craig and Cryer each racked up multiple hits for Jerome. Craig went 4-for-4 at the plate to lead Jerome in hits.
"Powered by Narrative Science and GameChanger Media. Copyright 2018. All rights reserved." Any reuse or republication of this story must include the preceding attribution.
Batting/Fielding Individual Stats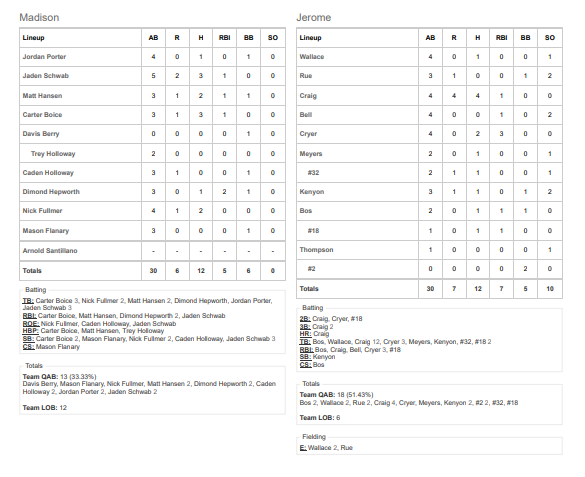 Pitching Individual Stats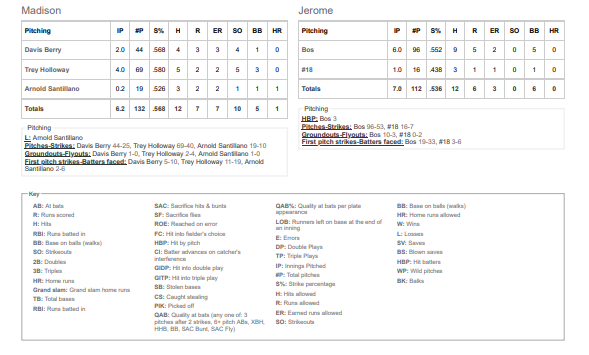 Photos courtesy of Van Visual Media.