The Rexburg community and schools will be participating in a the Start With Hello campaign this October 28th through November 1st.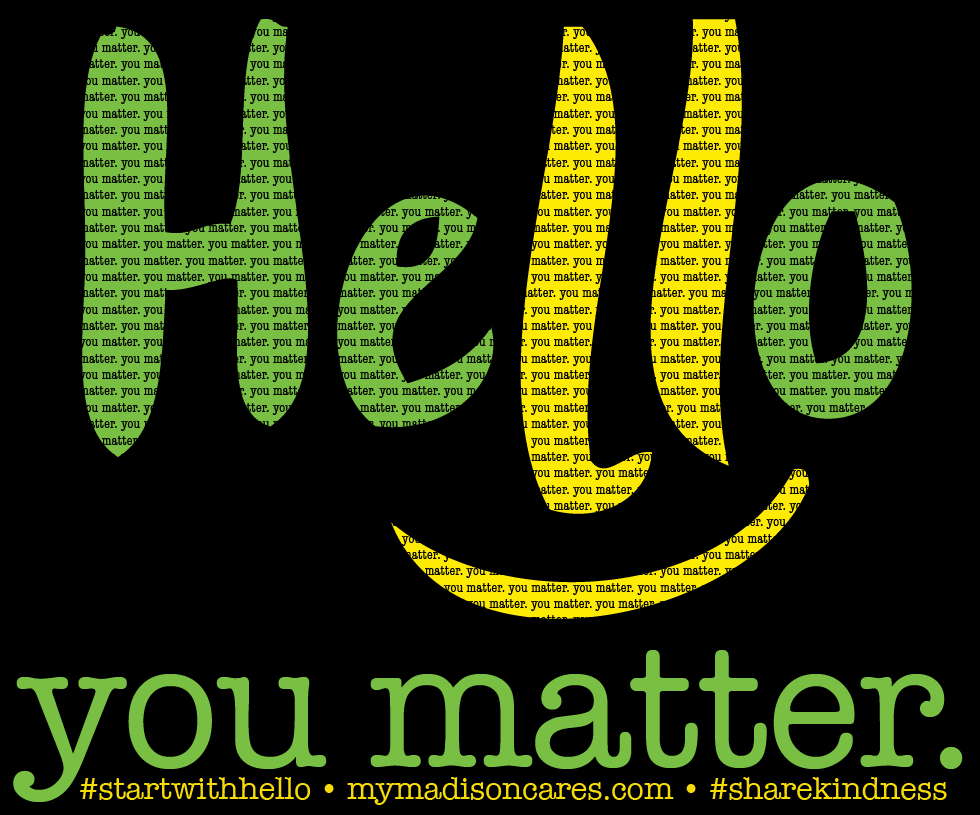 What Is Start With Hello?
The goal of the Start with Hello campaign is to encourage people to not only reach out, connect with people, and create a culture of social inclusion. But to recognize signs of isolation and loneliness in children, youth, and adults. Social isolation is the overwhelming feeling of being left out, lonely, or treated like you are invisible. It is a growing epidemic in the United States and within our schools and communities. Excessive feelings of isolation can lead to negative outcomes. In fact, one study reports that chronic loneliness increases our risk of an early death by 14%. Furthermore, people of all ages who are isolated can become victims of bullying, violence, and/or mental illnesses such as depression or anxiety. As a result, many pull away from society, struggle with learning and social development, and/or choose to hurt themselves or others.
The campaign organizers encourage the community to embrace the Start With Hello campaign as a business, organization, club, or citizen of Madison County. Help break down barriers, one word at a time, by starting with hello!
For more information on Start With Hello campaign and the events that will be taking place throughout the week, visit mymadisoncares.com/start-with-hello. They are inviting the community to join their efforts and activities, or come up with your own for your business, group, or family.
How Can Businesses Help?
The hope to cover Rexburg in the spirit of kindness and hello.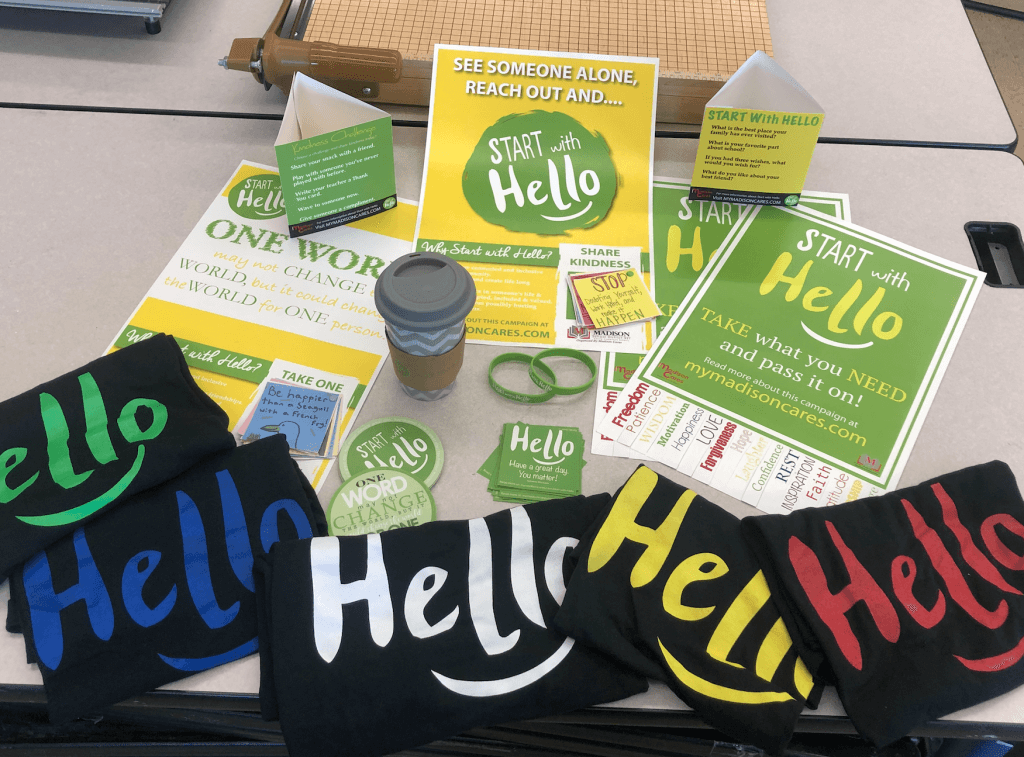 Businesses can change their marquees or outdoor signage during the week of the campaign (October 28-November 1). The can change them to say "HELLO REXBURG" or "WE SUPPORT START WITH HELLO" or "HELLO FROM (insert name of business here)". If you or your business does this, send them a picture so they can promote it on their platforms!
Contact the organizers for FREE promotional materials to post or handout in your business. Materials include posters, pass-along 'Hello' cards, a-frame signs, table toppers, coasters, and drink sleeves.
Add a message about this campaign to your website, newsletter, employee blast/meeting, and/or social media.
Offer a promotion or discount to go along with the campaign for students or all community members. For example, last year, The Craze offered a FREE game of laser tag for everyone that came in and said "Hello."
Donate items or gift cards that can be used as giveaways and promotions for participating students throughout the week.
Purchase "HELLO" shirts through Madison Cares for your employees to wear throughout the week. *Shirts are $8 each.
Plan your own "HELLO" themed activities for your employees or participate in the schools activities and themed days. Share these with the organizers so they can share them on their social media.
Contacts & Outreach
Send any photos of your group participating to goudyj@msd321.com or 208-881-8602 so they can be added to their platforms.
If you do any sort of promoting of this campaign on your social media, be sure to use the hashtag #startwithhello.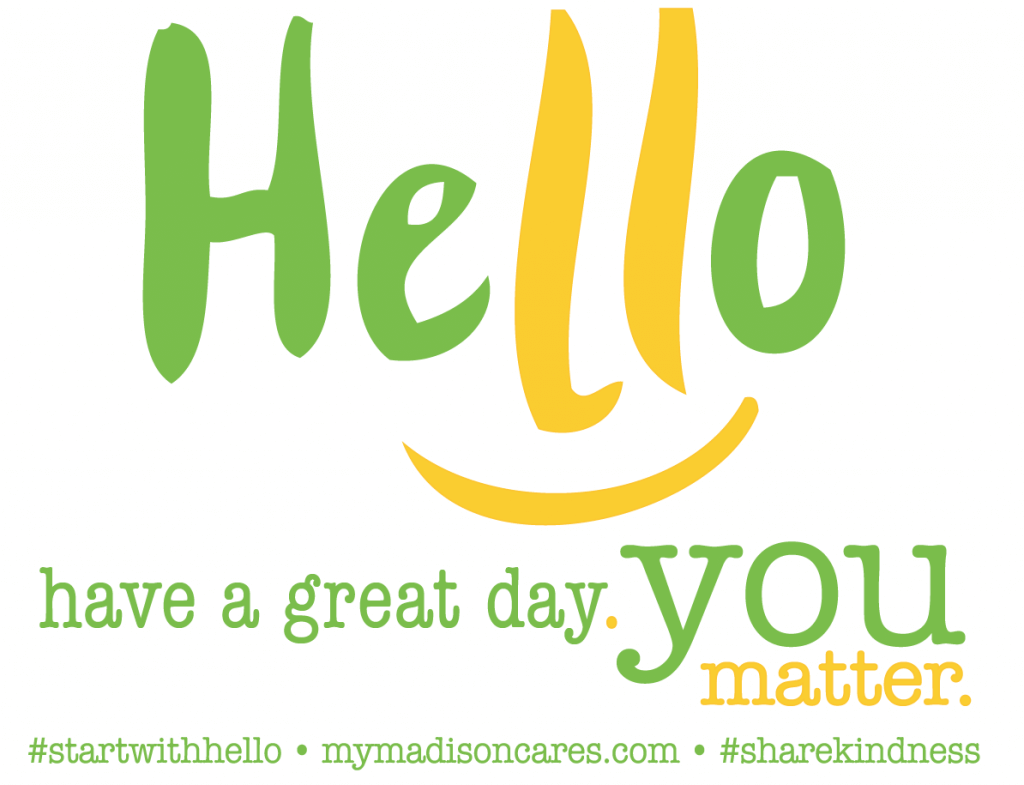 Participation In "Start With Hello" Events
They organizers will have groups at each school every morning at 7:40 a.m. for morning "Hello's". If you would like to send representatives from your business, feel free to just send them over to a school! There will be a team there to meet them and provide direction.
If you would like to participate in the "No One Eats Alone" day, please message Jessica and she can get you added to a list at a school. School lunch will be provided that day as a 'thank you' (Nov. 1).
School Lunch Times For No One Eats Alone Days
Adams Elementary – 11:25 a.m. – 12:50 p.m.
Burton Elementary –  11:35 a.m. – 12:40 p.m.
Lincoln Elementary – 11:30 a.m. – 12:40 p.m.
Kennedy Elemenatry – 11:30 a.m. – 12:50 p.m.
Hibbard Elementary – 11:30 a.m. – 12:30 p.m.
South Fork Elementary – 11:30 a.m. – 12:45 p.m.
Madison Middle School – (5th Grade) 11:05 a.m. – 11:50 a.m. / (6th Grade) 12:05 p.m. – 12:50 p.m.
Madison Jr. High – 1st Lunch 10:33 a.m. – 11:03 a.m. / 2nd Lunch 11:37 a.m. – 12:07 p.m.
Madison High School – 11:35 a.m. – 12:15 p.m.
Central High School – 11:45 a.m. – 12:30 p.m.