The days are finally getting longer, and the sun is getting hotter. One of the best things about living in southeastern Idaho is you don't ever have to worry about finding a good spot to get your feet wet and cool off. Here's a guide to 15 of the best swimming spots to splash into!
1. Rigby Lake
Rigby Lake is the perfect swimming spot if you're looking for a day of fun in the sun. One of the nice things about Rigby Lake is the many on-site amenities. They have everything from volleyball courts, tennis courts, beach areas, picnic tables, and more!
2. Cable Factory
The Cable Factory is located right outside of Rexburg and it's the perfect spot for any adventure enthusiast. The Cable Factory is a wakeboard cable park that also has rails and jumps for riders to go off. Wakeboarding isn't the only thing the Cable Factory offers, though. They also have paddle boarding!
3. St. Anthony Sand Bar
The Sand Bar is located on the Henry's Fork of the Snake River and it has a beach area to lay out in if you're trying to get your tan on! When you're ready to cool off, you can jump off the diving board and get your swim on!
4. Fun Farm Bridge
You can't live in Idaho until you've been bridge jumping and Fun Farm Bridge is just the place to do it! You can either jump off the bottom platform of the bridge or you can climb the rails to the top and jump from the top of the bridge. Make sure you only jump if you're a strong swimmer and the current is slow.
5. Packsaddle Lake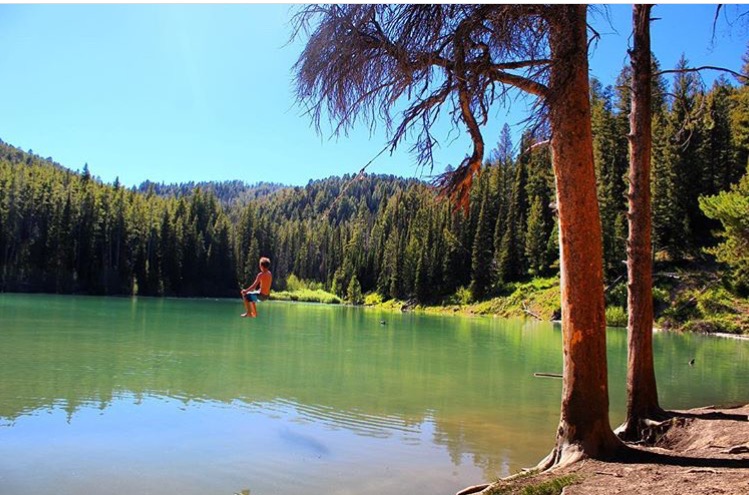 Packsaddle Lake is located near Driggs and it's a great swimming hole to cool off in after your hike up. One of the best things about this swimming spot is the rope swing going into the lake.
6. Warm Slough
If you and your friends are looking for something to do on one of those hot Saturdays, grab some inner tubes and float the Warm Slough. Floating the Warm Slough can take anywhere from 45 minutes to an hour and a half, depending on the speed of the current.
Check out Where to float the river in Rexburg this summer for even more exciting places to float the river!
7. Rexburg Rapids
Rexburg Rapids is Rexbug's local waterpark. The waterpark has a swimming pool, a water slide, and a rock wall! Grab your family and friends and enjoy the sun!
8. Egin Lakes
This lake is a small swimming spot located near the Saint Anthony Sand Dunes. Egin Lakes is a lot more shallow than a usual lake, but it is the perfect spot to lay out in the sand and enjoy some UV rays!
9. Palisades
The palisades reservoir is near Swan Valley. You can go boating or fishing here. Or if you're looking to get your daily exercise, you can take the 13-mile round-trip hike into the upper palisades.
10. Twin Bridges
Twin Bridges is another spot to go bridge jumping if you need a quick cool off! Make sure the water is deep enough and you are in a safe spot to jump.
11. Aldous Lake and Hancock Lake
Aldous Lake is located near Spencer Idaho, which is about an hour away from Rexburg. There is a short 4.3-mile hike to Aldous Lake, which is great to do with your friends or family for a day trip!
12. Horseshoe Lake
This is another great lake if you're looking to go fishing, but it's also a great place to go canoeing or kayaking. You can rent both from the BYU-Idaho's Outdoor Resource Center.
13. Fall River Bridge
This is a great spot to cool off and enjoy some fun in the sun! There is a rope swing that goes into the water and there are several places to explore around!