The Best Sushi In Rexburg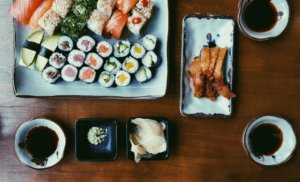 Has this ever happened to you? You're walking with a friend talking about where to eat. You bring up the new sushi place down the street. You've heard it's the best sushi in Rexburg. They say, no let's go to the other one, it's better. But, if you really think about it, most opinions about restaurants are pretty subjective. Really they come down to the experience one has at the place.
Sushi in Rexburg is divided up between two venues, Dong's and Da Pineapple Grill (technically you could count Broulim's, but we aren't savages). People I've met generally go down to Idaho Falls for their sushi. But who really has time for that? As someone trying to save gas, it's been important for me to find the better of the two in town. But, sushi doesn't have to be some food war like Costa Vida and Café Rio. Believe it or not, your experience can be great at both venues. You just need to know what to order.
Dong's Sushi Bar & Asian Fusion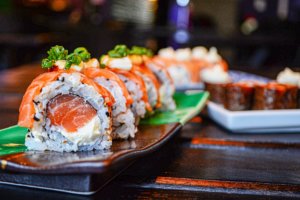 Dong's Sushi Bar and Asian Fusion resides in the Teton River Village strip mall outside FatCats. It's honestly a great place to go before a movie date. Dong's works primarily as a sushi joint with an Asian fusion add-on. The atmosphere is very Japanese with chibi drawings and cartoons covering the wall. Dong's is the most authentic of the two sushi restaurants and offers more in the way of variety. The prices at Dong's are also better, but there is a trade off. The traditional rolls lack in quality. The taste of the basic sushi rolls pales when compared to other places.
Tricks for Eating at Dong's
Don't let that dissuade you though. Dong's has more than basic rolls to offer. Dong's real appeal is its deep fried and specialty sushi rolls. The taste is untouchable. Tripadvisor recommends patrons try the Volcano roll but personally the Rock roll has always been my favorite. Both lean toward the spicy side, so, if you're not a fan try the Hawaii Summer roll. If your a fan of specialty rolls and a bit of a kick stop by Dong's Monday through Saturday from noon to 9:00 p.m.
For full prices and menu Dong's Sushi Bar.
Da Pineapple Grill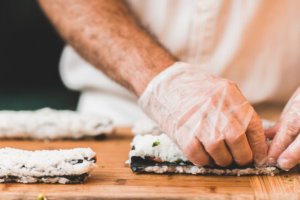 Da Pineapple Grill rests closer to the BYU-Idaho campus in the lot outside the Brooklyn apartments.  Its a great place to go before an event on campus or if you want to have a semi-fancy meal. The grill is less a full sushi place and more of a Hawaiian style grill that offers sushi. However, the sushi they offer is top notch! While Dong's basic rolls lack flavor, Da Pineapple Grill supplies a heaping amount. On the downside, the restaurant doesn't offer nearly as many selections as Dong's does. They still have a good variety of flavors, but they emphasize their Hawaiian food and burgers more than their Sushi. But the trade off is worth it if you want to eat some delicious basic sushi rolls. Although they cost more than the rolls at Dong's.
Tricks for Eating at Da Pineapple Grill
The trick for Da Pineapple Grill is not to order a single roll. People need to order the sushi sample platter or the sushi mix plate. The platter and the plate include several pieces of assorted sushi, from both basic and deluxe rolls. It costs a little more than the regular rolls but the different flavors give you an opportunity to find a new favorite each time. Every time I've been the sampler has been completely different. I'd suggest getting the Honolulu Sushi Sampler and pairing it with a slice of mango guava cheesecake if you want to go all out.
For prices and full menu check out Da Pineapple Grill.