Are you looking for something to do this weekend? Do you like to laugh? Are you a human being? All these questions can be answered by one simple statement (Uh…yes, now would you get to the point!). BYU-Idaho hosts some of the best comedy groups! Almost every weekend, one or another of these groups performs either in the MC or the Snow building! If you're looking for things to do in Rexburg tonight, look no further. It's time to check out a comedy night!
Unscripted – Improv Comedy
Do you love improv comedy? How about improv games? Well this group might just be your cup of tea! Unscripted is BYU-Idaho's student run improv comedy group. Their shows include a host of clever improv games and performances! The group practices every week to prepare for major shows during the semester. While most practices are exclusive to group members, the managers often let visitors come and try their hands at a few games. The shows and practices provide great opportunities for people to get to know each other. The best part is that every show is completely unique. Due to the nature of improv, you'll never see the same show twice!
Unscripted shows are October 8th and December 3rd in the MC Little Theatre.
Humor Code – Sketch Comedy
Are you a fan of SNL? Studio C? Maybe you like Key & Peele? Well, what if I told you that BYU-Idaho has its own sketch comedy group. They've got double the talent, but none of the budget! Humor Code has been around since 2012 and those ten years have been exciting. This group focuses on sketch comedy performances and videos. They spend much more time writing and practicing sketches than other comedy groups. The practices are reserved for members of the group, but don't despair. They hold auditions every semester for those who want to join!
Humor Code holds shows on November 5th.
Comic Frenzy – Improv Comedy
Comic Frenzy is the second of BYU-Idaho's improv groups. While most of the comedy groups on campus are clubs or teams, Comic Frenzy is a teacher-directed exclusive theater class. The entire team has to audition for a slot with Brother Hill of the theatre department. It's definitely more difficult to get into this group. But their shows are on an entirely different level. They're punchier, gut-busting, and outrageously good! Plus, they have a show at the end of every month. Which means, you get more opportunities for a night out!
Comic Strip – Stand-Up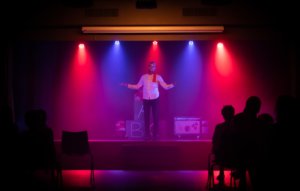 While other groups take a team, stand-up focuses on individual comedians. This group follows in the footsteps of Jerry Seinfeld, Robin Williams, and Dave Chapelle. The stand-up group is outrageously funny, while also having more edge than the other comedy groups on campus. Most of the comedians have great sets and creative senses of humor. The group only has about two shows a semester, but individual members of the group often headline at the basement. Performances off campus are exhilarating, but the on campus experience of the complete group still takes the cake. The stand-up group also hosts open workshops every Wednesday night. Anyone looking to improve their set, or even start out, is free to stop by the MC room 380 at 7:00 p.m.
The Stand-Up group performs on October 22.
Want a Little bit of Each?
With so many groups to choose from, you might find it difficult to choose one for a comedy night. Luckily for you, the groups have you covered. Every semester, the comedy groups at BYU-Idaho do a single joint comedy event called comedy remix. This semester every group has prepared several sets and sketches. If you're looking for a comedy group to follow, stop by the crossroads.
Comedy Remix is December 3.
For more information on comedy groups and performances visit BYU-Idaho activities.