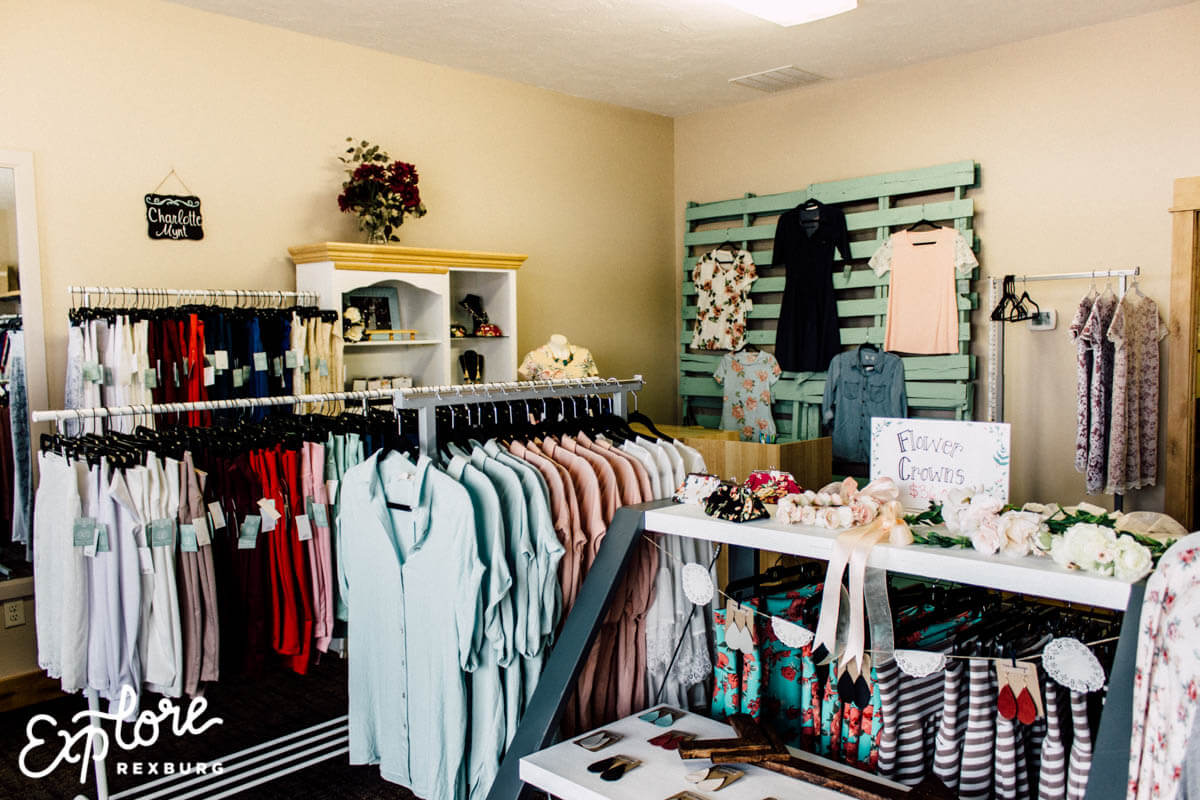 Finding modest dresses that you can enjoy over and over again is no easy task. (How many stuffy bridesmaid dresses do you own that you'll never wear again?) Every store you shop at has a different fit, style, and price. Finding it all in one fell swoop would be a rare discovery, right? Welcome to Charlotte Mynt; Rexburg's very own dress shop that features comfortable and modest dresses.


Images via Charlotte Mynt's Facebook and Instagram pages
Finding Modest Dresses
Erin Thornley, a BYU-Idaho alumni, started Charlotte Mynt three years ago with her mother, Gale. Erin runs the day-to-day activities and Gale serves as the head seamstress.
"It all started from frustrating shopping trips," Thornley explained. "I was never able to find something modest without breaking the bank."
Erin struggled to find dresses that were both modest and comfortable. Occassionally she would recruit her mother to sew clothes that met her modest standards and trendy style. Soon people began asking where Erin's outfits came from. That interest quickly grew into making dresses for friends and family, which eventually led to her opening an online store.
Their dresses feature stylish patterns, comfortable fabrics, and subtle additions like pockets. The lace overlays and basic dresses allow their customers to mix and match. This means a dress can be dressed up or dressed down without much effort at all. With a wide variety of styles, lengths, and patterns, everyone is sure to find something they will love.

Growth & Trends
As Charlotte Mynt has grown, Erin and her mother have attended several events in both Idaho and Utah. They have seen a large increase in demand since the store's opening in 2015. They saw such an increase that they opened a storefront location in Rexburg last year.
The mother-daughter duo hand-selects all of the fabrics and patterns themselves. With the large number of bridesmaid clientele, Charlotte Mynt strives to offer a wide variety so that every customer can find that perfect color. They also release new items to match the current season.
"We definitely pay attention to things like the Pantone Color of the Year when it comes to our seasonal wear and floral patterns," Thornley said. "But other than that, we just try to offer every color you can think of."
Behind the scenes there are only two seamstresses cranking out hundreds and hundreds of modest dresses. With an online store and the storefront in Rexburg, the demand definitely keeps them busy. Charlotte Mynt does carry a few additional brands to add variety, but most of the inventory is handmade with love from Boise.
Their dresses feature different fabrics and even a variety in sleeve lengths. They've also started to branch out with Mommy & Me outfits featuring matching dresses and pencil skirts for women and girls.
"Especially in Rexburg, where we have so many young families, people have been really excited about it," Thornley said. "We also do flower dresses and baptism dresses with the lace overlays."
Charlotte Mynt is a company grown from the ground up right here in Rexburg. They care about their customers and are constantly looking for the next best way to modestly dress them. Stop by their Rexburg location today at 859 S Yellowstone Hwy Suite 2502.