The beautiful temple on the hill is one of the first things you see when entering Rexburg. Whether you are coming down from West Yellowstone or up from Idaho Falls, it stands out against the (often) blue sky. The Rexburg temple is not only a sight to see, but for many LDS members, it is a refuge.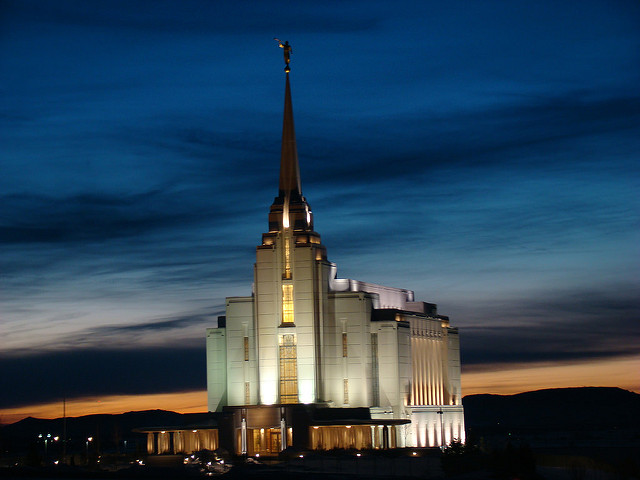 A short history
For a lot of us, the history of the temple is no mystery or history at all. With it being announced in 2003, it is something many Rexburg residents have lived through. For many new students, however, it may surprise you how new the temple is.
The groundbreaking was July 30, 2005, and construction concluded in 2007. The dedication was on February 10, 2008. Since then, thousands of patrons have passed through its doors.
The temple serves active and worthy members of The Church of Jesus Christ of Latter-day Saints. Members receive a temple recommend card, which indicates that they have been determined by a local church leader to be spiritually prepared to enter and participate. It is a place of instruction and solace, where religious ceremonies, including weddings, take place.
For an LDS population (of which Rexburg is approximately 95%), this is common knowledge. The big question for the temple-attending crowd is when to go.
Temple times
The Rexburg Temple serves a large population of patrons. To accommodate everyone, session times (sessions consist of spiritual instruction) are staggered throughout the day.
The temple is open Tuesday through Saturday every week and closes occasionally for holidays and maintenance days. For the remainder of 2018, it will be closed Wednesday, November 21 and Thursday, November 22 for Thanksgiving; it will then close Tuesday, December 25 for Christmas.
The regular sessions times for the Rexburg Temple are as follows:
Morning: 6:00, 6:45, 7:30, 8:15, 9:00, 9:45, 10:30, 11:15

Afternoon: 12:00, 12:45, 1:30, 2:15, 3:00, 3:45, 4:30, 5:15, 6:00, 6:45
The baptistry is open from Tuesday through Saturday from 6:00 a.m. to 8:00 p.m.
For additional special session and baptistry hours of operation, please refer to the Rexburg Temple website.
Always a great time to go
With its accommodating schedule and dedicated group of volunteer workers, it's always a great time to go to the temple. Apart from entering, its grounds are well-kept and a peaceful place for quiet reflection.
Unfortunately, the temple will sometimes closed for holidays or maintenance, but there are still plenty of times to go. Temple-goers, take advantage of having a temple so close to home!
For all, it is a blessing to have such a beautiful edifice and sacred place in Rexburg.