On the outskirts of Rexburg you'll find the home of 12-year-old Keaton Ashton. Keaton isn't your average young man, yet then again, he is. If you're privileged enough to know Keaton or at least have visited with him you'll quickly realize that he's just "one of the kids". He's not pompous or arrogant, and his charm and confidence are disarming. He's kind and humble, and unless asked, you would have no idea that he's made it to the final four contestants of the hit Food Network show, Kids Baking Championship.
That's right. Rexburg's own Keaton Ashton has risen like the cream of the youth culinary and baking world.
"Thousands of kids apply to get this chance," Keaton says. "It's been a long process but has been super rewarding and fun!"
Keaton's mother, Michelle Ashton, is quick to clarify that roughly 30,000 applications are sent in to the show each season.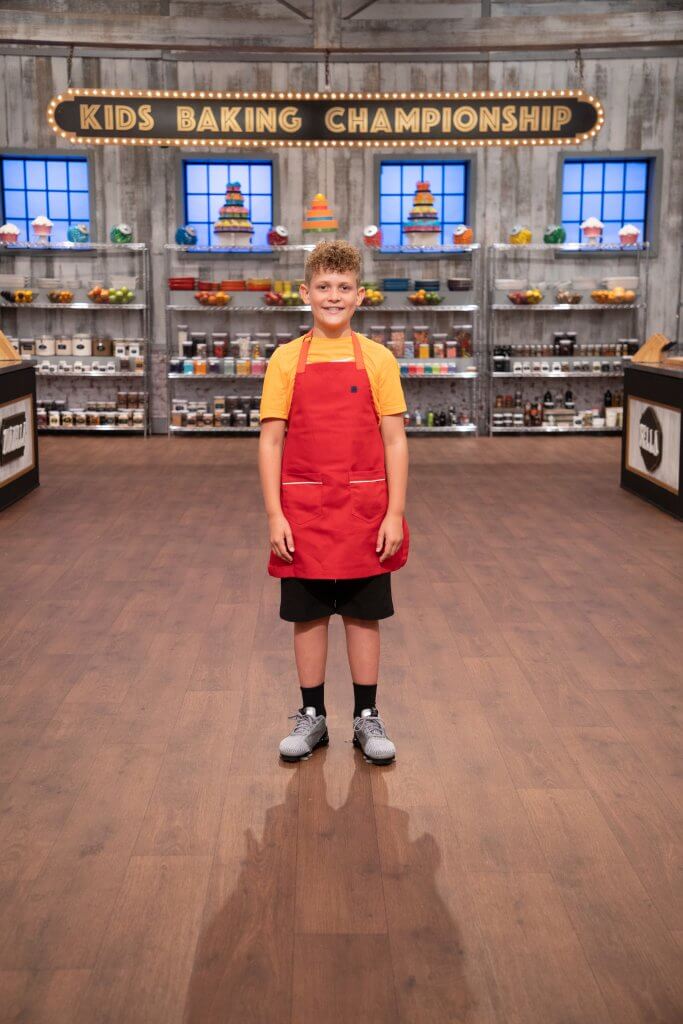 The Application Process
"This entire process began over a year ago back in August of 2019," Michelle says. "From the initial application to getting narrowed down to the top 100 was a six month process. It was February of 2020 when we heard that Keaton had made the top 100."
Keaton's journey has now been over 18 months, longer than the current COVID-19 pandemic has been around. After receiving word that he had made the top 100 he engaged in a rigorous schedule of Zoom meetings and baking challenges. Sometimes having to submit challenges once or twice a week. The producers of the show slowly chipped away at the 100 finalists narrowing the pool down to just 15.
Due to the pandemic the show hosted a virtual baking boot camp to whittle the group down even further to the final 12. In a normal season they would have flown the top 15 out and done the boot camp in person.
"We've sent in tons of videos and submissions for challenges over the last year," Keaton says. "We would get a call or an email saying that they needed to see me make a certain type of cake or pie, and I would have to have it submitted in just a day or two!"
Keaton received the good news that he had made the final 12 that would be on the show in mid August and they were flown out to southern California to begin shooting on August 17th.
Kids Baking Championship: The Show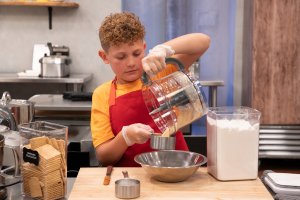 The Kids Baking Championship has been running for nine seasons on Food Network, which is managed and operated by Discovery Networks U.S. The show is currently hosted by renowned pastry chef Jeffrey Adam "Duff" Goldman and actress and host Valerie Bertinelli.
Shooting took place near a resort in Rancho Palos Verdes, which is close to Torrance, CA. The contestants were allowed to have one parent attend with them throughout the filming of the show.
"It was a lot of work, but work I really enjoyed," Keaton says. "We would usually wake up each morning at 7:00 a.m., go down and have breakfast, receive our COVID test, then film challenges, interview segments, or attend school virtually."
The contestants were required to attend school for at least three hours each day per California law.
As a result of the ongoing pandemic, the contestants and crew had to wear masks, gloves, and sanitize everything between takes. Keaton said that they might go through one or two boxes of gloves per shoot because they constantly needed to switch them out based on what they were doing.
"It really was like a full time job," Michelle says. "For 8-10 hours each day, six days a week, these kids juggled baking, camera interviews, school, and filming the judging and eliminations. Oftentimes having to change in and out of specific outfits to keep continuity."
For the contestant who wins the show, the grand prize package includes $25,000, the title of Kids Baking Champion, and a chance to be featured in Food Network Magazine.
For The Love of Being Creative
When asked about how long Keaton has been baking it might surprise you to find out that he's only been doing it for about two years. For Keaton's 11th birthday he was given a birthday cake class. He immediately fell in love with the creative side of finishing and decorating cakes.
"Making cakes and baking in general is still very much a passion of mine," Keaton says. "I just love being creative and enjoy participating in any art medium. I especially love the challenge and task of making a wedding cake (of which he's made several). For someone to trust a 12-year-old with their wedding cake means a lot to me and I take it seriously."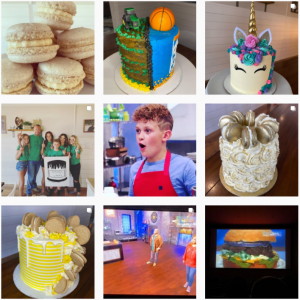 Keaton's entrepreneurial drive and creativity is made abundantly clear by the fact that Keaton has started his own cake business, Keaton's Cakes, where he's already made hundreds of cakes. You can follow him on Instagram @keatons_cakes and shoot him a message if you're interested in having him make a cake for you.
"Some of his cakes have been absolutely perfect," Michelle says. "People think he uses fondant and are always shocked to find out that it's just his signature buttercream frosting. His buttercream is unbelievable." 
His cake business helped him immensely when it came to managing time on the show. 
He said that once he found out he made the show he and his parents watched past seasons to study what worked and what didn't for previous contestants. Something he noticed was that mismanaged time at the beginning of a bake challenge could be costly at the end. He was determined to not let that happen to him and as a result he always finished ahead of the buzzer.
Takeaways & Memories

I asked Keaton what his favorite challenge was thus far during the Kids Baking Championship. As he reflected on his experience he muttered a few things but then lit up as he recalled his favorite.
"The 'Dessert Imposters' episode," Keaton says. "I made a dessert that looked like a big beef burger. The judges actually said it was the best imposter they've seen in all 9 seasons! That was really cool for me."
However, when asked what the best part of the whole experience was Keaton doesn't hesitate.
"The best part was meeting and hanging out with all the other contestants," Keaton says. "I became friends with a lot of the kids. It was awesome to spend time with kids who share the same interests as me."
In fact, Keaton and another contestant, Jonah Anderson, text nearly every day since returning home from their time on set.
"Jonah and I even had a secret handshake," Keaton says. "I made a lot of great friendships while being a part of the show."
Keaton said that he hopes to someday do something in a creative field for his career. Whether it be something in the culinary arts or even special effects makeup (something else he has a knack for), he wants to be able to express himself artistically.
While Keaton's life is relatively back to normal, he's certainly had to adjust to a small dose of celebrity. This sort of thing doesn't happen too often in the community of Rexburg. People love having a hometown kid they can root for on national TV.
"He's spending his days now just enjoying being back home and in school with his friends," Michelle says. "He's very talented in the kitchen, and not just at baking. He'll make our family dinner sometimes. He's so good at seasoning and cooking steak and burgers as well as experimenting with new flavors and expanding his palate. He's actually a master of macarons."
Parting Thoughts
In parting I asked Keaton if he had a favorite dish or dessert that he likes to make. His response will tell you everything you need to know about his love for the culinary arts…
"I really like to make cheesecakes," Keaton says. "Oh and cupcakes. All types of cakes really, especially carrot cake. Oh, and macarons. You know what, I just like it all."
My final question for this young rockstar was if it has been difficult to keep everything about the show a secret until it airs. Especially with him appearing in the semi-final episode.
"Oh yeah," Keaton exclaims. "It's been really hard to keep everything a secret. I guess you'll just have to watch on Monday to find out what happens."
How To Watch The Final Episodes
The final episode(s) of the Kids Baking Championship will air on Monday night. It will be a two hour special with the first hour being the semi-final episode and the second hour being the actual finale.
If you have Dish Network or DirecTV the show will start at 7:00 p.m. local time. However, it's important that you check your local listings as the times vary. If watching on Hulu Live the show will start an hour later at 8:00 p.m., and if watching on local cable it may even start later than that. The start times are all over the map so if you're interested in watching just be sure to check your local listings.
Follow Keaton On Instagram
As mentioned earlier, you can follow Keaton on Instagram at the handle @keatons_cakes. You can also message him for information about booking a cake for you in the future.