You need to buy groceries, but you have no way of getting to Walmart! Never fear. The Rexburg Walmart Shuttle is a great transportation option made available to you by Salt Lake Express! The shuttle has 10 different pick-up locations:
Walmart

East MC Roundabout

BYU-I Hart Building (benches in front of the building)

BYU-I Parking Lot (across from the Snow building and the post office)
You can also look on the Rexburg Walmart Shuttle website to find the arrival times for each location. The website also has a live map, showing you where the shuttle is at all times. If you want to be picked up from a certain location, we recommend getting there at least 5 minutes early. The shuttle may arrive at a location a few minutes early.
Each location has a sign telling you the times the shuttle will come to that spot.
The shuttle drives in a rectangle around Rexburg all day long. All you have to do is pick the location that's best for you and be there at the arrival time.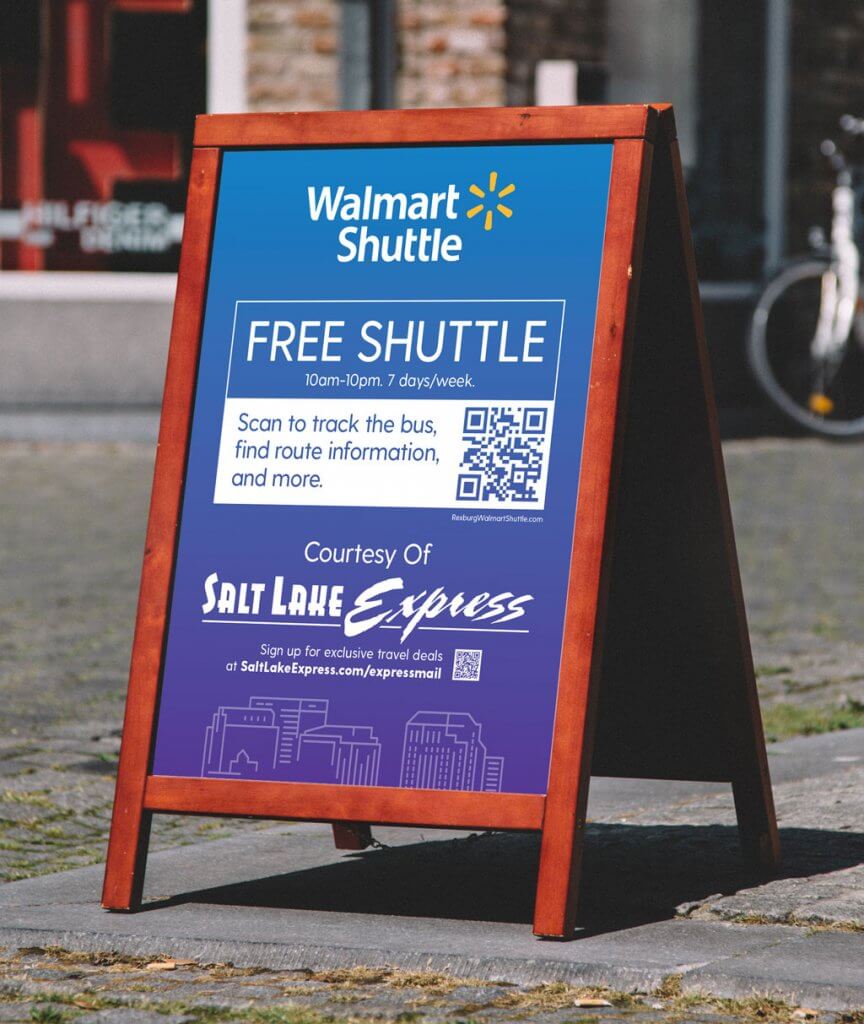 The Trip
We got on the shuttle at the BYU-I parking lot (across from the Snow) location. We arrived at Walmart about 10 minutes after getting on. This location is the second to last location before the Walmart stop, so if you get on at a different location, expect it to take a little longer. The shuttle arrives at Walmart by the Pharmacy Drive-Thru. If you're facing Walmart, it will be on the left side of the building.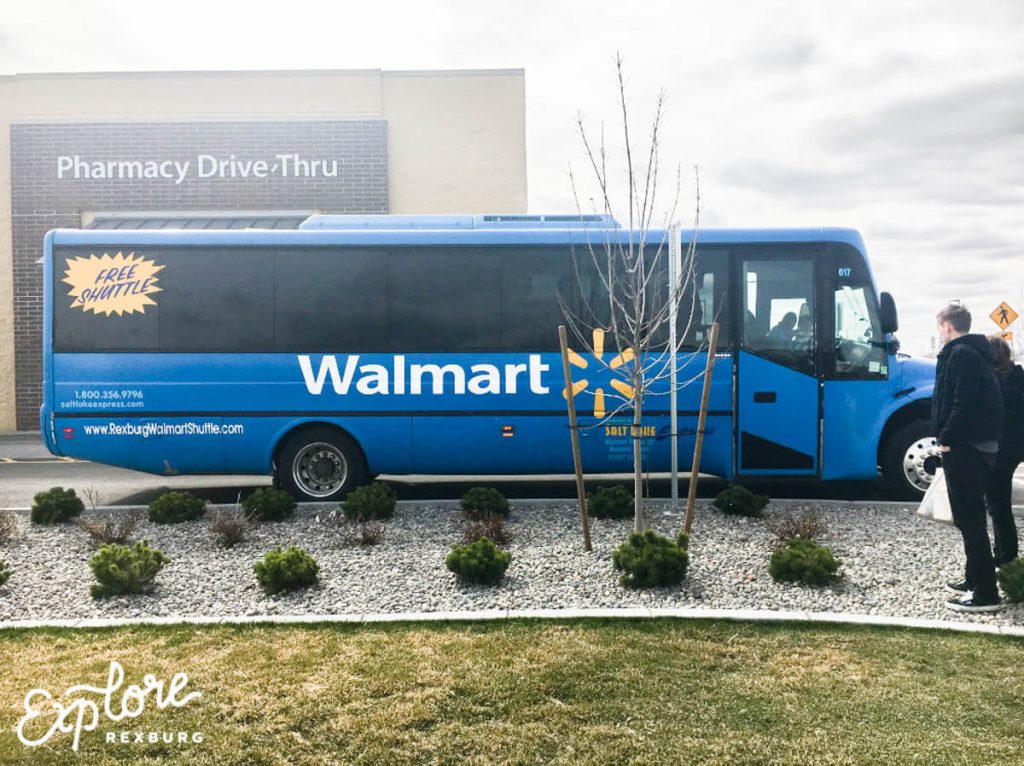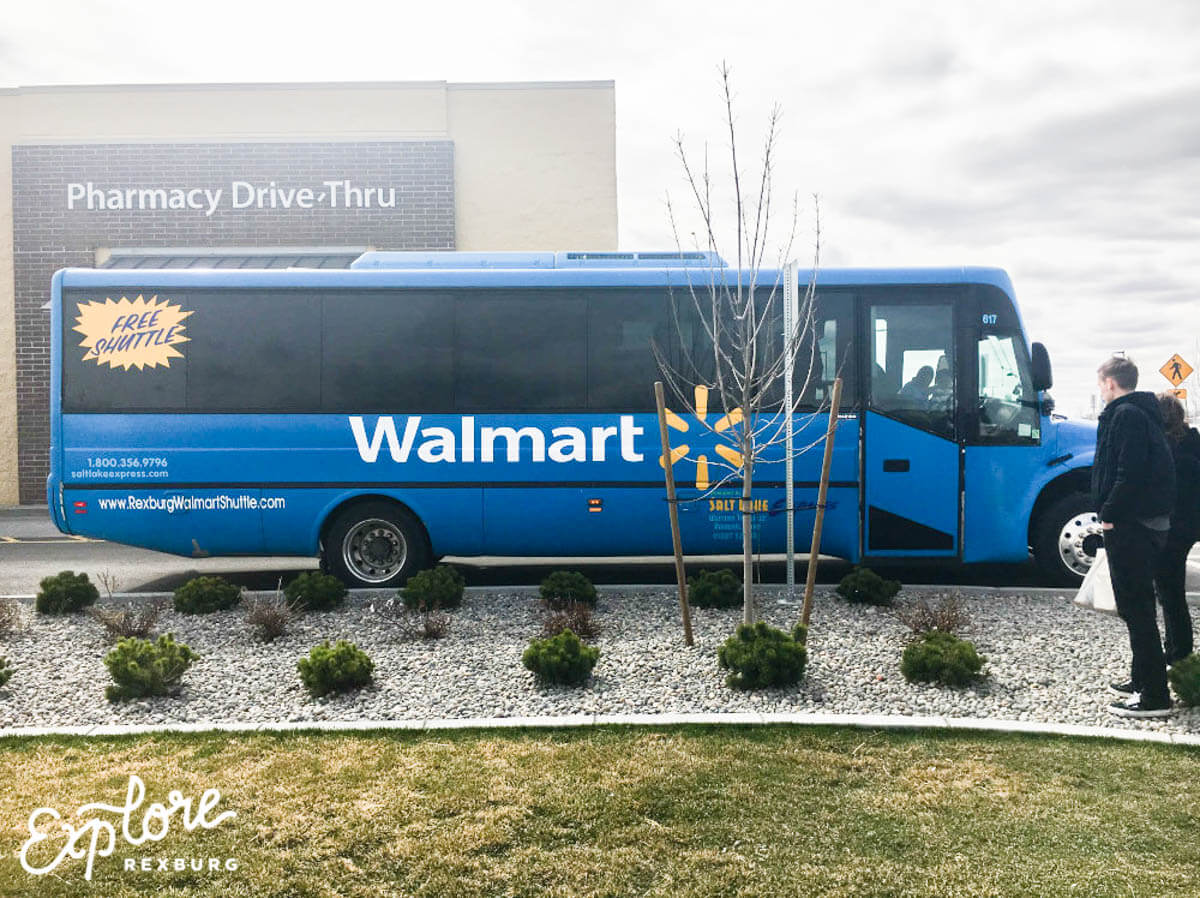 It takes the shuttle about 45 minutes to make it through all the locations. Be sure to plan out how much time you need to get to Walmart, do your grocery shopping, and make it back to your desired location. If you only need to buy one of two items, taking the shuttle to Walmart isn't your best option. You'd spend a lot less time walking to Broulim's and back. We recommend taking the shuttle if you have a full load of grocery shopping to do.

Speedy Shopper
With only a 45-minute window to shop before the shuttle arrives again, you're going to need to know how to shop with a time limit. Read our How to Shop at Walmart in 45 Minutes post for some helpful tips and tricks to get the job done. That post will help you plan the quickest round trip on the Rexburg Walmart Shuttle.
The Rexburg Walmart Shuttle isn't just a great option for getting to Walmart. If you're just looking for a ride to campus, hop on! One guy got on the shuttle at Centre Square and then got dropped off at the Hart building on his way to class.
The shuttle leaves from Walmart at 10 AM and makes its last route through Rexburg at 9:15 PM.
If you're not busy earlier in the day, we recommend going then. We got on the shuttle around 11:15 AM. You've probably been to Walmart when there's hardly any food stocked. You're looking for your favorite foods, but they're all out. When you go to Walmart early in the morning that won't happen. Everything was restocked. We'd never seen the shelves so full!
The Rexburg Walmart Shuttle is a great mode of transportation if you need a way to get to Walmart. There are 10 different pick up locations, each with the pick up times posted. Before you get on the shuttle, make sure to plan out your trip so you're not late for your classes!