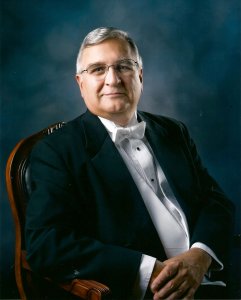 If you're lucky, you may have one or two teachers throughout your education that make a meaningful impact on your life. They mold an identifiable piece of your persona. For the past 43 years, Rick Hansen has had this effect on generations of Rexburg students. And this spring, he is retiring.
"I have really mixed feelings about it," Hansen told Explore Rexburg. "I really enjoy my job and it will be hard to get used to not going to school every day."
Hansen enjoys a powerful legacy as orchestra teacher and director at Madison High School. From the year he started, with a group of only seven kids, the orchestra has swelled to over 160 kids this year. Hansen acknowledges that the kids must like orchestra, because they keep coming back.
But with 43 years under his belt, and current students who are the children of former students, it is an indisputable truth that Rick Hansen has made a tremendous impact on the orchestra.
"If we have a quality group, we're going to have quality kids," Hansen says. "People tell me they're the best you can get, so that's nice."
"Quality attracts quality," Hansen adds, coining a personal motto.
Orchestral music has been a part of Rick Hansen's life since the beginning. His father, a potato farmer and violinist, bought him a violin when he was four years old. Initially instructed by his father, Hansen's teachers and professors would play a large part in him getting into teaching himself.
"I decided I really liked my professors," Hansen says. "My teacher, when I was a kid, was the head of the music department at ISU (Idaho State University), and I thought, 'Man, I'd like to be like him.' That's why I decided to get into music."
This ability to influence and impress has passed from teacher to student once again as Hansen wraps up his time at Madison. The Madison orchestra is, as Hansen puts it, "making a big deal of it." Hansen's final concert comes up on May 17. The students are reaching out on social media for as many former students as possible to be in attendance.
"If they still remember how to 'wiggle their fingers,' we might have them join with us on a couple of songs," Hansen says.
Orchestra students of Rick Hansen will remember many things about their decorated teacher and friend. They will remember the tradition of going down to Disneyland every other summer to play as a group. Or how they used to play every year down at Temple Square in Salt Lake City. Or even the time they played for 6,000 people in the Tabernacle down there.
But most of all, they will likely remember a teacher dedicated to his craft and the success of the students.
"In orchestra, I get the very best kids in the school," Hansen says. "They're there because they want to be there. So it's really fun. It's fun to be around the kids."