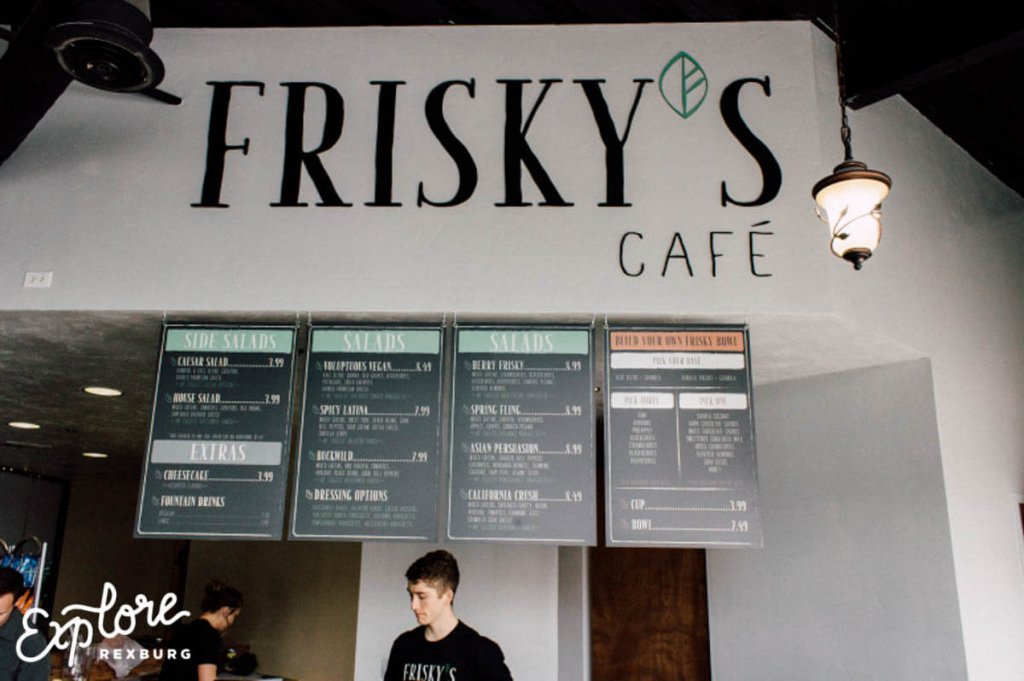 Rexburg's newest restaurant, Frisky's Cafe, is a delicious cafe located inside Gator Jack's. The menu includes a variety of gourmet salads and custom açaí bowls. (Yes, healthy and vegan options!) They have renovated their shared space to look clean and inviting. Despite being located in a heavily branded cajun restaurant, their white subway tiles and tasteful wooden interiors truly make it feel like this is the perfect place to get a fresh salad. We were greeted by eager employees and a very attentive manager who patiently waited as we decided what to order. Every request we had was met quickly and with a smile. Now, let's talk about those healthy food options.


The Salads
We started off with the Asian Persuassion and Spicy Latina salads. All of the ingredients were fresh and complimented each other well. The salads were also topped with deliciously unique dressings. For the price you pay you definitely get a hearty helping of greens and healthy toppings. They also offer side salads, house and ceasar, that are smaller in both portion and price. I ordered the Spicy Latina salad, which some may assume is similar to a salad from Cafe Rio or Costa Vida. I was pleasantly surprised to find that it was quite different from those popular entrees. It held it's own with exciting flavors and a spicy jalapeño ranch dressing. Even though it had similar characteristics, it is definitely something different, which is something Rexburg desperately needs!


The Açaí Bowls
Açaí bowls are new to Rexburg. If you've never had one, it's a bowl filled with an açaí smoothie topped with granola and fresh fruit. After we finished our salads, we enjoyed a delicious açaí bowl with strawberries, raspberries, and blackberries. (My co-worker was keen to remind me that her last açaí bowl was in Hawaii. Therefore, she would be the judge as to whether or not these were legit.) We each took a bite and fell in love with how refreshing it was! These are certain to be a huge hit once the weather warms up. We would say a cup is the perfect serving size for one. A bowl, however, is definitely big enough for two!
We highly recommend Frisky's Cafe! Bring your friends and go support them during their first few weeks. Follow them on Facebook and Instagram for discounts and more information!