This recap story originally published on GameChanger. It has been used with permission.
Mason Balzen struck out B Caudle to get the last out of the game, as two pitchers teamed up to a throw a no-hitter in Sugar-Salem 's 10-0 defeat of West Jefferson on Tuesday.
Sugar-Salem tallied five runs in the sixth inning. Caleb Norman, Grady Rasmussen, Curtis Drake, and Hayden Crapo each had RBIs in the big inning.
Norman was the winning pitcher for Sugar-Salem. He allowed zero hits and zero runs over three innings, striking out eight. Balzen threw three innings in relief out of the bullpen. Balzen recorded the last nine outs to earn the save for Sugar-Salem.
J Torgerson took the loss for West Jefferson. He allowed seven hits and five runs over four-and-a-third innings, striking out three.
Sugar-Salem tallied ten hits. Norman, Drake, and Rasmussen each had multiple hits for Sugar-Salem. Norman led Sugar-Salem with three hits in four at-bats. Sugar-Salem stole seven bases during the game as two players stole more than one. Drake led the way with two. Sugar-Salem was sure-handed and didn't commit a single error. Jace Hansen made the most plays with 13.
"Powered by Narrative Science and GameChanger Media. Copyright 2018. All rights reserved." Any reuse or republication of this story must include the preceding attribution.
Batting/Fielding Individual Stats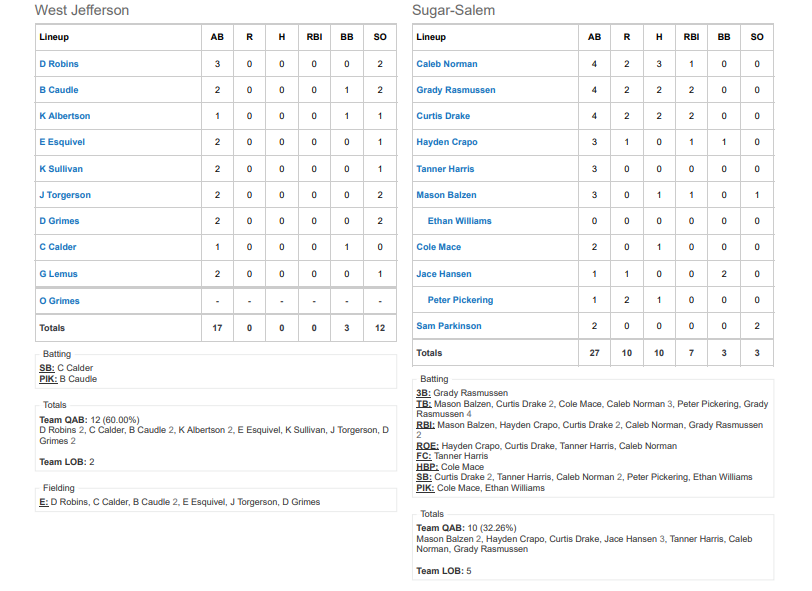 Pitching Stats