This recap story originally published on GameChanger. It has been used with permission.
Wednesday's game against Firth was a heartbreaker for Sugar-Salem, as they lost the lead late in a 7-5 defeat. The game was tied at two with Firth batting in the top of the fifth when an error scored one run for Firth.
In the second inning, Firth got their offense started when Trevor G grounded out, scoring one run.
Ben P earned the win for Firth. He lasted four innings, allowing one hit and two runs while striking out four. Kimball W and Grayson N entered the game out of the bullpen and helped to close out the game in relief. W recorded the last six outs to earn the save for Firth.
Curtis Drake took the loss for Sugar-Salem. He went five innings, allowing six runs on six hits, striking out seven and walking one.
Grady Rasmussen started the game for Sugar-Salem. He surrendered one run on one hit over two innings, striking out two.
Cole Mace and Tanner Harris all had one hit to lead Sugar-Salem. Sugar-Salem stole eight bases during the game as two players stole more than one. Mace led the way with three.
Firth tallied seven hits in the game. P, Coby J, and Colton M each had multiple hits for Firth.
"Powered by Narrative Science and GameChanger Media. Copyright 2018. All rights reserved." Any reuse or republication of this story must include the preceding attribution.
Batting/Fielding Individual Stats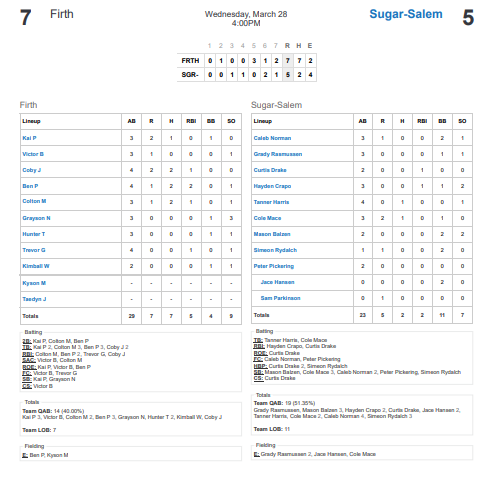 Pitching Individual Stats