[vc_row type="in_container" full_screen_row_position="middle" scene_position="center" text_color="dark" text_align="left" overlay_strength="0.3″][vc_column column_padding="no-extra-padding" column_padding_position="all" background_color_opacity="1″ background_hover_color_opacity="1″ column_shadow="none" width="1/1″ tablet_text_alignment="default" phone_text_alignment="default" column_border_width="none" column_border_style="solid"][vc_column_text]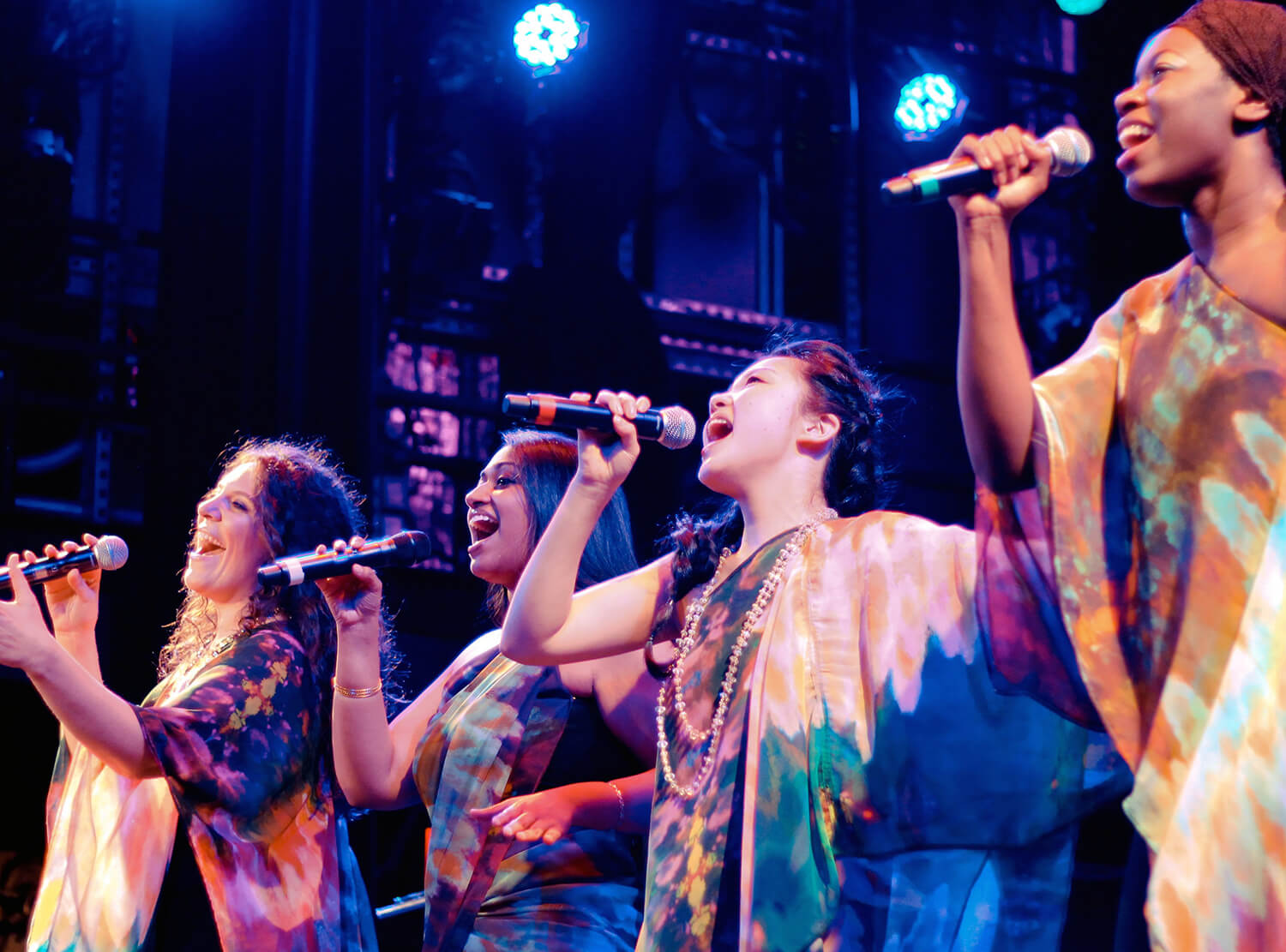 REXBURG—Women of the World, an award-winning female vocal group, will perform Saturday, April 29, at 7:30 p.m. in the Kirkham Auditorium at Brigham Young University-Idaho in Rexburg.
The group was formed to bring together women musicians from across the globe. Honoring global folk traditions, their repertoire spans music in 30 languages.
The group won the 2014 Harmony Sweepstakes award. They also were nominees of the 2013 Boston Music Awards and 2014 Independent Music Awards. They have toured North America and Asia, having collaborated with many industry legends including Grammy-award winning vocalist Bobby McFerrin and African vocal icon Angelique Kidjo.
The ensemble is a microcosm of the world, with members working closely together to create and perform music and learning about each other's cultures, languages, beliefs and practices.
Ayumi Ueda, a Berklee College of Music alumna from Japan, sought to create a multicultural ensemble that not only crossed boundaries musically, but one that was also committed to the daily practice of peace in their daily interactions. Ayumi joined forces with like-minded vocal artists, Giorgia Renosto from Italy, Annette Philip from India, Débòrah Pierre from United States and Haiti, and Patrick Simard (percussion) to manifest this vision.
Constantly searching for new genres to explore, the group has performed in Bulgarian, Cuban, Ladino, Brazilian, Turkish, African, Haitian, Indian, Italian and Japanese music.
Women of the World continues to serve as cultural ambassadors of peace and unity through music and has delighted audiences at venues that include Carnegie Hall, Blue Note Jazz Club, the Apollo Theater, Carnegie Hall, Blue Note Jazz Club, Boston Symphony Hall, the Kennedy Center and The Apollo Theater, as well as collaborations with the United Nations.
Tickets for the Center Stage performance are $12 for the general public and $6 for BYU-Idaho students. Tickets can be purchased at the BYU-Idaho Ticket Office, by calling 496-3170 or online at tickets.byui.edu.[/vc_column_text][/vc_column][/vc_row][vc_row type="in_container" full_screen_row_position="middle" bg_color="#e5e5e5″ scene_position="center" text_color="dark" text_align="left" overlay_strength="0.3″][vc_column column_padding="no-extra-padding" column_padding_position="all" background_color_opacity="1″ background_hover_color_opacity="1″ column_shadow="none" width="1/3″ tablet_text_alignment="default" phone_text_alignment="default" column_border_width="none" column_border_style="solid"][image_with_animation image_url="6195″ alignment="" animation="Fade In" box_shadow="none" max_width="100%"][/vc_column][vc_column column_padding="no-extra-padding" column_padding_position="all" background_color_opacity="1″ background_hover_color_opacity="1″ top_margin="4%" column_shadow="none" width="2/3″ tablet_text_alignment="default" phone_text_alignment="default" column_border_width="none" column_border_style="solid"][vc_column_text]This article has been published and shared in partnership with BYU-Idaho's Center Stage. For additional event information or to buy tickets, please visit Center Stage online.[/vc_column_text][/vc_column][/vc_row]