Chances are that you've heard of ice fishing before, but have you ever gone? We're talking the kind of fishing where you drill a hole in the ice and drop your bait in. All this while standing atop a frozen lake (typically out in the middle of the lake). As scary as this may sound to someone who has never gone ice fishing before, it is actually very safe, as long as you employ proper safety techniques. Ice fishing near Rexburg requires a sound understanding of safety, but it is entirely worth it.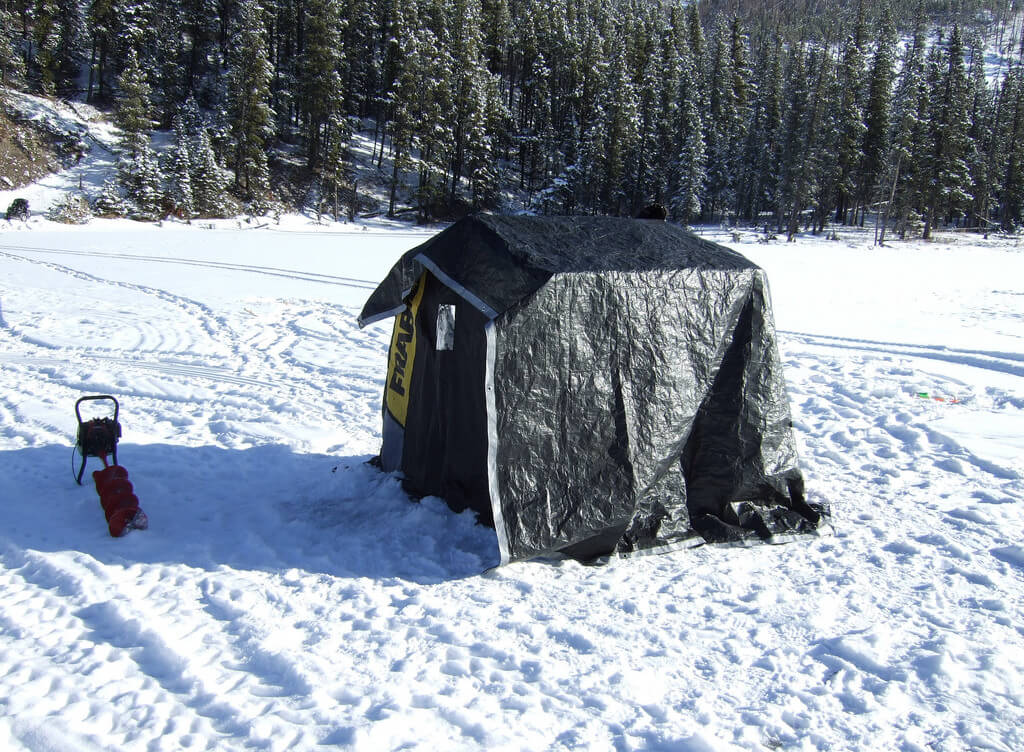 Here is a quick list of general safety tips to help you out:
• Three to four inches of solid ice is the minimum to support a person. Thicker ice is needed for groups.
• 10 inches of solid ice is needed to support an ATV or snow machine.
• Ice does not typically get thick enough to drive cars and trucks on Idaho's lakes and reservoirs.
• Drill test holes to determine thickness, and remember thickness is not always uniform. Holes can be no larger than 10-inches in diameter for safety's sake.
• Beware of conditions that can create weak ice. These include the presence of inlets and outlets, springs, or near docks and other structures that can absorb sunlight and weaken ice.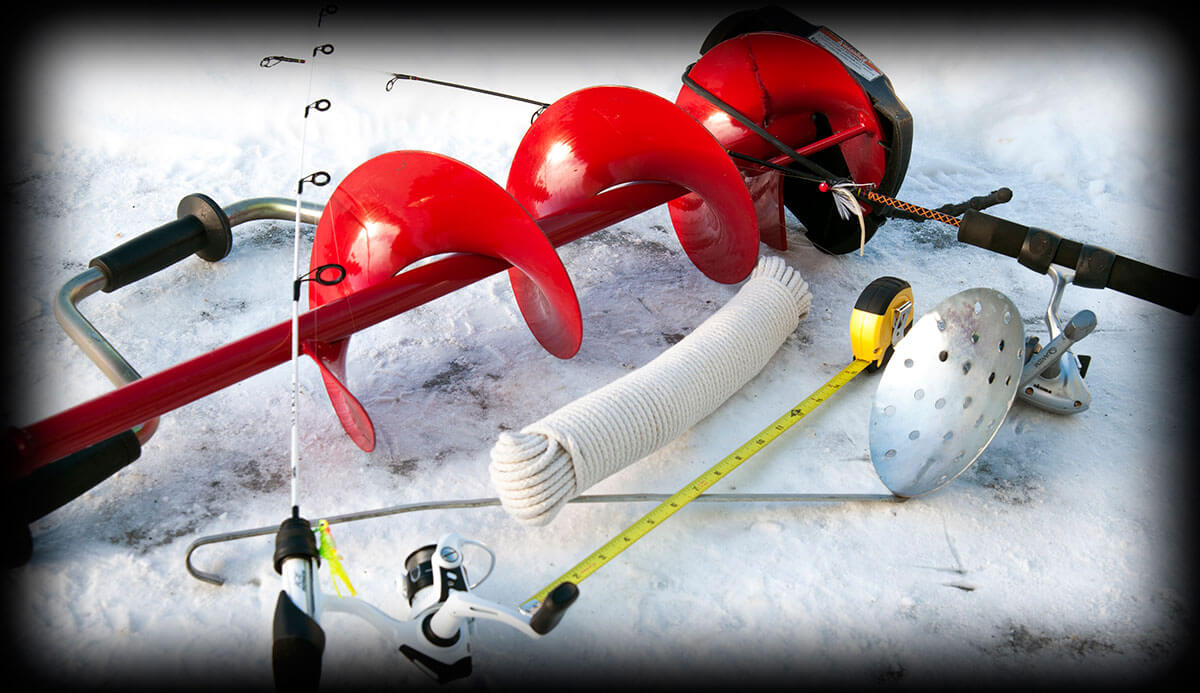 When you go ice fishing, you're obviously going to need a little bit different gear than your regular waders and bobbers that you'd use in fishing during the summer. Besides your winter gear to keep you warm, here's a quick list of necessities you'll need to go ice fishing near Rexburg:
• An ice auger to drill holes. A manual auger is relatively inexpensive and can be bought for under $100. You can also buy a gas-powered auger or an auger that attaches to a cordless drill.
• A slotted ladle will keep your fishing holes free of ice.
• A short jigging rod and/or ice-fishing tip-up rigs are handy, but you can also use a standard-sized rod. Because you can fish up to five rods, a combination of rods and tip-ups increase your odds of catching fish.
If you plan on going out for several hours, you may also want to invest in a tent to keep the heat in and something to sit like a bucket or a camp chair (because the ice isn't very warm). You can find this equipment at https://www.takemefishing.org/ice-fishing/. Also note that the biggest fish will be deeper in the lake. Do your research on where you are going to know what kind of fish you're looking for, where to look for them, and what kind of bait to use.
Now that you are prepared to drop a line through the ice, all you need is where to go. Here are six great locations to go ice fishing near Rexburg.
Ririe Reservoir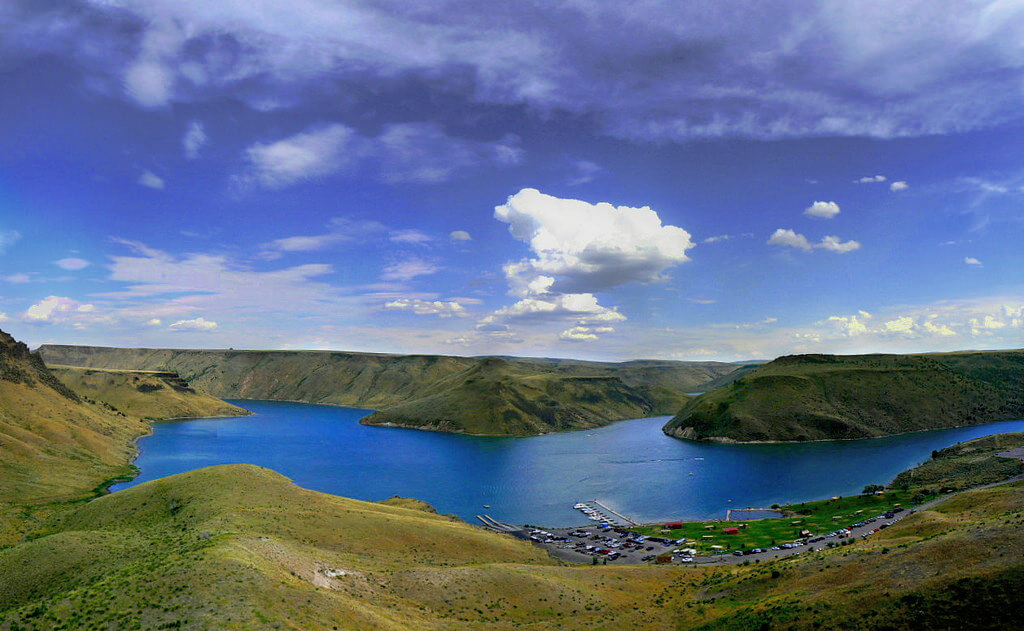 Ririe Reservoir is a great place to go ice fishing near Rexburg for those who had a day of work but what to go and get a few hours of ice fishing in. This being only an hour away, it is the closest ice fishing location to home. Ririe is one of the closest and biggest places to go fishing. It has trout, kokanee, perch, walleye, and other species of fish in the lake. The kokanee tend to be plentiful in the winter; however, the trout tend to be a little harder to come by.
Location: 43.5209° N, 111.7219° W
Chesterfield Reservoir
Chesterfield is the second closest location to Rexburg to go ice fishing and has plenty of rainbow trout. With the 2nd highest stocking report in October 2017 of over 15,000 rainbow trout, this is a wonderful place to go and find yourself some good trout. It has rainbow trout, cutthroat trout, rainbow/cutthroat (often referred to as cutbow) hybrids and brown trout. Chesterfield is located roughly 20 miles directly east of Pocatello.
Location: 42.8960° N, 111.9686° W
Henry's Lake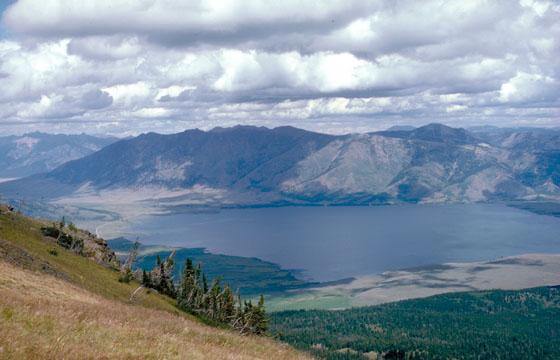 Henry's Lake is one of the most popular fishing locations in the region as well as ice fishing. Located just west of beautiful West Yellowstone and roughly 10 miles north of Island Park, Henry's Lake is world-famous for its trophy trout. However, there are also special ice fishing rules to protect those fish. It's closed to all fishing January 2 through Friday before Memorial Day weekend, so be sure to check the rules and regulations before planning a big trip.
Location: 44.6537° N, 111.4017° W
Mackay Reservoir
The Mackay Reservoir is directly west of Rexburg about 2 hours in the Lost River Valley. Not only will you find a great fishing spot, but also beautiful scenery. Mackay is a great place to go ice fishing near Rexburg, but it's also a very pleasant spot in the spring and fall. It has trout, kokanee, and perch here, and with just over 4,000 fish in their last stocking report in 2017 you shouldn't have any trouble getting a bite.
Location: 43.9570° N, 113.6997° W
Devil Creek Reservoir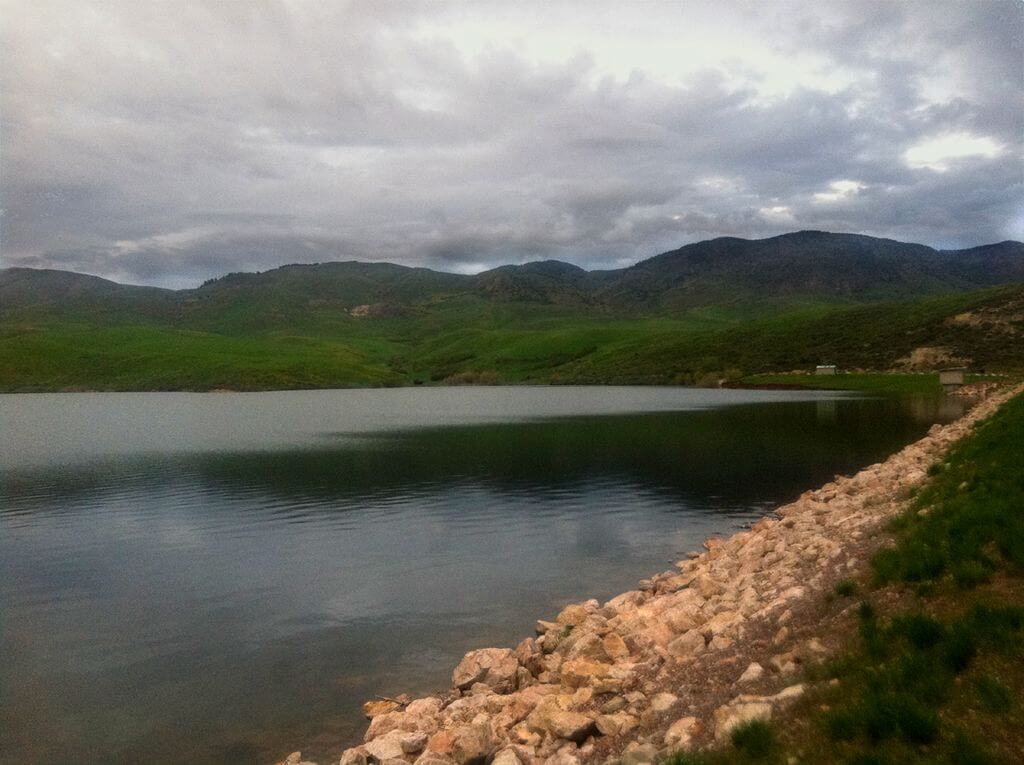 Devil Creek is a great place for ice fishing for those that are seeking a challenge. This is more of an intermediate ice fishing spot, but when you get your bite, you'll be satisfied with what you reel in. It has rainbow trout, cutthroat trout, and kokanee salmon. Located south of Pocatello in Bannock County, it's a little bit of a drive, but the satisfaction of finding the fish you want will leave you wanting to come back.
Location: 42.2993° N, 112.2034° W
Daniels Reservoir
Daniels Reservoir is the most densely populated reservoir according to the Idaho Fish and Game website. With over 20,000 rainbow trout in their latest stocking reports, finding the perfect fish might be a little tricky, only because you'll be reeling in so many. Daniels Reservoir has rainbow trout, cutthroat trout, and cutbow hybrids. As the farthest destination away from Rexburg, plan on setting aside a full day if you want to go ice fishing here. But also plan on a large haul, and remember to check the bag limit for each type of fish.
Location: 42.3570° N, 112.4455° W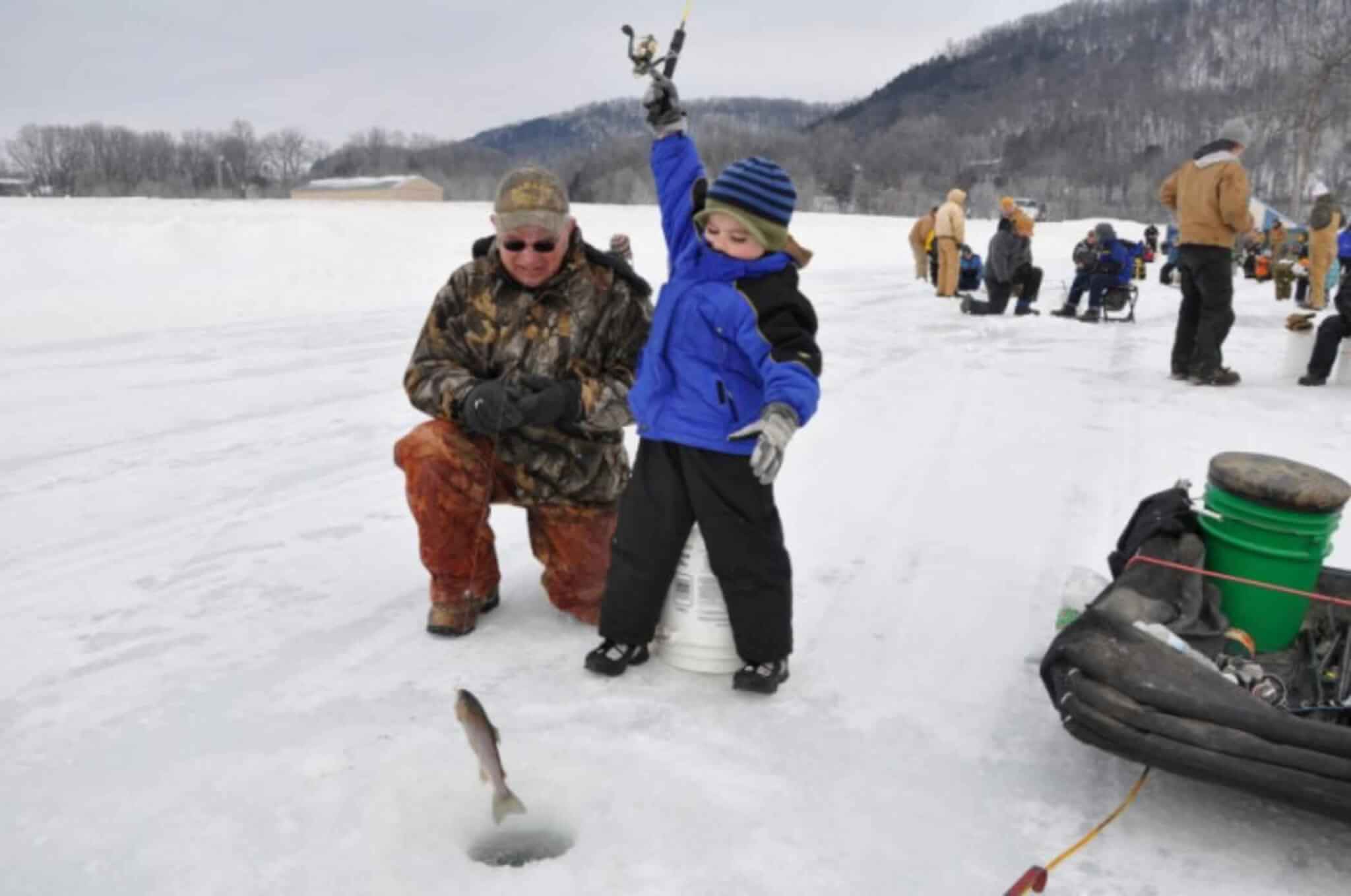 Please follow proper safety techniques to make sure you have a safe and enjoyable experience. For other ice fishing information, rules, and techniques check out the Idaho Fish and Game's website.
If you're looking for more fishing information on Explore Rexburg, check out our previous article on fishing here.
*Explore Rexburg encourages anyone who goes fishing here in southeast Idaho to purchase a fishing license (it's the law), check daily limits, and to respect all landowners and property restrictions when heading out fishing.