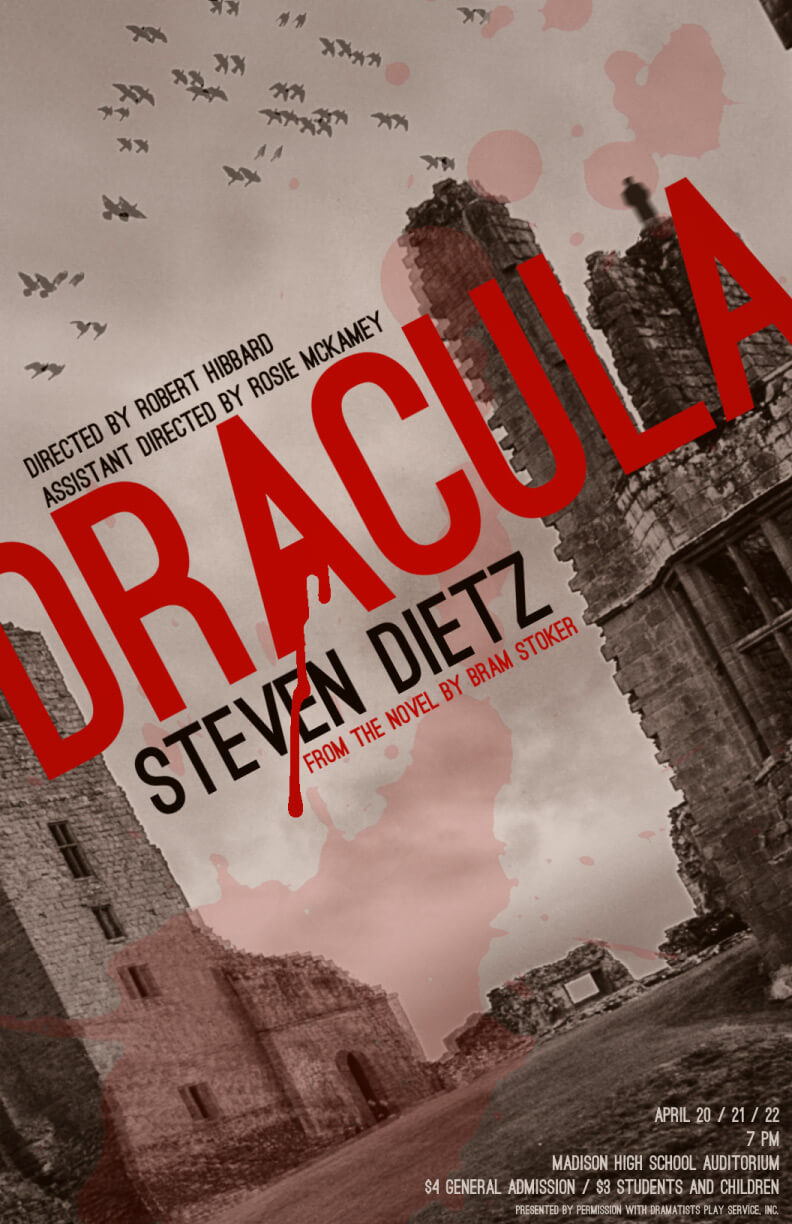 Madison High School is proud to bring Bram Stoker's classic tale of Dracula to life on the MHS stage.
We sat down with director/drama teacher Mr. Robert Hibbard to find out more about the show and the young cast. This is Hibbard's third time directing this show in particular.
"It's a really, really cool show to stage," Hibbard says, "The book is very complicated and translating a book into a stage play can be difficult, but I think [playwright] Steven Dietz has done a really cool job."
Hibbard not only directs the show, but also serves as the show's stage manager and technical director. He has recruited the help of a few volunteers to create some stage magic that you'll have to see to believe.
After directing the show twice already, Hibbard chose to direct it for a third time because of what Madison has to offer. With Madison's extensive facilities, Hibbard says he has been able to pull off some technical stunts that were not possible in the past. We heard from the cast that we can expect to see Dracula rising from a coffin as well as crosses bursting into flames. To see what other spooky surprises Hibbard has in store, you'll have to be in attendance.
An Interview with Dracula
The cast features an exciting variety of students. High school productions tend to cast seniors in their lead roles, but Dracula himself is portrayed by sophomore Sam Cook.
"We [the cast] just have so much comradery between us," Cook says, "I don't feel out of place being younger than the rest of them."
You may have seen Sam as the lead in last year's winter production, as well as in their most recent production of Crazy for You. With past credits such as Jafar in Aladdin and Petruchio in Taming of the Shrew, Sam is no stranger to portraying the villain.
"I would encourage people to come and see Dracula because of the story," he added. "Reason number two is because there are some great technical effects. We also have some really great acting."
What to Expect
While the show is quite scary in nature and not suitable for children, Hibbard assures that it won't offend. It is more dramatic than horrific in nature and focuses on the ever-relevant topic of good versus evil.
"The character of Dracula is the embodiment of evil, and yet he's a mixed character like any main character," says Hibbard. "If you listen to the text closely, you find out a little bit about him. He wasn't a vampire at all, so who was he before?"
Dracula opens Thursday, April 20 and runs through Saturday, April 22. Showtime is at 7 P.M. Tickets are $4 for general admission or $3 for students and children.