Halloween season is fast approaching. And between Rexburg's cozy autumn days and crisp fall nights, there are so many ways to celebrate!
One of these is the famous Scare Tower, which opens today Friday, October 6th. This haunted attraction is your ultimate eerie pathway to open the doors for the Halloween season.
The Scare Tower is an old grain tower that has been renovated specially for the Halloween season. We don't want to spoil anything, but some of the highlights may include walking on a suspension bridge over water, taking a stroll through a graveyard, and trying to stay sane when you pass a spooky live organist. There is also a hay maze that is less scary and ideal for visitors of all ages.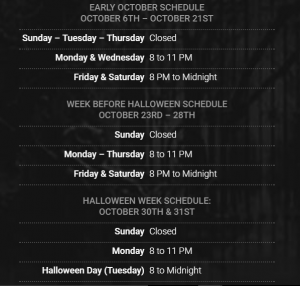 Reviews on the Scare Tower
You don't have to take our word for it. Hear it straight from the mouths of those who have survived this terrifyingly entertaining attraction:
"Perfect for a Halloween date or family fun night! The kids love the maze! It is such a cool building, I guess it is an old grain tower and these guys have been working on it for years. One of the highlights of Rexburg!" -Shareen Johnson
"It's the creepiest! And so much fun! I couldn't do it at night, it's way too scary. And the hay maze is always awesome!!" -Gina Sidlow
Check out their Facebook page or their website to read more reviews on the Scare Tower and see what they're about. Or check out what the nefarious masterminds behind The Scare Tower have to say about it.
"This is a full-on haunted house experience full of monsters, zombies, ghosts, goblins, specters, apparitions, ghouls, witches, and clowns. Face your darkest fears in this well-orchestrated haunt."
There you have it, folks. I know what I'll be doing this weekend. Visit the Scare Tower with your friends and see who can make it to the end. Have you gone through the Scare Tower in previous years? Let us know what you thought of it in the comments!
Images courtesy of Scare Tower.