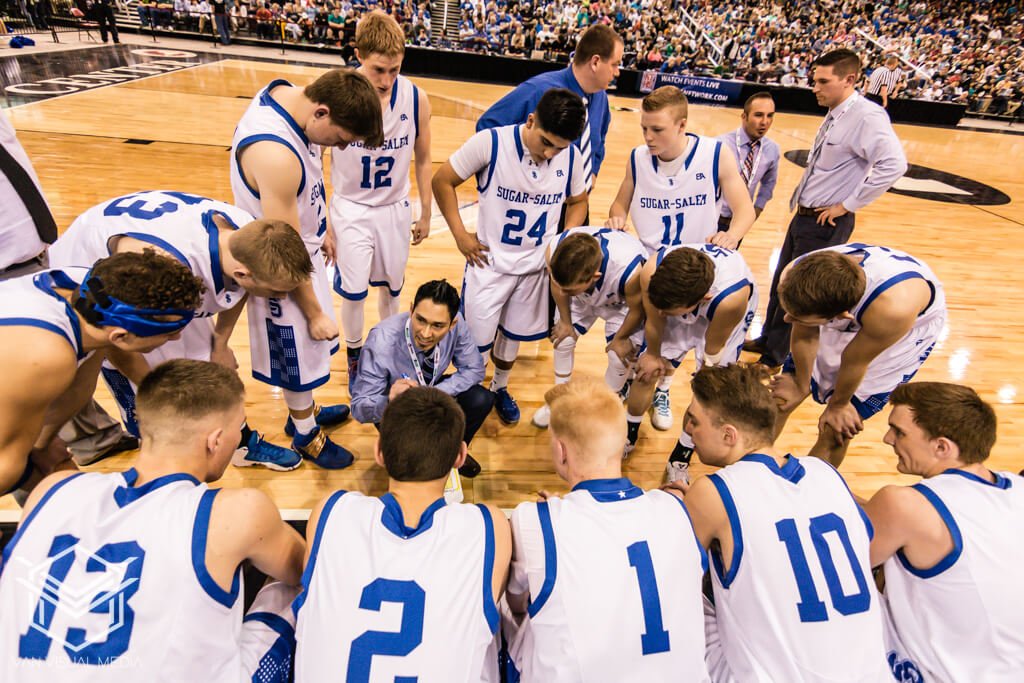 After their unexpected win at State last week in Boise, we sat down with some key players from the Sugar Salem team and their coach.
Photos courtesy of Van Visual Media for Explore Rexburg
—-
Let's start with asking Coach. It's been a couple of days. Has it sunk in yet? State champs. How does that feel?
COACH: It's a little more real; it's been quite an experience. It's been surreal because it's been so long, but yeah it's starting to get back to normal. I'm probably at Cloud 7 now instead of Cloud 9.
Hayden, how about you? Still on Cloud 9?
HAYDEN: Yeah it's like Coach said…you want to keep looking at it and thinking about because it's such a cool experience for us. We've always struggled in tournaments through the summer and we always tend to choke; but we pulled through. For me, I still haven't come down yet.
Parker, what's been the most exciting experience that has happened since you've been back?
PARKER: I'd say it was our assembly. We always do that chant before games, so that was a big emotional moment for me knowing that was going to be one of the last times I get to do that with my team. That made me realize we did it, and now my time's done. It's time for other people to take charge.
Luke, tell me about the chant. Where did that originate from?
LUKE: Junior was the quarterback for our football team this year, and he's got a really loud, big voice. And we talked about doing something new this season, and that was something we all agreed on. It's something that an NFL football team does, so we just wanted to be different in that way, and I think it pumped us all up in a way.
I want to go back and talk about the Gooding game. Parker, you had that dunk.
PARKER: Yeah, I had a three [pointer] before that, which put us up by one … I saw that I had my chance and I just had that confidence. I thought, "I'm flushing this. I'm gonna rip the rim off." And I did. There wasn't a doubt in my mind that I was going to miss that.
Hayden, how did that dunk spark you guys? I mean, you won by 16 points.
HAYDEN: It's stuff like that that's a game changer: big threes, big dunks, big plays. Especially where we came off an and one, I was worried that he was going to get undercut. And I was coming down the right side and said, "You've got one coming behind you," but knowing Parker he has tons of confidence. So him going up and just slamming that just changed the whole game set for us. We came out and knew we could do this.
I know you guys played at the Meridian gym. Luke, what's the main difference between Meridian and the Idaho Center?
LUKE: The Ford Center is just a huge experience for all of us because it shows us the reality of our dreams, and our dreams were to make it to that championship. The lights were brighter, and we were more excited.
Well it clearly didn't affect your shooting. They always say it's tougher to shoot with an open background.
LUKE: You mean the depth perception? Well, I kind of struggled with it. I was 0 for 4 on the three point line. I hadn't really thought about it during the game, I just kept on shooting. But I think it definitely has a play in it just because we're not used to shooting on that background and so much space, but obviously these two didn't have trouble with it. They loved it!
HAYDEN: At first at the Ford Center I thought it was crazy because it was so big. But I felt like we had the home court advantage just because we had so many fans there and our gym is bright. So to me if felt like we were playing at home.
Tell me about the championship game against Snake River. Coach, what did you tell the guys? How did you come back?
COACH: Snake River was trying to zone and trying to lull us to sleep a little bit. Our strength was speed and shooting, and they knew we could shoot it. We were playing really good defense, I think that's a big key, I think that was a big key to our success throughout the whole season. …I wanted to play them because I have a lot of respect for Coach Coons, but you want to beat the best on the biggest stage to prove yourself. Everyone thought our road was easy, but it wasn't. We had to earn that.
Parker, I feel like you guys went from being the underdog to being the finisher team. When during the season do you felt like you went from being the underdog to the being favorite?
PARKER: Well, during the season we knew we would be a force to be reckoned with as long as we could get some things worked out with teammates and learn to play well. But it wasn't any surprise to us to see ourselves down at the bottom of the polls because we didn't really amount to anything last year. I think a good momentum and confidence booster for us was when we beat Shelley twice in a row to win District Title. That's when we realized we could see the light at the end of the tunnel.
Luke, tell me about the Sugar fans. Are they the best fans in the state?
LUKE: They're crazy. We have had the biggest supporters behind us. Like what Hayden said, at the Ford Center it was like a home game. We had such a good crowd come out and support; and that meant a lot to us because it was a confirmation that people did support us. A lot of things happened for us during the year just by people reaching out and just doing nice things for us because they believed in us. We definitely have a great city. They all believed in us and helped us believe in ourselves.
Hayden, what was the top moment of the year? Do you have one that just really stands out?
HAYDEN: That last shot that Snake had at State. As soon as they shot it, I kind of sat behind and watched it, but Jaron put his hand down just enough that he had to double pump it. As soon as I shot one up I saw that it was short, and I just knew then that we had won State. So for me, yes, personally I played a very good game, but I couldn't have done it without my team. My biggest limelight of the game was just that we won together. In past years it was rough for us because there was always one player that does everything. Everyone contributed and everyone played great and everyone stepped up.
Parker, where does the Sugar team get their toughness from?
PARKER: We've always had to rely on our grittiness and our speed and physicality, even since eighth grade because we were the smallest team on the court. That also comes with Digger pride; that's what Digger pride stands for and we do all the work that no team wants to do. I think that's what led to some of our success this year.
Coach, what are your takeaways from the year? What are you going to miss most about this group?
COACH: I'm going to miss a lot of things. It's a special group to have, and obviously they're special in what they accomplished, but it's the off the court stuff that makes me really proud. Their character, they joke around a lot. I'll miss their personalities, these three especially, we grinded pretty hard. We've been in the lab and the gym, and we've been doing lots of sessions multiple times a week going over fundamentals. This is the first time in my coaching career that I've offered that, I've never had anyone take me up on it, and for these kids to push past stuff like that, they got what they deserved, in my opinion. Their hard work was rewarded. … The cherry for me is the Sportsmanship Award. We got that, and that meant a lot. We've always wanted to stand out in a good way. I told these kids, "Be different, but be different in a good way." This is a huge accomplishment in their life and in their community, but this is going to propel into their future.