For the first time since 1988, the Sugar-Salem Digger Football team is headed to the state championship game in Boise this Saturday. Led by head coach Tyler Richins, the boys have displayed an impenetrable defense and an almost unstoppable offense.
If Sugar-Salem wins, it will be the first state championship title for Digger football and the first for Richins as head coach. Cheering them on from the stands will be community members, friends, and family — including Tyler's father Dwight Richins, a former high school head coach who led his teams to five state championships.
Here's to hoping the legacy continues this Saturday.
A legacy is born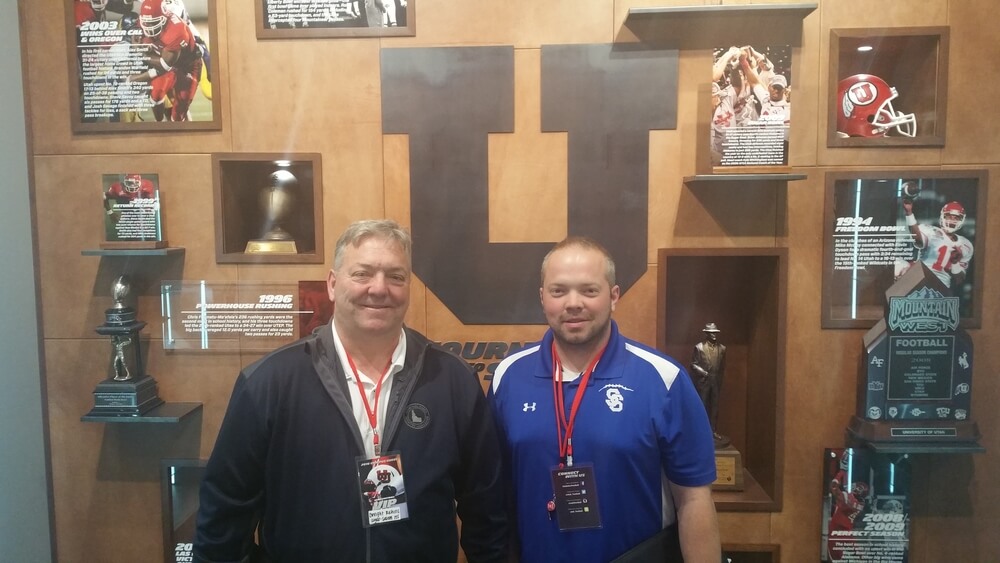 Dwight Richins first began coaching in 1980, achieving his first head coaching job in 1988, the same year Sugar-Salem last went to state. In those days, however, he started at Raft River, where he coached for three years. He then moved on to Teton for a decade, coaching Tyler to a state championship in 1999, and then to Shelley for eleven years where he coached his sons Shane and Chase to championships in 2005 and 2009, respectively. He finished his 25-year stint as head coach with a final year at Hillcrest.
"It's a tough job — it'll eat you up," Dwight says. "But it's been a good ride."
Currently, Dwight serves as the superintendent for West Jefferson and is a representative on the board for the IHSAA (Idaho High School Activities Association). These days, he cheers his son on from the stands and talks football with him.
And though Tyler is now head coach and a math teacher at Sugar-Salem, that wasn't always the plan.
"I was a student at Idaho State University and started coaching with my dad at Shelley," Tyler says. "I soon found myself coaching freshman football and really having a blast coaching those kids."
Tyler's involvement with his father in the Shelley football program was the inciting incident that set him on his current path.
"I was lucky to be part of a great staff and team that made it really fun," he continues. "I enjoyed watching kids develop as young men and athletes. Helping young student-athletes develop a love for the game that has meant so much to me was really exciting."
A lifelong dream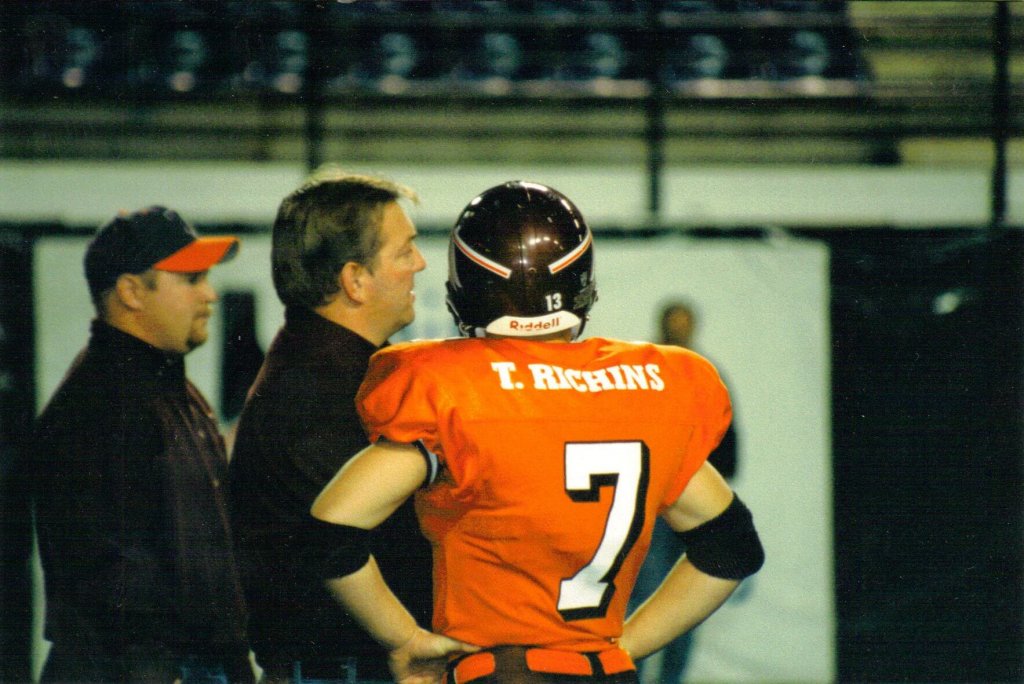 From his early days at Teton High School as the coach's kid on the bus following teams around, watching them labor for victory, Tyler Richins has had the goal of winning a state championship for as long as he can remember. It was something they talked about and worked hard on all throughout middle and high school. As a senior in 1999, the dream became reality.
"Winning that state championship, raising that blue trophy and holding that banner was a dream come true," Tyler says. "To accomplish that with my dad and friends is something I will never forget."
Now a head coach himself, Richins and his coaching staff aim to replicate this achievement — and his father's storied success — against Homedale on Saturday.
"There is a lot of energy around this game in our state, community, and school," he says. "We're so excited for the opportunity to compete one more week for the state championship. We feel extremely fortunate to be in this position."
Richins says he has learned a lot from those days watching and coaching with his father. Execution, discipline, working with the community and administration, and focusing on the little things are just a few of these.
"I have been extremely fortunate to be behind the scenes and watch him grow and develop different programs," Tyler says.
Following in his father's footsteps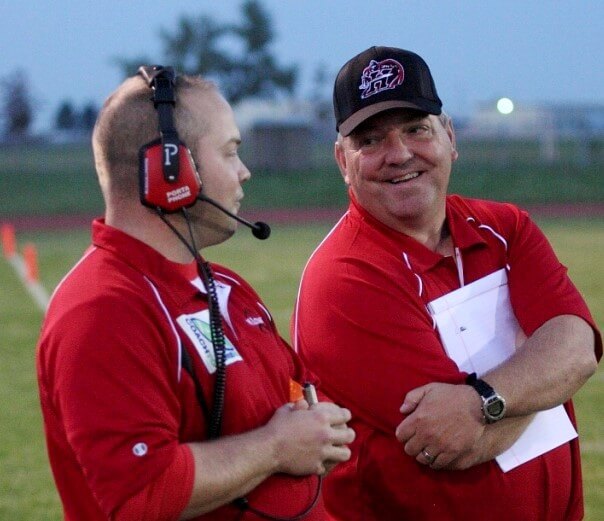 Coaching football isn't the only path both father and son have trodden. Both Dwight and Tyler Richins are in education — Tyler's even currently working on his Master's. Both have served in the National Guard; Dwight recently retired from the reserve after 30 years of service, and Tyler served a year in Iraq in 2004.
Certainly, the Richins probably have plenty in common to talk about. It may be safe to say, however, that the number one topic these days is football.
"We still talk things through but he's pretty much got an idea of what he wants to do," says Dwight. "I just get to sit in the stands and cheer him on."
"It is nice to have someone I can call no matter what and get an honest opinion," Tyler adds. "If he sees something that could help us, he will tell me. It's nice to have that. It helps make me a better coach."
Dwight's influence both on and off the field has had a tremendous effect on Tyler.
"I am a long ways from accomplishing the great things he has done," he says. "I just hope I can make an impact on players' lives as he has done with so many."
Ready?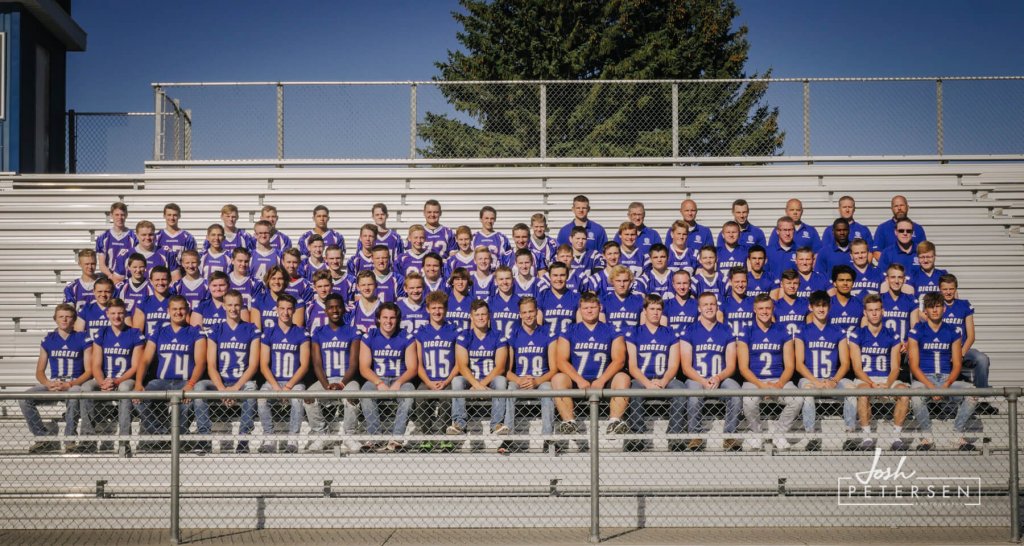 We've all seen the Diggers' powerhouse defense in action, such as in last week's crucial game against Kimberly. Tyler believes, and we agree, that the Diggers are dialed in; they know what is at stake, but they are confident in the football they've played so far and will be ready for Saturday.
As for Dwight, he shares this confidence in Sugar-Salem — and in his son.
"I'm very proud of Tyler," Dwight says. "He's done a wonderful job. He loves the game — he's passionate about it."
The Sugar-Salem Diggers will face the Homedale Trojans Saturday, November 17 at 1:00 p.m. at Middleton High School. Whether from the stands or from afar, we encourage you to cheer on the Diggers as they make their historic appearance at the state championship.