Walking into a thrift store can be thrilling. But it can also be intimidating, due to the literal thousands of items packed in and piled all around. This can be an overwhelming task for even the most professional of shoppers. But really, have no fear. Here are some tips and tricks to follow to help you stay sane whilst thrift shopping.
There is something glorious about thrift shopping. It truly is a form of art.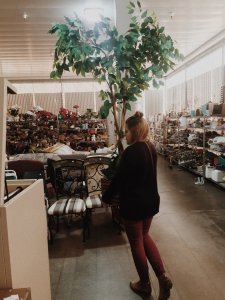 What to bring
Headphones to listen to music

Easy comfy clothes to change in and out of

An open mind
Looking through stacks upon stacks of jeans, jackets, books, or knick-knacks requires some amount of focus. Don't feel like you're in a rush. Patience, young grasshopper. Bring your music to keep calm. It will help you feel at ease with any chaos. Odds are you will most likely need to try things on, so wear an outfit that is easy and comfortable. Lastly, you need to bring an open mind. You never know what you could end up with!
What to look for
Have a mental list (or an actual list) of the things you are hoping to find. Everyone knows of that one person who has the perfect pair of vintage Levi's "mom jeans" from a thrift store. Don't sweat it if you can't find exactly what you had in mind. Try to expand your list of wants. You might be surprised at what you can find! To name but a few: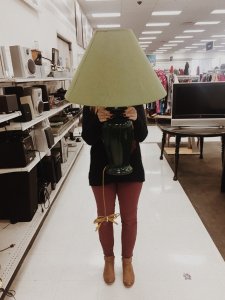 Shoes

Lamps

Frames/mirrors

Plants

Jackets

Clocks

Flower Vases

Books

Hats
What to do
Ask an employee about new arrivals

Go to all sections, all sizes

Invite friends
Thrift shops are constantly receiving new items, which means you never know when those Levi's will be sitting on the shelf waiting for you! Talk to the employees. They have a wealth of information about arrival times. Ladies, don't be afraid of the men's section. That oversized flannel is just calling your name. Thrift shopping with friends can make it easier and more fun unless you are the same size. (joking…not really)
At the end of the day, it simply comes down to having an open mind and having fun. Persistence is also key. Thrift shopping is not only the affordable way to go, but it is the most adventurous way to go.
It's like what Macklemore said: "You can wear your grandma's clothes and look incredible." So get thrifting!