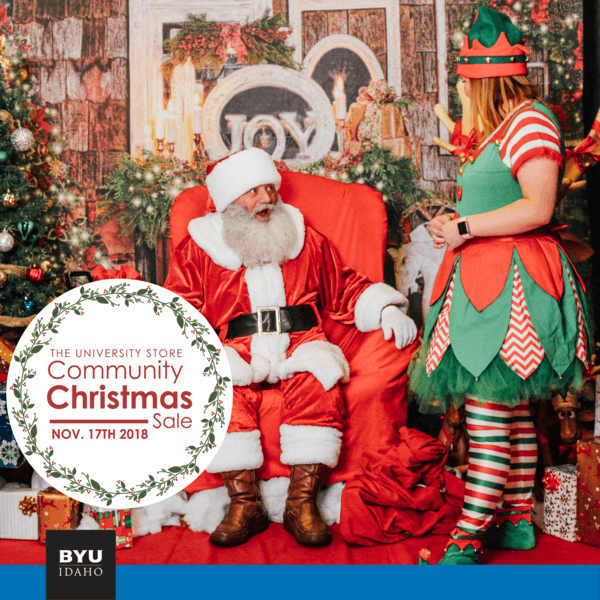 Every year for the holidays, the BYU-Idaho University Store opens its doors to the community in a spirit of goodwill. No I-Card, I-number, or student email required. And it is happening this week.
---
Get your holiday shopping done early
This Saturday, November 17, swing by campus from 10 a.m. to 4 p.m. for the season's most festive holiday shopping experience. You can expect exclusive deals, games, prizes, and even a special visitor from up north.
But wait a second, you may be asking yourself, what if I don't want all BYU-I things for Christmas?
If you haven't been up to the University Store in a while, rest assured, there is so much more than BYU-I sweatshirts and textbooks up there.
You'll find games at a discount price that will beat anything you can find on Amazon. Women will find selections from Downeast, Mikarose, Willow Tree, and more. Men can enjoy a variety of dress shirts and ties. And the socks. There is a "bucket ton" of socks available.
To sweeten the pot, all regularly-priced items receive an additional 20% off. There are also clearance items, doorbusters, and even deals online. You can see these deals and a comprehensive list of the sales here. All in-store and online sales are while supplies last, and exclusions may apply.
Christmas at the University Store
This event is not only a prime opportunity to get a jump start on your Christmas shopping. The aim is to bring the community together in the spirit of the holiday season.
"We like to give back not only to the students but to anyone else in the community that would like to come up," says Jenny Anderson, Communications Assistant with the University Store. "We understand there's a lot of people that have family and friends that work up here, people that go to school here. So we'd like to invite them up."
There will be several family-friendly activities during the event. A kids' coloring contest to win gift cards will happen. Elves will be roaming the store laden with Christmas cookies. The bowling alley across the hall will be open and charge only $1 per game.
Plus, there will be a mailbox to mail letters to Santa at the North Pole. Or, to save on postage, you can see Santa for yourself from 10 a.m. to 2 p.m.! Pictures with Santa are free, and you will be supplied with a link to go print them off.
---
Whether you were ready for it or not, the holiday season is just about upon us. The University Store at BYU-Idaho wishes to be among the first to get you into the spirit of the season. So this Saturday, come on down to the store for great deals and magical Christmas moments.
Want to know how you can give back for the holidays? Check out our list.