This article was written by Madison Burrell and Rachel Balls of the Bobcat Beat and has been used with permission.
After 43 years of teaching, our MHS orchestra conductor, Mr. Hansen, will be retiring at the end of this school year.
"I've been trying to decide for two or three years and I don't know, I just finally decided that it's been a great year," Mr. Hansen said.
After many dedicated years of service, students were very disappointed to learn of Mr. Hansen's retirement, but they are excited for Mr. Hansen's replacement, his son, Doug Hansen.
"I'm really sad that he is retiring. The seniors are lucky because they get to leave with him. I'm going to miss him but I'm excited for Doug," Junior Sophie Lyman said.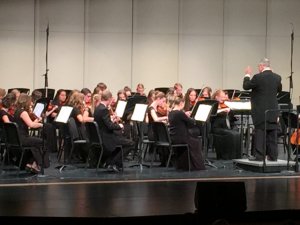 Mr. Hansen helped many people learn how to play their instruments, and pushed them to be the best that they could. His past students and current students created a GoFundme page to help raise money to send him and his wife on a trip.
"The kids gave me $4,000 to take a trip. We are going to go on a fun trip somewhere. We've never been on a trip except to go see our kids, or take the orchestra to Disneyland," Hansen said.

Looking for more articles from Madison High School? Check out the
Bobcat Beat
for new stories every week!