[image_with_animation image_url="6334″ alignment="center" animation="Fade In" box_shadow="none" max_width="100%"]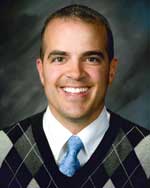 Madison High School has hired Travis Schwab as the head boys' basketball coach. Previously, Schwab was an assistant men's basketball coach for twelve years under now retired coach Bill Hawkins at Madison.
Explore Rexburg had a chance to sit down with Coach Schwab and ask a couple questions about his thoughts on coaching the Bobcats.
Explore Rexburg – Tell me some of your initial thoughts on being named the Head Boys Basketball Coach at Madison High School.
Schwab – The word that comes to mind is humility.  I can't tell you how humble it is to try and follow Bill Hawkins.  He is a man that I have looked up to and he has played a huge role in my life as long as I have known him for the past 29 years.  At the same time, it's exciting.  To be able to finally have the job and to start going forward.
ER – Tell us a little bit about your coaching background. Where have you coached?
Schwab – I started coaching down in Texas in a city outside of Houston.  I coached 8th grade football, basketball and golf.  I then moved back to Sugar City and coached under Glenn Romney as his assistant. Glenn was offered the head job at Rigby and he took me with him.  I was the assistant coach at Rigby and the head JV coach.  Then after one year coach Hawkins called and said it was time to come home. I've been back at Madison for the past 12 years as a varsity assistant coach.  I've been a part of coaching in six state title games and luckily, we brought home two state championships.  
ER – It's already May.  What do you have planned for the summer?  Are you still going to have a Mickey D's Basketball camp?
Schwab – We are hoping to have a summer schedule out soon for the boys.  We are definitely having a Mickey D's camp. That will be held June 19th to the 23rd.  I really want the players to have a say in what camps they want to attend this summer.  Once I meet with the players, we will decide on a summer camp schedule.
ER – We'd love to get together in the future and talk more about the similarities and differences between your coaching style and Coach Bill Hawkins.  Would that be possible?  
Schwab – Absolutely!  Madison Basketball will definitely look a bit different next year, actually maybe a lot different.  I'd love to get together and discuss the future of Madison Basketball.
ER – Congratulations and good luck to you and the Madison Bobcats!