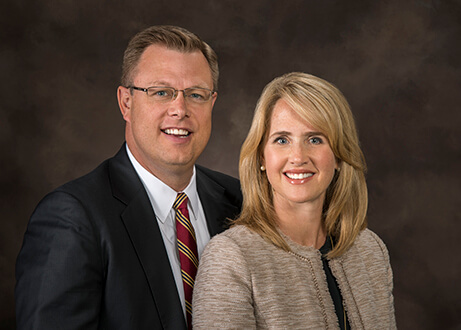 Image via BYU-Idaho

President and Sister Gilbert will speak at their last BYU-I devotional this Tuesday, March 28.
On February 7, 2017, The Church of Jesus Christ of Latter-day Saints made two big announcements. The first, that there would be a new online Church Educational System (CES) school called BYU-Pathway Worldwide (BYU-PW). The second is that President Clark Gilbert will be the new president of BYU-PW.
Pathway
The BYU-PW program will be built upon the BYU-I Pathway program, which began in 2009. This will create a new online program that will be available to students worldwide. Pathway started at BYU-Idaho in 2009 and had three test locations in the United States. The program has been wildly successful has been available to just under 500 locations across the globe. According to the new BYU-PW website, Pathway is, "[d]esigned to give students the confidence and skills needed to succeed in college." Pathway is an affordable educational opportunity that allows students to earn college credit. They can then use those credits to transfer to BYU-Idaho or a few other universities. The program takes just one year to complete and has already led many students to certificates and degrees they may not have had access to otherwise.
President Gilbert
President Gilbert started working at BYU-Idaho in 2006 in Student Services. He helped set up and launch the BYU-I Pathway program in 2009. Before being asked to serve as the President of BYU-I, he lived in Salt Lake City and held the position of CEO at Deseret Digital Media as well as President at Deseret News. It was only recently in 2015 that he was asked to move back to Rexburg and serve as the new President of BYU-I after the departure of President Kim B. Clark.
During his inauguration speech, President Gilbert said, "Today, we remain on a 'steady, upward course' of growth and discovery. We face a dual challenge: to continue to strengthen our core campus experience, even as we pioneer new ways to reach students around the world."  Since opening the BYU-I Pathway program, President Gilbert has looked to help students of all ages and background worldwide. There has been a lot of buzz since it was announced that he would become the president of the new CES online university.
Vice President Eyring
The current Academic Vice President, Henry J. Eyring, will become BYU-Idaho's 17th president on April 10, 2017. During the February 7 BYU-I devotional, Eyring remarked, "I have been blessed to work with President Gilbert both professionally and ecclesiastically over three decades. I know of no one of greater heart and energy, character, and enthusiasm. Like you, I am inspired by the mission of the newly created BYU-Pathway Worldwide"
Tuesday, March 28 at 2:10 PM, President and Sister Gilbert are speaking at the last devotional of the Winter 2017 semester. This is also the last devotional with President Gilbert as the president of the university. Come support the Gilberts by attending their final devotional. BYU-Idaho devotionals are streamed online and can be heard through BYU-I Radio.