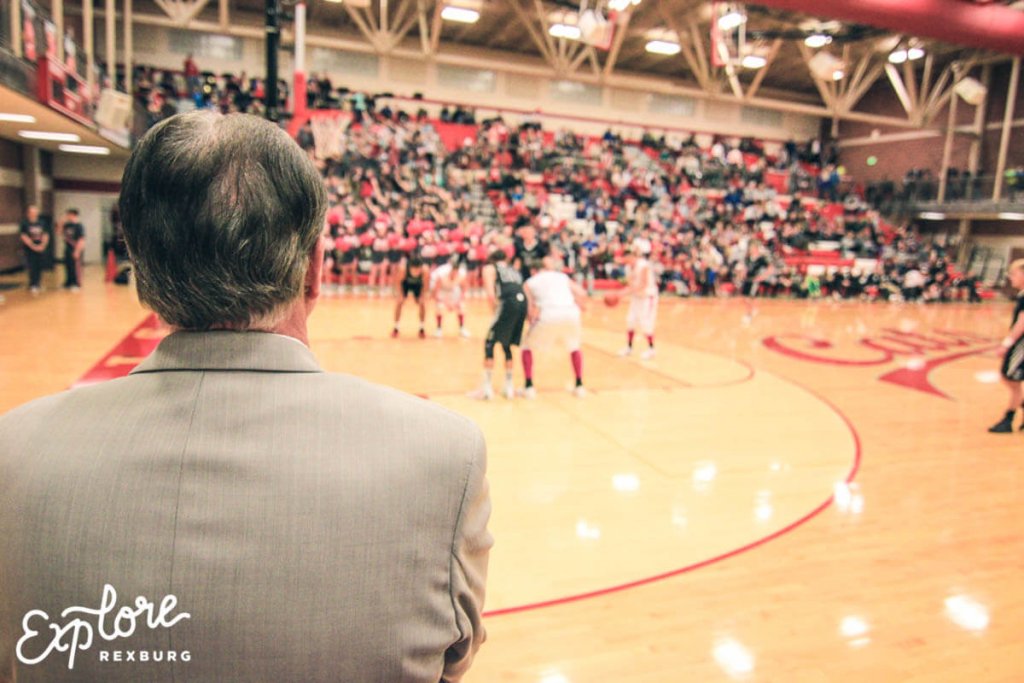 Photos via Van Visual Media for Explore Rexburg. Yearbook photos via Madison High School
After 29 years at Madison High School, Coach Bill Hawkins is leaving behind a huge legacy. He's coached generations of basketball players from Rexburg and has led his team to five state championships. We asked Brady Gardner of The Dealio, a former player of Coach Hawkins, to sit down and ask the coach what some of his greatest memories were and what he'll miss the most about coaching.
Brady Gardner: What led to the decision to retire?
Coach Hawkins: Well, number one, my wife is retiring this year. That's a huge reason why I decided to. I think it's time to spend some time with my grandkids and my family, and her. She's been such a support; she's been our scorekeeper for 36 years. She deserves a little credit as well. The other thing is that I've been thinking about it a lot, and when I first made the decision and told my family and told my assistant coaches, there were a lot of tears shed and there was a lot of emotion. But now that the smoke has cleared a little bit, I feel really at ease with it. I feel like it was the right decision to make. The other reason why I felt like it was time was because the next guy that comes in, I want him to come into a group of kids who have potential to do very well. I really feel like the next two years we have potential to become a really good basketball team. I'm not trying to put pressure on the next guy, but I just want them to be able to start their program and have some kids to work with. Our sophomores won the district championship and we played juniors with them throughout the year to make sure that camaraderie and chemistry developed.
BG: You are leaving an amazing legacy, 29 years of coaching! What have been some of your most memorable moments over the past 29 years?
CH: All of the kids that I coached. It's probably over 1,000 kids when you look at it. They're all great memories, but probably the ones that are the closest to me were coaching my own sons, Moses and Isaiah. When Moses was a senior we won the state championship over Meridian. That was really fun because nobody expected us to do that. They had the Fellows kid who went to Penn State, [He] was 6'11", and they had quite a basketball team. We never led the whole game until the very end. We ended up taking them to overtime and we beat them.
BG: What year was that?
CH: That was 2001. The very next year Moses goes out on a mission and Isaiah is a junior. We ended up beating Timberline in the semi-finals. It was probably the best team in Idaho. Everybody thought it was Lake City, but I think it might have been Timberline. They had an unbelievable team. I heard our own fans walking behind them saying, "How can we even compete with Timberline and Lake City?" Because we really weren't very big, and on that particular team I had three seniors: Hank Grover, Kyle Matthews, and Kurt Nielsen. And we had a very good junior class. Isaiah was in that junior class. Anyway, we were able to beat both of those teams and win a state championship in Isaiah's junior year. Moses was named 5A Player of the Year his senior year, something that I didn't have anything to do with to be quite honest with you. That's voted on by all the coaches in the state. Isaiah was in his senior year when he was voted 4A Player of the Year. So it was pretty cool to coach both my sons. I've had one other player in all my career that was Player of the Year, and that was Matt Hansen on our 2007 state championship team. We had a lot of state championships and that gave our kids an opportunity to be noticed. It was interesting at the 2011 state championship we beat [Kyle] Dranginis from Skyview for the championship and he went on to play for Gonzaga. Of course he was the Player of the Year that year even though they only took second at state. Those are two that I cherish the most because they were my own sons and to be able to share that with them was fun.
BG: You've won 5 state championships. That's a lot of work to get there! How did you transition the players from thinking, "Let's get to state," to, "Let's win state."
CH: That's a great question. What's interesting is that we've been so fortunate at Madison just getting to state. We've been there multiple times and that part I'm very proud of. But early on we'd always lose that first game at state. We couldn't get over the top of it. We won some consolation championships, but I think we got to the point where, even as coaches, we were better prepared for the start of the tournament. As a result of that, in 1997 we were able to get over the top. That group of kids, there was David Dalling, my point guard, Jared Ricks, and Corey Wilcox was at center, but he was a junior. He was 6'8". Dallas Stevens was one of the off-guards and he played for us that year and did a heck of a job, a great shooter. He was also a junior. The other senior that started was Ben Franz. What's really cool was I had Ben as a left-hander and although nobody realized, David shot the ball right-handed, but was better drilling it with his left hand. He was left-handed in almost everything he did, but shooting. So they always forced him to his left, but that was a mistake because he was better with his left hand than he was his right. It was a fun bunch of kids. That was our first state championship, and again, I look at it this year, we got our hearts broken. But I also look back and see how many times we (Madison) broke other people's hearts. I think the basketball gods, I don't know if they were humbling Bill Hawkins or humbling someone else or whatever the situation was, but all I do know is when I evaluated it after this year I thought about 1997. They didn't give us a prayer. When those boys were sophomores they lost to Boise High by 40 points. This year at the state tournament they said that this was the first time Boise High had finally made it back to the state tournament since 1997. We beat them in the semi-final game with that team that got beat by 40 earlier on. Highland was playing for a back-to-back state championship. We played them for the championship game and lost by 40 at Highland three and a half weeks earlier. Highland was amazing! And we beat them in the title game. And look at last year! The tip that everybody remembers. Borah was the best team in the state of Idaho, they were! They would have beaten Highland by 20 points in the state championship game. They were up 12 on us until DeAndre fouled out. When he fouled out we made our move and chipped away. Zach hits the tip-in of a lifetime. I loved it! I thought it was so fantastic. But, Cary Cada, my very dear friend from Borah, retired after that situation. They weren't planning on a third place. They were planning on a first place, and their heart was torn out. So it happens to the best of them. You never know. Any team can beat any team on any given night, as we see in the NCAA.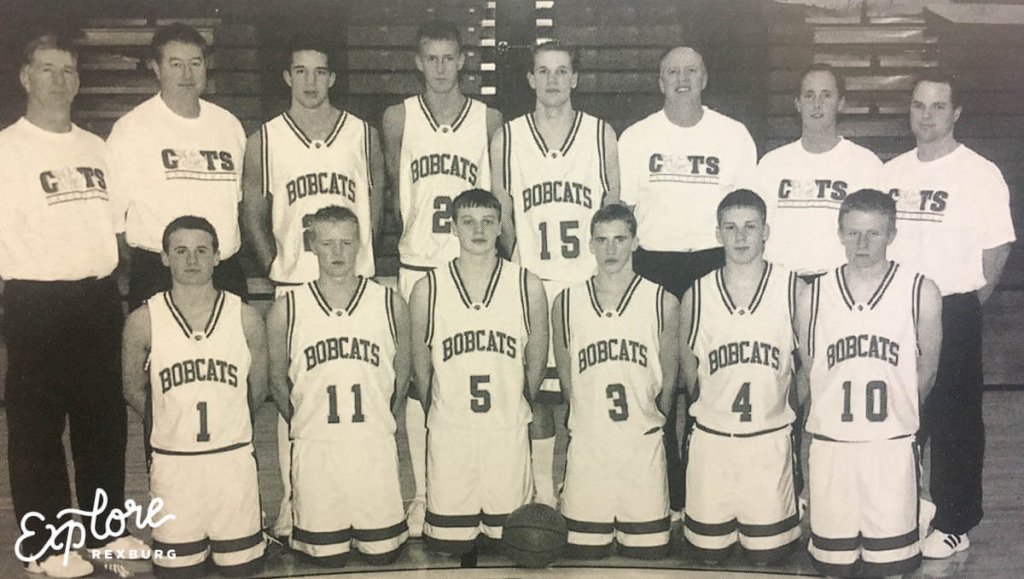 BG: How do you feel like the game has changed since you started to now?
CH: I think more than anything is that [the kids] are exposed to the game even more so than they ever were back then. I'm very fortunate here at Madison because I've got great parents working with kids at a young age. Over in Boise Valley they have AAU coaches working with them that are teaching them bad habits. It's not about team playing, and we've been very fortunate because the parents, for the most part, run my stuff! They run the stuff that I run. It might be a lower version of spots or motion or whatever, but they run and they teach the fundamentals that we teach because that's the good stuff. It's made these kids that much more exposed. The cool thing is that these kids are getting exposed that much more now, and we expose them more with what we do in the summer. We play 50 games in the summer. Back 20 years ago it was probably 30 games. That part has evolved to give them more opportunities to make them better. It was a big thing a few years ago, the weights, but not like it is now. It needs to be a big part of their training process to make them bigger, faster, stronger. So that's huge, too.
BG: What's your favorite part about being a coach?
CH: Working with young people and flat out seeing them evolve not just in basketball, but as young men. To think that maybe because of how much they love this game, we can teach them some things about life and some life lessons that will help them in their marriage, in college, on a mission, etc. What I love is to receive emails from these missionaries that are out there and saying, "Coach, thanks for teaching me something besides basketball. There's been some things out here that basketball has helped me get through." It's like the team this year losing this first game. Boy, that speech is a tough one after the game, but it's like I told them, "For some reason or another it wasn't meant to be. And it wasn't meant to be, we'll find out one day hereafter, but you can let this loss help you in life like no other when those tough moments come. Because this will be one of the tougher moments you'll have in your life. So let it help you, not hurt you."
BG: Well, like you said, it's not just about basketball. Why did you require the players to have short groomed hair, white shoes, high socks, no talking back to the ref, no showing off…why did you require that over the years?
CH: I played for Elliot Anderson in Rigby and Elliott is quite a disciplinarian. As I look back at my playing days I had long hair clear down to my shoulders. I was a hippie! So I don't know if I got that from my coach, but I just feel so strongly that you play how you look. I feel that. I feel like you act like you look. There have been so many times I'd have a guy come to me and say, "Have you played So-and-So? Have you played Such-and-Such on that team? Isn't he the biggest jerk you've ever seen?" And I'll say, "He's not the jerk. The jerk is the guy in charge letting him be the jerk. That's who's the jerk." The thing is I think it helps you win championships. I truly believe that. If you let kids talk to the referees, they're going to talk to them at the wrong time and receive a technical. As a result of that, it could cost you the game. We've been on the other side of that so many times where a kid got a technical and helped push us over the top for a district championship. The further you get in competition, whether it's a district championship or a state championship, the emotions get even bigger and stronger. If those kids are allowed to talk back, they're going to do it at the wrong time. The other thing is that I think that the white socks, the short hair, no facial hair, all that stuff makes them understand that they've got to be together as a team. If you let kids have long hair and do that, they're going to do it as an individual. In other words, one kid will have long hair, another kid may not. One kid will have colored socks, another one may not. They're not all going to look the same. You see that with a lot of our opponents, and as a result of that I don't think they play that well together. That sounds really stupid, but it's key. I always say, "You win with the little things." Well, those are little things. So are fundamentals of dribbling, fundamentals of passing, fundamentals of rebounding, fundamentals of defense. All those things are important, but the team playing together with one another is the key to success.
BG: Everyone is looking forward to the McDonald's Basketball Camp. What can we expect from that now that you're gone?
CH: I hope it continues like crazy. The big thing is I know Trent Chicos from the Rexburg McDonald's helps sponsor that for us, and he's been so fantastic. I know him, he does it with all programs. It's not just because of Bill Hawkins. It was called the All-American Sports Camp back in the day, then I got McDonald's involved. But I hope that camp evolves just like I hope this program evolves. I'm not one of those coaches that wants to see it go downhill. I want to see it get better! I want to see them win more state championships because of what we've established here in Rexburg, Idaho. That's what I want. McDonald's is a big part of that! Our McDonald's camp is second to none, and I'm not trying to brag it up. I go to some of these other ones and see what's going on there, and it is very interesting. I think Trent wants it to stay, and so I would hope the next coach that comes in goes to him and says, "Would you continue to sponsor this?" I don't even want to make it the Madison Basketball Camp just because I want other kids from other schools to come. It's been a lot of fun.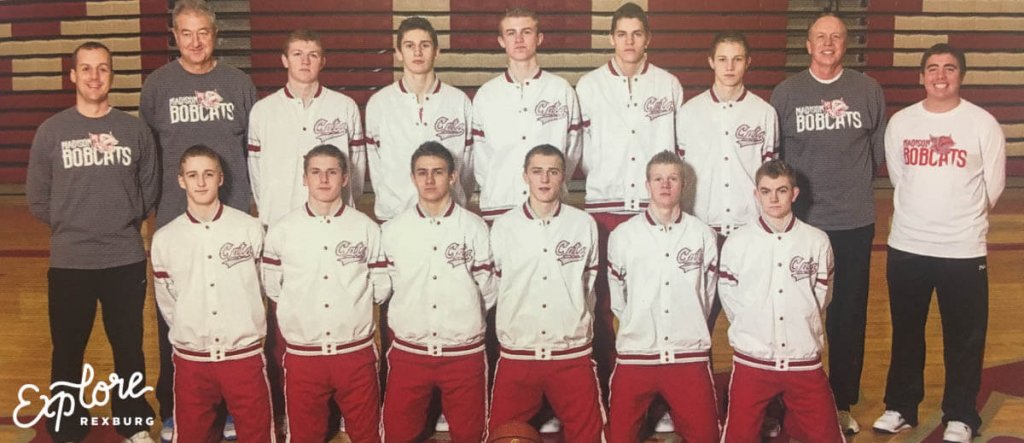 BG: Ever since Ricks College finished with competitive sports, this is what Rexburg does! We go out and we support Madison. How is it different from other programs to have such fiercely loyal fan base here in Rexburg?
CH: That's what I'm going to miss more than anything, the support that I've had since I've been the coach here. Do you get your enemies? You do. You're going to have those people out there no matter what situation you're in. It doesn't matter how successful you've been. More importantly I want everyone to understand that the success of the program is not just Bill Hawkins, it's not just the players that you have, it is the support that you receive from the community. It's the support you receive from the administration. It's the support that you receive from the parents. It's the support that you receive from your coaching staff. You're only as good as the people you surround yourself with. Look at all the coaches that I've had that haven't changed very often. Look at Rex Fullmer, Shira Fujimoto, Jed Wilson, Rob Matthews, Wayne Grover, Dave Gumke, Travis Schwab, Scott White… You look at these guys, so loyal. None of them wanted to take my job and have my job. If someone bad mouthed me out in the community, they'd have my back. The administration, same way. Remember back in the day when we were in the old gym? The old gym was always packed and people didn't come to the games because it was too congested. Now we have this beautiful new facility, which, again, our administration let me have say on how to build that facility. I think our facility is the best in the state for a high school basketball facility. You look at that and these people who have been so wonderful. Look at the game we played against Bonneville at Columbia High School on that third game Saturday morning. I mean, our Madison fans are still with us! Even though we dropped that first game, we beat a good Boise team in the second game, and then we play that third game and I'm here to tell you that the love that was poured out to those kids and us as a Madison program was amazing. The band, the cheerleaders, the student body… they're the show! Not just us, they're all part of the show. It's just been fantastic. I've got kids who never even played basketball who come up to me and say, "Coach Hawkins! You're still coaching basketball?" And I say, "Yeah, I'm still coaching." And they say, "Oh my gosh, we had so much fun. I hope you keep coaching." That's what I'm going to miss; those kinds of relationships. It's been a really fun ride.