Best Breakfast in Town
If you've lived in Rexburg for a while now, you know that we don't have a lot of breakfast options. We have a few, like JB's and Paradise Donuts, but since we don't have many these places can get crowded. A few weeks ago I discovered Red Rabbit Grill, the best breakfast in town. It's a short walk from campus and very inexpensive. I didn't have to wait for a table, and the service was excellent. It's the perfect sit-down restaurant that this small town needed.
Red Rabbit Grill opened up a few years ago, by the same owners of Pizza Pie Café here in Rexburg. Their goal was to give us a nice place to eat out, without having to drive all the way to Idaho Falls. They even said that residents of Idaho Falls should drive up here to try their steak. Now that must be a good-quality steak. Forget Texas Roadhouse.
Breakfast
I got a waffle with Nutella, strawberries, and fresh whipped cream. The waffle was perfectly cooked; crispy on the outside and fluffy on the inside. They weren't stingy with the Nutella, which I loved. Usually, I don't like whip cream, but their whip cream is delicious! The fruit was also very fresh. I devoured every bite. It was amazing, along with their fresh-squeezed orange juice! Usually, when restaurants say their orange juice is freshly squeezed, you can't taste the difference. However, at Red Rabbit Grill, I had the best orange juice I've ever had. It has some apple in it, giving it a very unique taste.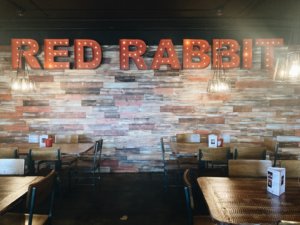 Some other breakfast options they have on the menu are french toast, pancakes, a yogurt parfait, a breakfast skillet, breakfast burritos, and biscuits and gravy. They also have plenty of sides to add to your meal; eggs, sausage, bacon, hash browns, and toast! Is your mouth watering or what? I know mine is just writing about it. Red Rabbit Grill has a breakfast item for everybody, whether you like it sweet or savory.
Lunch & Dinner
Don't mistake Red Rabbit Grill for just an amazing breakfast option, they have a lunch and dinner menu as well. I decided to put it to the test. After a long look at the menu (I couldn't decide), I chose one of their sandwiches. If that doesn't sound like your favorite meal, don't worry. They have endless options! For starters, they have fried pickles, and who doesn't love fried pickles? Some other appetizers they have are poutine, pretzel bites, cheese curds, and spinach artichoke dip.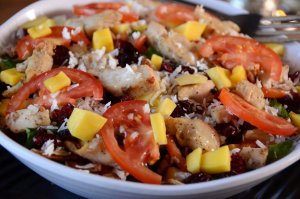 They have multiple sandwiches and wraps, gourmet burgers, plenty of salad options, steak, alfredo, and so much more! They also have plenty of sides that include fries, onion straws, veggies, and mashed potatoes. Again, my mouth is watering just writing about it. Try some of their specialty lemonade while you're at it. They have strawberry, huckleberry, raspberry, peach, mango, coconut, vanilla, and cherry lemonades! Don't forget dessert. Red Rabbit Grill has apple crisp, lava cake, and root beer floats. Seriously, so many options.
Try it For Yourself
Now onto my sandwich. I ordered the honey crisp chicken sandwich. I have never had anything like it before. It was crispy chicken covered in their honey butter, topped with bacon, lettuce, pickles, mayo, and honey mustard, all on a ciabatta bun. Better than a Chick-Fil-A sandwich! And that is saying a lot. Don't just take my word for it! Head on over to Red Rabbit Grill and test it out for yourself. You will have no regrets. If you don't have time to dine in, they also have delivery and curbside pickup. Talk about convenience.