This semester's Senior Showcase will take place at the BYU-Idaho Center tomorrow Thursday, November 16th from 3:30 to 5:30 pm.
The Senior Showcase is "a tradeshow-type environment where communication students present their project to professor [sic], organizations and other students."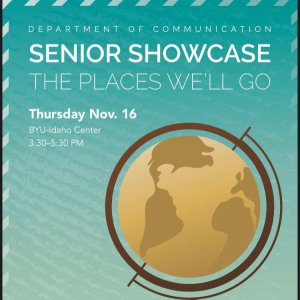 All communication students take part in the senior showcase, Comm 499, as a required core class. Typically, a student spearheads a project in their given emphasis throughout the semester, culminating in this presentation.
Tables will be set up on the first floor of the BYU-Idaho Center. Here students will display a visual representation of their senior project. As the page describes, students, professors, and local and other professionals are welcome to walk around, take a look at the students' projects, and engage the students in conversation about their particular project.
For participating seniors, remember that setup is between 7 and 9 am. Seniors will also enjoy a luncheon and a presentation by this year's speaker Amy Labaugh, BYU-Idaho Student Life Vice President. They are to be at their booth at 3 pm. This semester's judges will come by and do a preliminary tour of the showcase at that time.
Come by tomorrow afternoon to support the graduating communication seniors. Good luck to all those involved!