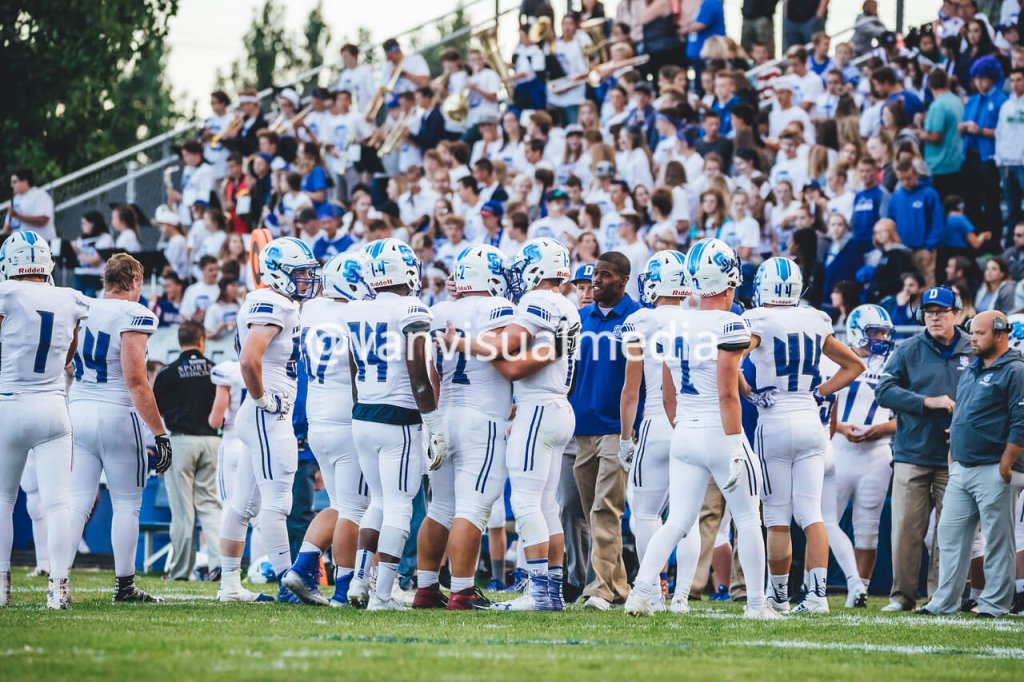 The No. 2 ranked Sugar-Salem Diggers football team jumped over a big hurdle last Friday night with an impressive 41-0 win over the No. 4 ranked Marsh Valley Eagles at the Holt Arena in Pocatello.
Junior quarterback Tanner Harris continued to add to his resume with three touchdowns (two passing, one rushing). He also helped Sugar-Salem (8-1) punch their ticket for an appearance in the semifinal game against the Kimberly Bulldogs.
"I think the biggest factor was studying film and picking out [Marsh Valley's] weaknesses and tendencies in order to expose them," QB Tanner Harris said. "We were also missing some key players from our team during the regular season and it really helped getting those players back."
"Our offensive line played awesome! During games I usually make reads at the line of scrimmage to decide where the ball is going to go and against Marsh Valley, our offensive line recognized those things faster than I did," said Harris. "We really owe most of our success this season to our offensive line."
The Diggers put together a very balanced attack on offense gaining 425 total yards (133 passing, 292 rushing). A total of five different receivers caught the ball and nine different running backs were featured. Junior running back, Sam Parkinson, had a great game with seven rushes for 75 yards and two TD's.
"This is the most athletic team I've ever played with," Harris said. "We are very deep at every position and could start two completely different lineup of receivers. We have two amazing running backs that fight for reps each week and push each other to a higher level."
Sugar-Salem Defense Will Remain Backbone of Championship Run
The Sugar Offense receives most of the Digger hype, and that's no surprise given their stats, but last Friday showed that the Diggers defense is still the foundation of its quest for a state championship. The Sugar-Salem defensive side of the ball stepped up to make sure the No. 2 team in the state maintained the lead against Marsh Valley.
"We studied a ton of film last week. We found what worked for us the first time we played them. We made a game plan off of those things and stuck to it. Marsh Valley has an amazing running back and their offense is built around having a powerful running game," said senior defensive end Hayden Crapo. "We knew that if we could shut him down, we really liked our chances. We love playing in the dome (Holt Arena) and after the early Interception by Gerohm, we really liked our chances. It really helped our defense set an early tone."
Diggers To Play Kimberly In The State Semifinals
"Kimberly and Marsh Valley are polar opposites," said Sugar-Salem head coach Tyler Richins. "You have a team in Marsh Valley that will run the ball, run the ball, and then run the ball again. Kimberly is a lot more fast paced. They're a no-huddle spread team that likes to throw the ball a lot. They're very athletic at running back and receiver."
"We're going to have to play a really solid game," continued Richins. "But I think our kids will match up well with them both physically and athletically. It's just a matter of whether we can continue to execute at a high level like we've done all season."
When asked about the game, Senior Hayden Crapo said, "I'm most excited to see so much of a different style of offense than what we have seen all year. The only other team we have played that runs the spread and throws the ball downfield was South Fremont. It's going to be an exciting game. Big plays will happen and we are going to give the ball to our impact players."
Both Tanner Harris and Hayden Crapo invite the community to come out and support the Sugar-Salem football team this Saturday night. "We will play with a lot of energy! Not only does our offense make big plays but our defense is constantly making plays as well," said Crapo. "It will be a tight game with big plays from both sides of the ball."
"I'm looking forward to the chance to prove what Digger football is all about," said Harris. "There is nothing like playing in front of a packed house. We love the support and hype that fans bring to the game. We have a chance to do something that Sugar-Salem hasn't been able to accomplish, a state championship. We aren't going to make it happen without the community supporting us the whole way."
The Sugar-Salem Diggers play the Kimberly Bulldogs this Saturday at 6:30 p.m. in the Holt Arena on the Idaho State University campus in Pocatello.