TEDxRexburg will be holding its fifth annual event on Saturday, January 12, at 6 pm in the beautifully restored Romance Theater. TEDx events are not for profit, independently organized TED events that allow small towns like Rexburg to share their unique ideas. The purpose of a TED event is to give individuals an opportunity to spread a unique idea worth sharing. The theme chosen this year is 'UP'. License holder and program curator Lee Warnick, along with the TEDxRexburg Team, are hoping that each attendee will leave feeling elevated, inspired, and motivated to lift their ideas 'UP' to new and greater heights.
This year's local speakers are Jennifer Saunders, Michaelbrent Collings, Preston Pugmire, Emily Curtis, Ryan Harris, Carol Sevy, Layne Kertamus, and Stuart Draper. The evening's host will be one of Madison School District's very own, Steve Gentile. The night will also feature few surprise special performances from some local talent. A few of the ideas that will be shared are:
Neurodiversity in the workplace
The art of building business by humanizing intangibles
Mindset over strategy
Loving outside the lines
Choosing to be happy
The psychosis of lies
Fighting hunger through charity fasting
Changing the world at any age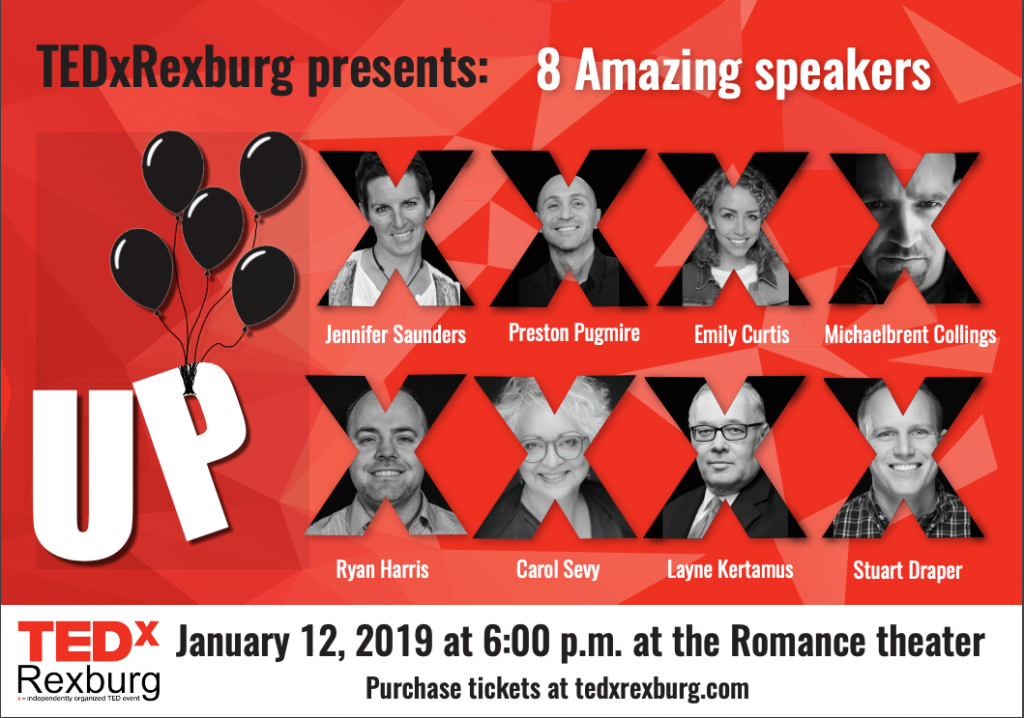 Tickets are currently on sale and going fast
"While theater space, swag bags, and the VIP experience is limited to those who have reserved tickets, we are excited to be live streaming this year," said Jessica Goudy, communications director with the Madison School District and Madison Cares. "There is no way a live stream can capture the energy in the theater, but this allows the speakers' family and friends who are not local to join in on the event from the comfort of their home. This event has sold out each year, so this also offers a chance for everyone to be involved."
The live stream will be linked on tedxrexburg.com. The recordings will go into post production, then submitted to the national TED.com website, where our local speakers ideas will hit the international platform.
Tickets for this event are $25 and can be purchased at tedxrexburg.com/attend. Additional information can be found at tedxrexburg.com.
This event is worked on by a team of volunteers from the community and sponsored and organized by the Madison School District, Madison Cares, The Venues, and the City of Rexburg.
For more information on this event or to purchase tickets contact the TEDxRexburg Team at tedxrexburg@gmail.com  or visit their website at tedxrexburg.com.
If you are interested in covering this event, please contact Jessica Goudy at (208) 359-3300 ext. 3434 about securing one FREE ticket in exchange for helping us share these ideas through your media/networks.