The Origin of The Soda Shop
First, it was Swig. Soda shops became popular in Utah because much of the population doesn't drink coffee. Those who do drink coffee often go to coffee shops to meet with friends or get work done. Non-coffee drinkers wanted something of their own as well. Hence, soda shops! Usually, soda shops sell your typical sodas, but with other flavors mixed in. Among the most popular is the Dirty Dr. Pepper, Dr. Pepper with coconut cream and lime. Swig opened up in 2010 in St. George, Utah, and after that soda, shops opened up all over the state. Others include Sodalicious and Fiiz. Then comes Idaho.
SodaVine was the first soda shop to open in Idaho, right here in Rexburg! Not only do they sell soda, but they also offer cookies, soft pretzels, gelato, and other sweet treats. Only a few years ago, all we had was SodaVine and Great Scotts. In the past few years, countless other soda shops have opened in the area. There are so many options! How do you choose? Who has the best soda? cookies? service? I have tried them all and I am here to tell you who wins the battle of the Soda Wars.
SodaVine
SodaVine is a classic Rexburg essential. It has a retro 50's theme with records on the wall and classic diner seats at some of the tables. This is usually the first soda shop every freshman goes to. SodaVine has the biggest treat selection out of all the soda shops. My favorite is the chocolate peanut butter cookie or the Oreo pretzels. I usually pair it with their 'Love Potion No. 9', 7-Up with red raspberry, pomegranate, and strawberry. A great drink for all of you fruit lovers! This soda shop is a great place to hang out with friends and escape the cold with their hot chocolate. Their main location is 50 S 2nd W, with a smaller shop at 1050 North 2nd East.
Great Scott's
Right across the street is Great Scott's! Both of the Great Scott's locations are in gas stations, very convenient for when you're heading out of town and need some gas, as well as an energy boost. They have a drive-thru as well, even more convenient. They serve 'Redneck Soda Mixers' as well as ice cream from Reed's Dairy.
Pick Me Up
Pick Me Up is the newest addition to Rexburg's collection of soda shops. Located right under the North Pointe apartments and at the old Wendy's location on 2nd East Street, Pick Me Up is very quick and convenient. You can either go inside and order or go right up to the window as you wait for the crosswalk. They have plenty of drink flavors along with cookies, popcorn, hot chocolate, energy drinks, and a secret menu.
Royal Soda Co.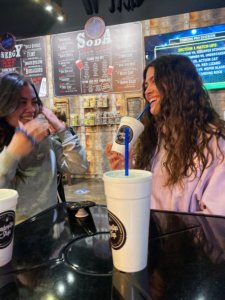 Need a drink on the way to Walmart? Royal Soda is right by Dairy Queen at 252 E 4th N. They have drink flavor combinations for every soda and it is pretty inexpensive. Try their sugar cookies while you're at it! This is my roommate's personal favorite. They claim that extra love is put into their royal drinks.
Mountain Pop Shop
Mountain Pop Shop is located on University Blvd, on the other side of the freeway. If you aren't the biggest fan of soda, they have flavored water as well. They have kids drinks, energy drinks, and flavored sodas. As the weather gets colder, you might want to try some of their hot chocolate. Pair it with a bagel, parfait, mountain pizza pie, rice crispy treat, or a cookie. I tried the huckleberry Oreo cookie and it was delicious! A classic sugar cookie with huckleberry frosting and Oreos sprinkled on top. I give this shop a thumbs up.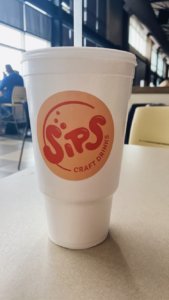 Sips Craft Drinks
Sips Craft Drinks is located in the Lodge Apartment Complexes. Just walk into the lobby and it's right there. Something they have that not everybody else does is the option to choose lemonade or sprite as your base. Lemonade is a great option for those who don't like soda very much, but still want to participate in the soda wars! I tried the 'Bikini Bottom', a mountain dew base with raspberry, peach, passion fruit, and cream. Very refreshing. Those who live at the Lodge are lucky!
The Final Battle
It's hard to set all of the places apart! If you're looking for a place to sit down and enjoy your drink with your friends, I would suggest SodaVine. If you don't have a lot of time, choose Great Scott's or Pick Me Up. And if you're looking for the best treats, head on over to Mountain Pop Shop or SodaVine.
Well, we can finally put the rumors to rest. This won't be the last of them, as more soda shops are bound to open. I say it is easy to pick one shop and stick with it, but don't be afraid to try something new. We all need a pick-me-up every once in a while and you deserve it too!