Leaves changing color, a crispness to the air, and of course, pumpkin spice WINTER! Wait just a minute, what is happening? Is Rexburg pulling a signature Rexburg move and messing with us all? Does it think it's funny to just breeze right past every girl's favorite season? Well, it appears that there could be some truth to this story.
Winter Storm Warning
The National Oceanic and Atmospheric Association (NOAA) announced a winter storm warning on Wednesday, September 13th. The storm warning is for Thursday – Saturday (Sept. 14-16) and is calling for up to 20″ of snow in Wyoming's Teton region and surrounding areas. Only expect that much snow at elevations above 9,500′. We won't be seeing anything remotely close to that in Rexburg. 4-8″ of snow is possible above elevations of 8,500′ with other regions in Wyoming expecting 8-12″ of snow.
Winter advisories have also been issued for Montana and Idaho calling for up to 10″ of snow in certain areas. If you've spent a fall or winter semester in Rexburg this is potentially nothing new to you. However, if you're one of the many incoming freshman who've never experienced this place, it's time to buckle up. This could be your first true taste of the odd weather patterns that stroll through the Snake River Valley and make Rexburg, Rexburg.

NOAA Statement
Below are abbreviated statements from the NOAA that share the details of the upcoming winter storm warning:
"Early season snowstorm poised for the Western and Central Wyoming Mountains from late Thursday night through Saturday morning. An unseasonably cold weather system will swing southeast from British Columbia toward Wyoming at the end of this week. A moisture laden stream of Pacific moisture will feed this storm system which may result in very abundant snowfall amounts for the mountains of Western and Central Wyoming."

"Yellowstone National Park, Grand Teton National Park, and the Gros Ventre Mountains are all in the path of the storm. Rainfall along and behind a strong cold front will turn to snowfall at elevations above 8,000 feet after midnight Thursday night, with the snow level gradually lowering to 6,000 feet by late Friday. The snowfall will be heavy at times through Saturday morning."

"Snow amounts: 4 to 8 inches possible above 8,500 feet and 8 to 12 inches above 10,000 feet, along with local amounts of 16 inches possible. The main areas impacted will be Togwotee and Teton Pass as well some elevated roads in Yellowstone Park. Roads may become slick and snow covered making travel difficult. *Hikers and campers should prepare for sharply colder weather along with potentially significant snow accumulations on hiking trails.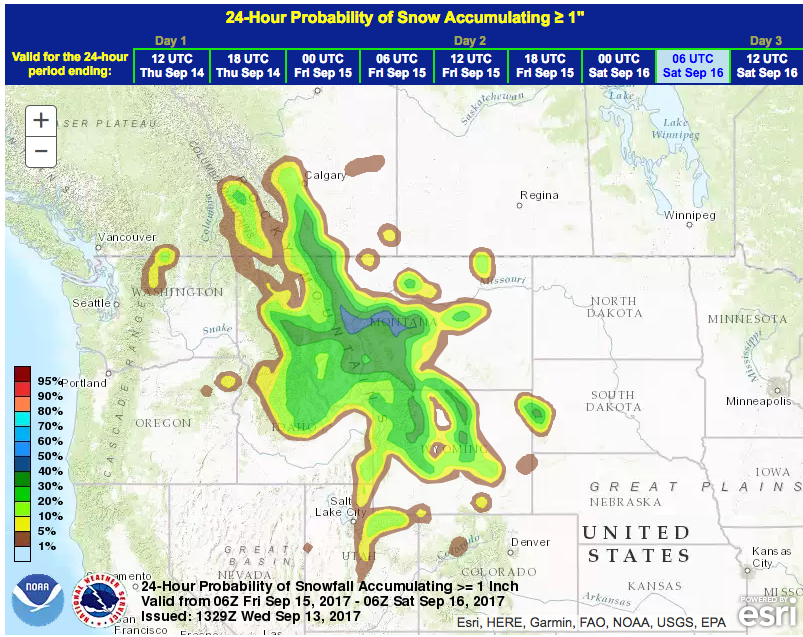 Quintessential Rexburg
In all reality, we're probably not going to feel the great impact of this storm in Rexburg. However, if we've learned anything from living here, it's that you should always expect the unexpected when it comes to weather in Rexburg. We will most likely experience a cool, rainy weekend in the valley and unless you drive up toward the mountains we may not even see much snow. But again, you might be in for a truly quintessential Rexburg experience if this storm does hit us. And all we'll have to say is…
Welcome to the 'Burg.