Calling all freshmen! That first semester can be a doozy. Figuring out where you need to go is a daunting task. Nothing's worse than walking into the wrong class on the first day! To avoid future embarrassment, here's a complete guide to the BYU-Idaho campus buildings that you need to know. Reference the interactive map here to help provide a visual aid.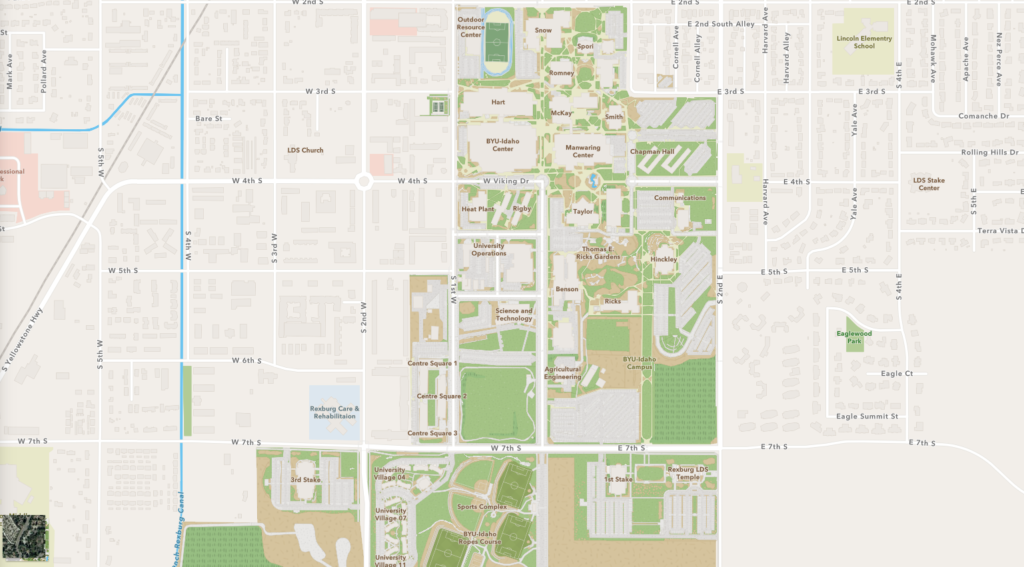 Austin Building
This building holds the Departments of Design and Construction Management, Automotive Technology, Computer Science, Electrical and Mechanical Engineering. Many offices and classroom are used for these different departments. BYU-Idaho wants its students to get hands on experience. In this building there are full automotive shops where you can schedule your car for a repair.
BYU-Idaho Center
Affectionately known as the I-Center, the BYU-I Center is the biggest building on campus. It opened up in 2010. There are ten full size basketball courts with an indoor track surrounding them. Many students use this free feature to stay fit. This building has a 15,000 seat auditorium. Many devotionals and spiritual performances go on in here. Including the weekly BYU-I devotional every Tuesday at 2:10pm.
Benson Building
The Benson building is known for its biology and agricultural classes. There's many labs for the different classes offered in this building. A bonus with this BYU-I Building is the greenhouses and flower shop. Located on the second floor, these two locations are a fun way to "escape" campus, but not leave campus.
Clarke Building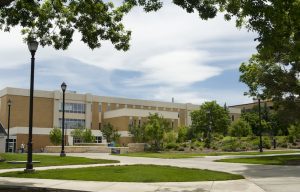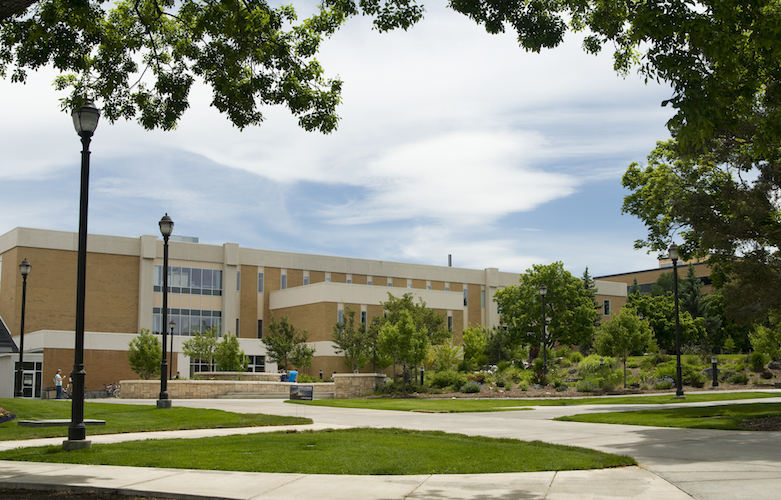 Outside the Clarke Building there's multiple playgrounds. Which is a little weird seeing them on a college campus. But don't worry it's for the child development major in their child lab classes. This building holds child development on the second floor, health science on the first, and nursing classes on the third floor. Go to the top floor and you'll think you're in a hospital since there's mock hospital rooms to get the nursing students some practice.
Hinckley Building
The Gordon B. Hinckley building includes office and classroom space for the department of teacher education and the Rexburg Institute of Religion. The building also provides meeting space for the university wards and stakes. The building is similar to the Institute Building at the University of Utah and houses Institute classes on weeknights throughout the year.
Hart Building
Take a break from studying and come to the Hart Building to get your exercise on. There's a fully equipped gym that's free to students and employees of BYU-I. There are yoga rooms, basketball courts, an indoor swimming pool, and plenty of other space to get your exercise on. Many campus events take within the Hart Basketball Gym.
Kimball Building
Located in the middle of campus this building holds the university and student administration offices, financial office, and basically any other official office you can think of.
Manwaring Center (The MC)
The Manwaring Center serves as the heart of campus, providing a space for students to connect, unwind, and engage with their peers. With its food court, lounges, and meeting rooms, this building fosters a sense of community by offering spaces for casual interactions and organized events. From club meetings to friendly chats over a meal, the Manwaring Center is a space where connections are forged. This building was remodeled and dedicated in 2010, and its levels have many amenities and purposes.
Things such as the testing center in the basement. Once you know how the testing center works, it's not as scary as it seems. The first floor has many study rooms and classrooms. There's also the BYU-I University Store and the MC Market when you need something fast. The Student Activities office is located across from the bookstore. There are many options for students to get involved on campus through the activities office.
Want to take a break and play? There's a game area for anyone to use. It includes two pool tables, a ping pong table, and an air hockey table. There's also many board and card games available to play.
On the second floor you'll find The Crossroads. Thousands are fed every day through this food court and they have a wide variety of delicious options.
McKay Library
A treasure trove of knowledge, the David O. McKay Library is the intellectual nucleus of the campus. Students delve into research, access digital resources, and collaborate on projects in this modern facility. With its quiet study spaces and collaborative work areas, the library fosters a culture of inquiry and intellectual exploration.
Outdoor Resource Center (ORC)

The Outdoor Resource Center is an auxiliary organization located on the campus of BYU-Idaho that serves the needs of students, employees, and community members. The Outdoor Resource Center is committed to giving people affordable access to outdoor activities through rentals and sales. The ORC has equipment for all kinds of outdoor adventures from camping to kayaking, and rock climbing to cross-country skiing. The ORC can also provide maintenance on skis, snowboards, bikes, and other items.
Ricks Building
The Thomas E. Ricks building houses offices and classrooms for the departments of geography, political science, history, mathematics, psychology, sociology, and social work. The adjacent Thomas E. Ricks Gardens include a horticulture research area among many great places to sit and read, study, or just enjoy picnic.
This building was named after the founder of BYU-Idaho (Ricks College). The school was named Bannock Stake Academy until Ricks' death in 1902 when it was renamed Ricks Academy. Some interesting facts about the building include the fact that it was created with the help of faculty. The architect wanted input to make sure the building served faculty and students in the most efficient manner. The building also contains an animal lab to test conditioning techniques learned in classrooms on rats and chickens. The rooms for this were modeled after facilities at BYU and the Huntsman Cancer Center in Salt Lake City.
Romney Building
The Romney building provides office and classroom space for the college of physical sciences and engineering, as well as the departments of chemistry, geology, and physics. There is also a planetarium that even offers shows open to the public.
Some interesting facts about this building are that it was named for George Romney, who become president of Ricks Academy in 1917. During his administration, in 1923 Ricks Academy became a junior college. Also, the Natural Science Museum of BYU-Idaho has various rock and fossil collections including a life-time arrowhead collection, and a seismology center to measure earthquakes from around the world.
Smith Building
The Smith Building is primarily associated with the business and accounting departments, but also hosts other departments such as language and letters and even some communication classes and faculty.
Snow Building
The Snow Building is home to music and performing arts classes. The building is the only major building on campus named after a female (Eliza R. Snow). A new addition nearly doubled its size and was dedicated by Elder Eyring at Commencement Convocation in April 2007. The building is home to the Barrus Concert Hall which holds a Rufatti Organ that has 3,833 pipes and took 21 years to complete (1983 – 2004). Each group practice room door weighs 400 lbs to reduce sound outside practice room.
Spori Building

Artistic expression, creativity, and communication skills find their haven in the Spori Building. Housing art studios, music rooms, and lecture rooms, this building serves as the platform for students to explore their creative talents. Whether it's practicing journalism, writing, photography, or crafting visual art, the Spori Building resonates with artistic innovation.
Taylor Building

Preparation for future leadership roles, both professional and spiritual, takes center stage in the Taylor Building. Here, students hone their professional skills through workshops, seminars, and networking events. With resources for resume building and interview preparation, the Taylor Building equips students with the tools they need to succeed in their careers.
Science & Technology Center
This recently built building opened up in 2016. It holds four different departments, Animal and Food Science, Applied Plant Science, Computer Information Technology, and Computer Science & Electrical Engineering. There's a
Visual Arts Building
At approximately 8,800 square feet, the studio holds two large classrooms for the Department of Art's sculpting and ceramics courses. Other rooms include faculty offices, a locker area for students to store projects, a lobby, and larger storage areas in the back to house kilns, clay, and other art supplies.
Guide to Campus Buildings
Each building on the BYU-Idaho campus is a testament to the institution's commitment to holistic education. From academic pursuits to artistic endeavors, community engagement to professional development, these buildings collectively create an environment where students can thrive, explore, and prepare for a bright future.