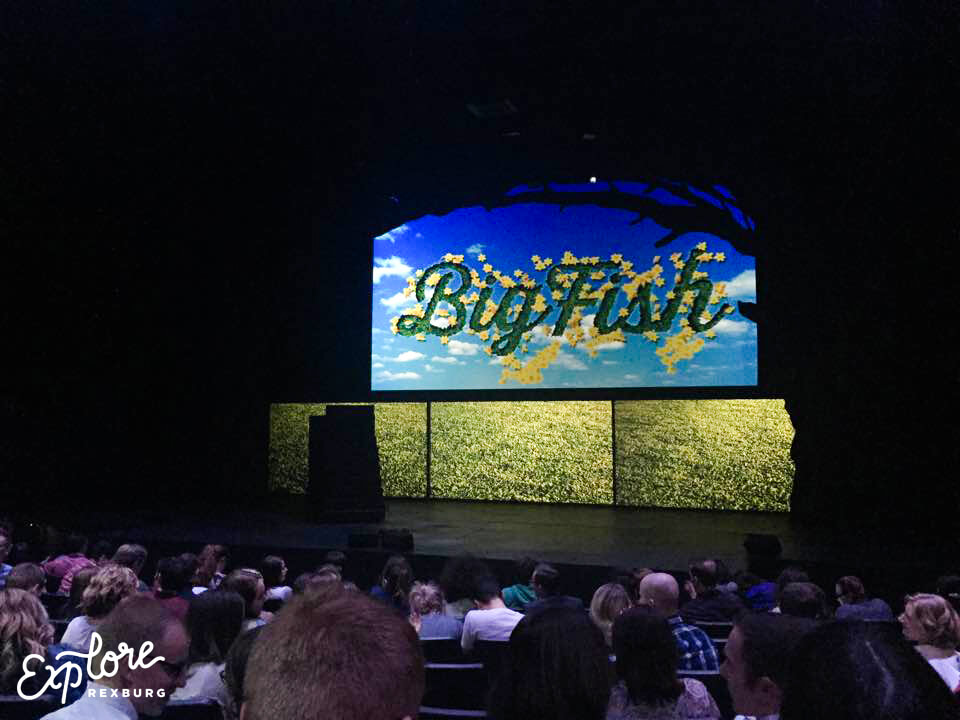 "Time stops" as you're watching Big Fish, a musical theatrical production put on by the BYU-Idaho Theater Department.
This contemporary musical is based on the 1998 novel, Big Fish: A Novel of Mythic Proportions by Daniel Wallace. (You may recognize it from the 2003 film directed by Tim Burton starring Ewan McGregor). The story revolves around Edward Bloom, a traveling salesman, and his relationship with his son, Will. Edward has told farfetched stories about his past since his son was a young boy, and now Will is determined to separate fact from fiction. The musical takes place partially in the present day, and partially in the time and place of Edward's stories. Since Edward's seemingly fictional tales are larger than life, each scene has a very unique style and includes mythical creatures such as a mermaid, a witch, and a giant.
The first thing you notice as the show begins are the obvious screens that cover the stage. Throughout the show, scenes are projected onto the screens in place of large set pieces that would normally move on and off stage. The animation is subtle enough not to distract from the actors, but so beautiful that you truly feel transported to each location. From the Bloom family's quaint farm house to a wild and quirky circus setting, each transition and animation feels just right for each scene.
While the show largely depends on the three main characters, Edward, his wife, and his son, the ensemble play a large part throughout the entire show. There are multiple costume changes and large production numbers that truly give you that heartwarming feeling you get when you're watching a musical. Fun choreography and colorful costumes help lend to the beauty and hilarity of each scene. Our team especially enjoyed the performances from the Witch and the circus ringmaster, Amos Calloway.
The show is directed by Roger Merrill, who also stars in the show opposite his wife, Heidi. The Merrill family is known in the community not only for their presence in the BYU-I Theater Department, but also as the current owners of the popular Playmill Theater, a professional theater company located in West Yellowstone. By the end of this heartwarming story about love, family, and dreaming big, you are sure to have tears in your eyes. The cast and crew do an excellent job putting together such a large production, and truly convey the message of the play.
Big Fish is playing March 15-25 in the Snow Drama Theater. Tickets are $3 for BYU-Idaho students and $6 for the general public. No children younger than 6 years old. Event dress. Doors open at 7 PM and the show begins at 7:30 PM. RSVP on Facebook!