Anyone who lives in Rexburg knows the weather can be unpredictable. We're in the season of multiple-layer mornings and strip-down afternoons. The good news is those days are almost over! The bad news is it will be freezing literally 24/7. Welcome to Rexburg, kids.
As a cold weather fan, I'm here to let you know, this is not the worst thing ever. We will get through the next 6 to 7 months together. And in all honesty, cold weather has its perks. The changing of seasons brings a brand new selection of choices to add to your squad's semester bucket list. Don't have one of those? What are you doing? The semester's more than halfway over!
Let me get you started with a few suggestions…
---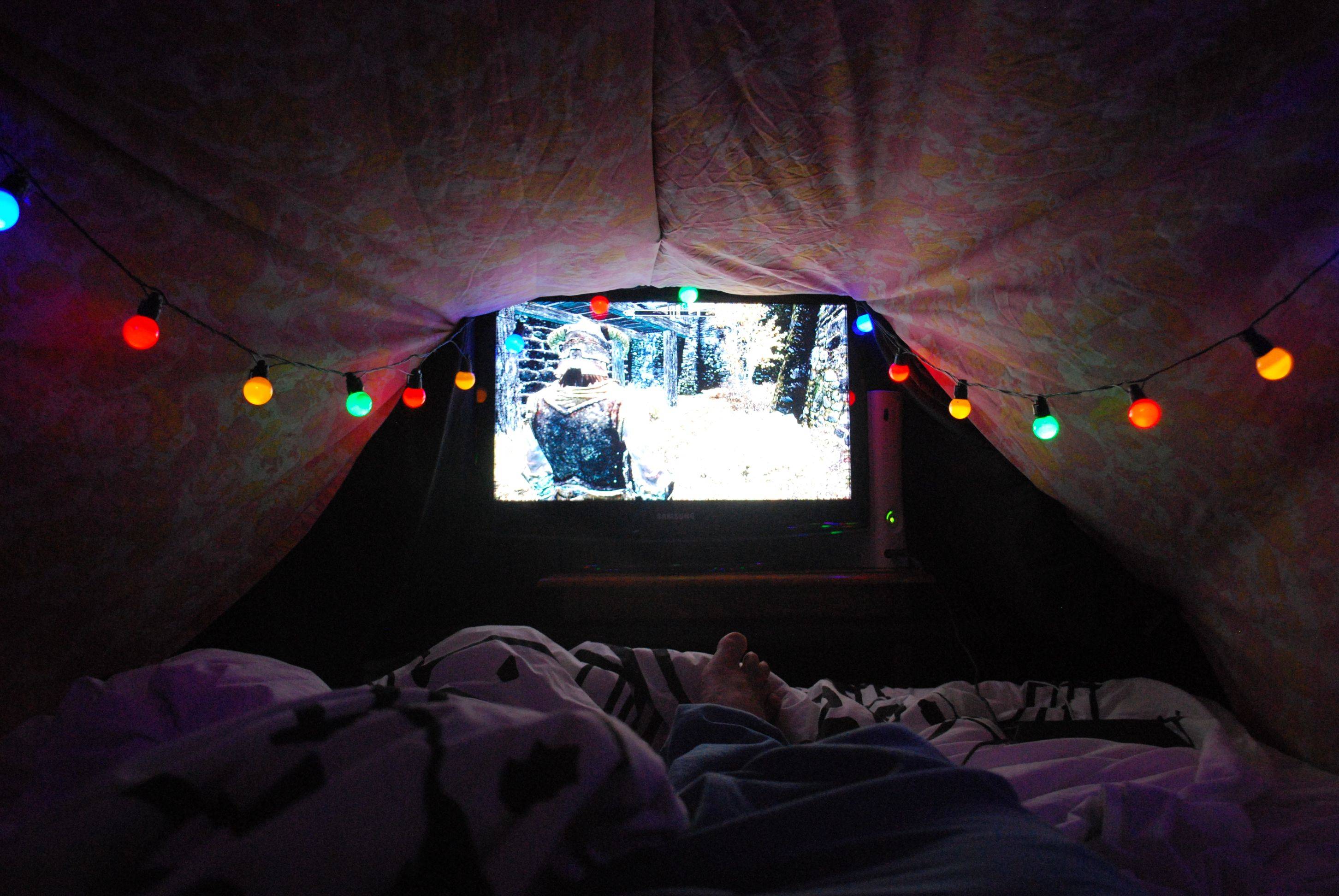 Blanket Fort
Making a blanket fort was the highlight of childhood, don't @ me. But in all seriousness, blanket forts are one of the best ways to spend a cold, snowy afternoon. Supplies may include blankets, pillows, sheets, string lights, push pins, stuffed animals, and entertainment. Get creative! Once you're done, enjoy the fruit of your labors and settle in for a movie and cuddle sesh.

Indoor Sports
Cabin fever is a real thing. Especially for us Idahoans. Indoor activities don't have to be lazy, (but play hard lay hard, am I right?) There are so many ways to get your wiggles out even when a run outside is completely out of the question. Check out Gravity Factory, an indoor trampoline park here in town that's the perfect solution to your stir-crazy tendencies. Or check out Regional Rock Walls for a good indoor climb. You could even do some aerobics in your living room to old Richard Simmons workout videos. Have fun with it!

Plan a Roadtrip
After the cold has settled in, I start dreaming of warmer days. My heart longs for summer but  my bank account is like, "Girl, get your ish together first." Start making a list of all the things you want to do and places you want to go next year, next semester, next week, etc. We live in a rad area of the country, guys. Rexburg is surrounded by prime road trip destinations just waiting to be explored. Start prepping now so you can party later!

Redecorate
When you are stuck indoors for a while, it's easy to start feeling lethargic and uninspired. Rev up your energy with a cleanse. No, I'm not talking juice (ew), I'm talking a closet cleanse! I can name at least 10 items hanging in my closet right now that I haven't worn in a year. If you're in the same boat, maybe it's time to clean out your closet and rethink your online shopping habit (ha, yeah right). While you're at it, feng shui your space and move the couch a few feet to the left or right. Revisit your online shopping addiction and buy something new for your space, like a clock or a frame. Get inspired and get busy!

Bake Something
Am I the only one who has the sudden urge to be domestic the minute the temperature drops below freezing? Get a jump start on your winter weight gain and bake something! Full disclosure, I keep my baking ingredients in a box buried in the closet. Why you ask? I have no self-control. If I bake it, I'll eat it. Allll of it. Kudos to you if you can control yourself around baked goods 'cause I have a problem. Whether you're like me or you're a superhuman who can eat one brownie and be done, get some friends together to make something sweet!

Call Somebody
We all have that one friend we've been meaning to call for weeks *ahem* months but just keep forgetting (hi, Diane!). Or maybe you haven't checked in with your Mom in a while. Either way, a cold day is a perfect time to pace your apartment or snuggle up on the couch and chat away. You may be thinking that this suggestion is weird — I mean, phone calls aren't seasonally exclusive. You're right but here's my logic. The best way to warm up is to light a fire. The second best way is to talk to someone you love. That's right, I'm talking those fuzzy feels that warm you from the inside out. Talk to your Mom, BFF, or someone. Whatever the conversation, it's sure to send a jolt of happy to your heart and warm you right up.

Pamper Yourself
Everyone deserves a little R&R every now and again. Treat yourself to an at-home spa day. Pull out all the stops, including facials, manicures, bubble baths, and whatever else your heart desires. I'm not just addressing the ladies here. Men, have you ever done a facial? You work hard and deserve to be pampered too. If you need someone to play spa with, I'm your girl! A night of skincare and gossip? You know I'm there.

Take an Online Class/Tutorial
The world wide web is probably the best thing to ever happen. Okay, I'm exaggerating a bit. But, the internet is freakin' awesome. If you want to learn to tap dance, you can learn to tap dance at home, for FREE (Youtube, I love you). Whether you want to learn a to speak Czech, to play the saxophone, or code CSS, you can pretty much learn anything online. While you're stuck inside, why not learn something new?

Binge-a-thon
Let's face it, a movie marathon is kind of your go-to indoor activity when the weather gets frigid. Ain't nothing wrong with that! However, if you're going to binge, I suggest making it strategic. Plan a theme! Watch all movies directed by Wes Anderson. If you're feeling basic, have a Rom-Com marathon with your friends. Have you ever watched all the Lord of the Rings movies in one day? Give it a try. There are so many possibilities. Load up on blankets and snacks and let the binging begin!

Make Something
You may not consider yourself creative but it doesn't mean you can't give it a try! Not only is it satisfying to complete a project you made entirely on your own, it is a great stress reliever. Is the combination of school and work overwhelming you? Crochet a hat. Did you see your crush holding hands with someone else? Paint out your anger. The opportunities are endless. Head to Porter's for crafting supplies and invite some friends to join you. You could even make a date out of it! Get those creative juices flowing and blow off some steam.