If you stop by Righteous Slice on a weeknight, you might catch Bill Crawford sliding pizza into the oven. You'll know it's him when he peeks over the glass framed counter and greets you with a smile that makes you wonder if you've met the man before. His high-and-tight haircut and military-like work ethic are easy to recognize. And if you're lucky, you might overhear a few war stories — something we noticed him using to instruct the teenagers he employs.
"That's how we do it in the Air Force, you see?" Crawford said, showing an employee how to cut a pizza. "It's all in the wrist."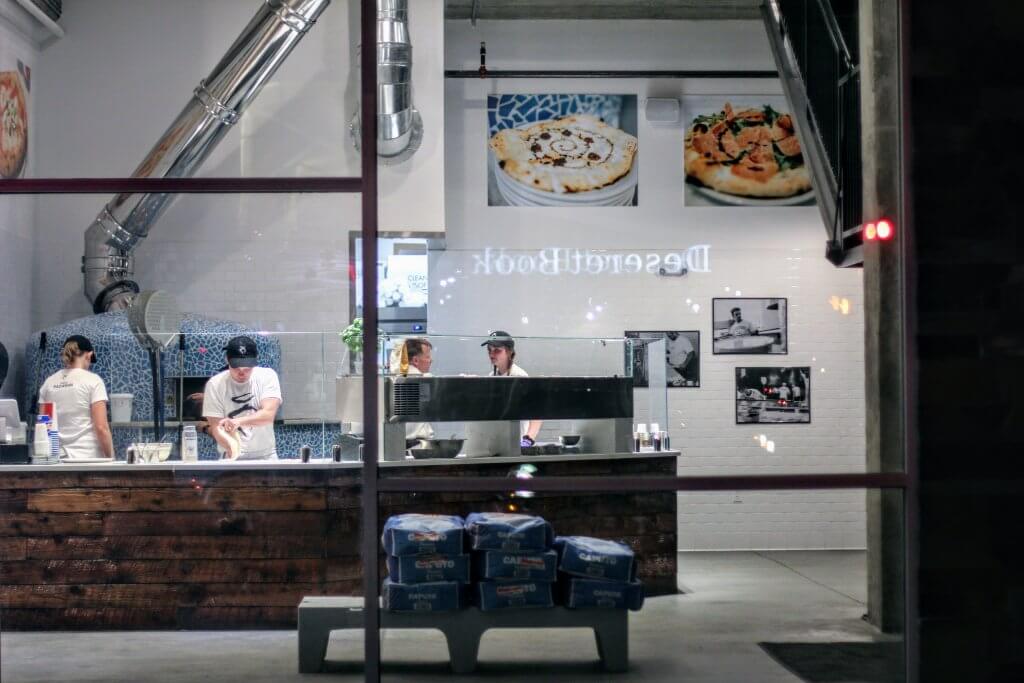 Bill Crawford
A former U.S. Air Force jet fighter and bomber pilot, Crawford now owns and runs Righteous Slice, a Rexburg pizza parlor that strives to replicate the taste of authentic, Italian style pizza.
After leaving the military, Crawford attended Harvard Business School and earned an MBA. Later, he studied at the International School of Pizza in San Francisco and the Association of Neapolitan Pizza Makers School in New York City.
From there, he had everything he needed to start his own righteous adventure.
"It's a passion I have," Crawford says. "It's something I can't let go of, and people appreciate it — It's something I love and can express creatively. We're hoping to learn and adapt and serve people's needs here. We want people to feel awesome about themselves and eat something amazing."*
Crawford says his pizza is authentic, but he's not afraid to break tradition.
"We don't adhere to the strict Neapolitan rules because I don't think that necessarily results in the best pizza," Crawford says. "Ours is Neapolitan. We cook it at 900 degrees in a brick oven for about 90 seconds."*

Righteous Slice
If you're looking for some self-indulgent, hilariously cheap pizza with a side of Buttery Garlic Dipping Sauce, you'd be better off with a $5 Hot-and-Ready from Little Caesars. But according to Crawford, Righteous Slice isn't that kind of pizza.
"This shouldn't be called pizza, because when you think of pizza that isn't what this is," Crawford says. "We bring our flour from Italy, we bring the tomatoes from Italy, we make the cheese by hand. We wanted to stay separate from what other people are doing. Nothing is cookie cutter. No pizza will be the same. We don't have machines. Everything will be done by hand."*
Let's be honest, isn't that a breath of fresh air? Righteous Slice is for the pizza connoisseur with a more refined pallet. But will Rexburg be changing its slogan to "Idaho's Pizza Community" anytime soon? We'll leave that up to you to decide.
Explore Rexburg Recommends
For pizza, we recommend the "Bee Sting," a sweet and spicy blend of San Marzano tomato sauce, oregano, crushed red pepper, Pecorino Romano, fresh house-made mozzarella, ricotta, spicy salami, hot capicola, extra virgin olive oil, and honey.
For a salad, we recommend the "Italian Job" — something Crawford describes as, "Vegan — except for all the meat and cheese that's on there." This salad is the perfect blend of mixed greens, provolone, fresh mozzarella, shaved parmesan, crispy pancetta, sliced pepperoni, ham, cherry tomatoes, black olives, onion, pepperoncini, and sweet balsamic dressing.
Is your mouth watering yet?
Let us know in the comments what you think of Righteous Slice. If you like it, write them a happy review, we're sure they'd appreciate it.
*Quotes from Crawford can be attributed to The Standard Journal.