Let's get real here. If you don't do something scary in October, is it even October?
Personally, I love getting scared. I watch horror movies on the regs. However, going to an actual haunted place is another matter. I mean, Pennywise on the screen is VERY different than a killer clown chasing me through a haunted house while I'm screaming bloody murder.
Despite all that, I've been to most of these haunted attractions and I'm ready to share with you the seasonal haunts you NEED to check out before Halloween season is over.
Here in southeast Idaho, we have our pick of haunted attractions. Seeing as how today is the spookiest day of the year, we've put together a guide to make your Friday evening that much more thrilling. Whether you bring a date, your best friend, or a few of your roommates to grab onto, these haunts are sure to leave your voice hoarse in the AM.
How many of these places have you been to?

This Haunted Mill is chock full of terrifying legends. A woman in white, Slenderman, a disappearing scarecrow, gold miners gone mad, and much more! If you haven't been to the Haunted Mill, you are missing a true Rexburg staple. The Mill adds new features every year to keep things interesting and spooky. One significant feature is a rickety, old bridge you need to cross while being chased by a Vol—I mean, He-Who-Must-Not-Be-Named—wannabe. On a lighter note, while you wait in line, you can purchase hot drinks and sit by the fire to stay warm. Make sure you take advantage of this terrifying attraction, less than a mile from Rexburg!
Price
$10
Location
95 N 2400 E, Teton, Idaho
Hours
Mon – Thurs 7:30 pm – 10 pm
Friday & Saturday 7:30 pm – 12 pm

Essentially, this haunt was a real hospital that dates back to the early 20th century. Many individuals have come forward claiming to have seen a ghost or experienced some form of paranormal activity. If you get freaked out by old-school mental institutions, this is the haunted place for you! At the end of the attraction, a dude chases you with a chainsaw. When I went, I screamed so loud that the neighbor's dog ran over and started attacking the chainsaw guy. Oops. The Haunted Hospital is in St. Anthony and is definitely one of the scariest places around. Check it out!
Price
$5
Location
2266 E 600 N, Saint Anthony, Idaho
Hours
Mon – Thurs 7:30 pm – 10:30 pm
Friday 7:30 pm – 12 am
Saturday 7:30 pm – 11:30 pm

If you go to the Haunted Straw Maze this season, be prepared to be chased by clowns on stilts and bump into creepers hiding in the shadows. The most frightening part of the Haunted Straw Maze is you have no idea how to get out. So you might be in there for 5 minutes or for 5 hours. Let's hope it's not the latter.
Looking for a thrill? Check out the Haunted Forest. You take a hayride into the middle of the woods and have to find your way back. There are tons of freaky things hanging out behind the trees. I'm talking shrieking sirens, some guy with a chainsaw, and hungry zombies. Oh, and you have to fight your way through a bunch of body bags. Yeah, make sure you go with people who don't mind a swear or two because I promise you, you won't be able to hold back.
Price
Ages 12+ $9, ages 5-11 $7, ages 4 and under are free
Location
7600 S 2000 W, Rexburg, Idaho
Hours
Friday & Saturday 7 pm – 12 pm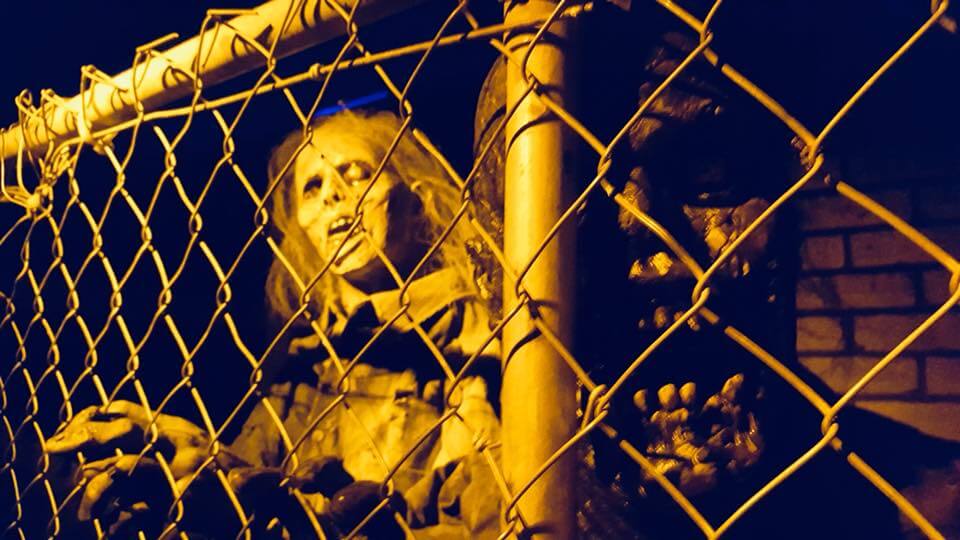 Unfortunately, Dr. Slaughter's is no longer scaring the pants off of us and entertaining us with their "Thriller" tribute. Thankfully, the scares are back with Planet Doom! 32,000 square feet of terror means more room for macabre and mayhem, and people seriously freak out about this place. Take the gang over to Planet Doom in Idaho Falls and see if you can handle it!
Price
$12
Location
680 1st St. Idaho Falls, Idaho
Hours
Select weekdays 7 pm – 10 pm
Friday & Saturday 7 pm – 11 pm
Scare Tower

(Rexburg) [closed 2018 season]

As far as haunted attractions go, The Scare Tower is the nearest to us! Right in the heart of Rexburg, The Scare Tower is that old grain tower with the skull on the side next to the railroad tracks. Is it on the wrong side of the tracks? Who knows. But there's no doubt this place is freaky. This haunt features a live organist, suspended bridge, and so much more! There's really no excuse not to go!
Price
Ages 12+ is $5, Ages 5-11 is $3, 4 and under is free
Location
150 N 2nd W, Rexburg, ID 83440
Hours
Mon – Thurs 4 pm-11 pm
Friday & Saturday 4 pm-12 am

Make sure you bring someone you don't mind holding their hand, or arm, or entire torso because this one is sure to get you spooked.
Did you think Phantom of the Opera was scary? Well, the Theater of the Lost Souls is so much worse. Only 40 minutes from Rexburg, The Virginia Theater transforms into The Theater of the Lost Souls every October and it's terrifying. The jury's still out on whether or not this place is actually haunted, but speaking from personal experience, it's got something other-worldly going on in there. I've blocked this one out of my memory (yes it's that scary) but the part I do remember is you have to climb into a coffin. Then you drop down some freaky slide. I'm having traumatic flashbacks just thinking about it!  Word of advice ladies, cut your nails 'cause you'll be holding onto your man for dear life.
Price
Mon – Thurs $9
Friday & Saturday $10
Location
186 S. State Street, Shelley, ID
Hours
Mon – Thurs 7 pm to 9:30 pm
Friday – Saturday 7 pm to 11 pm
October 20th, 21st, 27th, 28th 7 pm to 1 am
October 31st 7 pm to 10 pm

While not your traditional haunted house, the Downtown Zombie Pub Crawl in Idaho Falls is still a great excuse to dress up and celebrate Halloween. This 21+ event is primarily built around alcohol, so if that's not your thing than this may not be the event for you. However, there will be live music in the alley between A Street and Broadway in downtown Idaho Falls and is still sure to be a fun party. Brought to you by several downtown businesses including The Celt Pub, Frosty Gator, Golden Crown, Samoa Club, and MarCellar's Vintage Wines and Brews.
Price
$11.25 online (or $10 the night of at the Samoa Club or Frosty Gator)
Location
Downtown Idaho Falls
Hours
Saturday, October 27 6-11 pm

Located near Burley, The Haunted Mansions of Albion is worth the 2-hour drive. Guys, I've been looking into this one and I need to go! Who wants to be my date? According to their Facebook page, this historical college campus is truly haunted. There are 5 separate buildings; School of Chaos, Comish Hall, Creature House, Clown House, and Old Steam House. Each building will keep you on your toes! Sure it costs more, but for the number of scares you get, it's well worth the price!
Price
$24 online or $25 at the door
Location
437 E North St, Albion, ID 83311
Hours
Friday & Saturday 7 pm to 11 pm

I'm getting major Shining vibes from this disturbing haunt. The Milmor Hotel is an attraction that is actually haunted! Various reports of ghost sightings have been reported as well as paranormal activity. I don't know about you, but hotel hallways always freak me out. Don't even get me started on the freight elevator. More like "fright" elevator! Bad joke but hey, take a trip to Blackfoot this weekend. You'll thank me later!
Price
$10
Hours
Mon – Thurs 7 pm to 9:30 pm
Friday & Saturday 7 pm to 11 pm
Location
192 N. Broadway, Blackfoot ID

Snaps for creativity! The Haunted Swamp is an attraction located in Twin Falls which features a variety of terrifying elements that are sure to freak you out. Word of advice, pee before you go! Whether it's the "hellavator" or the mineshaft, you are sure to enjoy this nice, relaxing night in the woods. You may have a nightmare or two, but it's worth it!
Price
Tickets are $17 for adults, $12 for ages 9-12, and $10 for ages 3-8
Location
646 S. Park Ave. W, Twin Falls, ID
Hours
Oct 13th, 14th, 18th, 20th, 21st, 25th, 27th, 28th, Nov 3rd, 4th
7:30 pm-11 pm
*Updated October 2018.