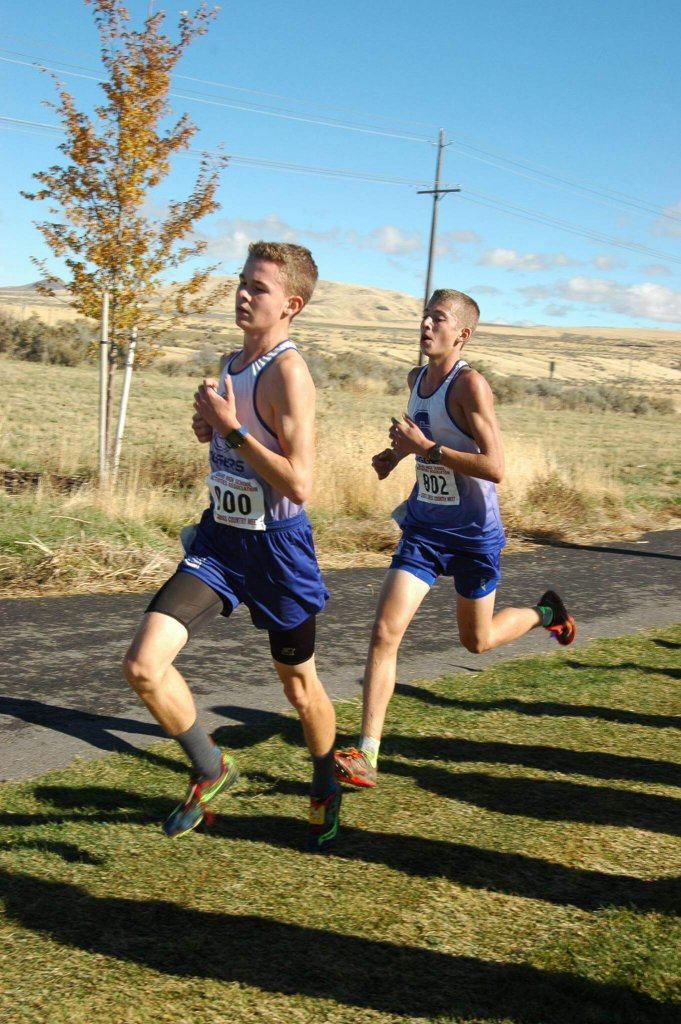 It was the morning of the state meet. The young, inexperienced, cross-country team from Firth High School stood at the starting line. They were dwarfed by Grangeville High School, most of whom were well-built, athletic juniors and seniors with the face and chest hair to attest to their titanic reputation.
"I looked at my kids," Coach Brett Hill told Explore Rexburg. "They all looked like they were in fourth or fifth grade."
Not entirely convinced of his own team's success, Hill had nonetheless shared some inspirational quotes with his team the night before. He also showed them some magic tricks, representing that the impossible is possible.
Whether it was the pep talks, or the inspiring instruction from their coach throughout the season, that morning, the Firth boys' cross-country team was undeterred.
"Coach, we're going to win today," they told him. "We're ready. We're going to win today."
It was this race and these boys that taught Coach Brett Hill, current coach and teacher at Sugar-Salem High School, that you don't coach an athlete. You coach the mind.

The legacy of Brett Hill
Brett Hill comes from a successful, athletic background himself. He attended and graduated from Malad High School where he was heavily involved in sports, in particular excelling as a wrestler and a runner.
He also went on to run for four years at Utah State, as a steeplechaser, along with his friend and teammate Darren Scott.
"Utah State saw something in us," Hill says. "We were underdeveloped, we weren't running a lot of miles, we weren't heavily trained. They brought us in and the two of us had a really good career."
"That's kind of their recipe and their formula there," he added. "Find kids from small schools with untapped potential."
In 1986, Hill furthered his athletic career when he made the Pan American team, and made some national qualifying marks in the steeplechase.
"It was pretty neat to don a U.S.A. uniform and travel with the U.S.A. team," Hill said.
But the legacy of Brett Hill deepened when he decided to go into teaching, and especially coaching. He coached for a few years at Rich High School outside of Bear Lake before moving up to coach at Firth High School for seventeen years.
As his children graduated high school and moved on to college at BYU-Idaho, Hill and his wife followed them up and he found himself at home upon his arrival at Sugar-Salem High School, where he teaches math and is head coach of track and field.
"I think Sugar's almost the perfect-sized school," Hill says. "Firth was a little small. I also went and taught at Madison for one year, and I found that was almost too large. Sugar is the perfect fit in between. I has all the programs my kids could ever want and need, plus there's still a lot of the personal feel."
For Hill, the relationship between the teachers and students is just as important as the opportunities for the kids to participate in programs.
"My formula for success is making a program that is conducive to bring kids to it," Hill says. "Some kids come out for the social aspect, some kids come out because they want to be competitive. And when you get numbers out, you will find those diamonds in the rough."
With the opportunities and the more personal relationship between teacher and student at Sugar, Hill has developed, as he did at Rich and Firth, a competitive program. He is optimistic about possibly bringing home state banners for both the boys' and the girls' teams. And with Hill's record of a career 35 state championships, we can realistically expect the same out of his runners.
"When I was at Firth, I always looked at the Sugar crew and thought, 'Wow, what a stellar group of kids,'" Hill says. "They were clean-cut, they were hardworking kids, and they always had a lot of talent."
"I always thought, 'Man, if I go somewhere, that would be a good place to go,'" he added.

A good thing going
Brett Hill says he doesn't know what happened that morning when the Firth kids competed at State, but his runners pulled off a huge upset. It would be the first of many state titles that team would win throughout their career.
"They developed that attitude of belief in themselves," Hill says, reflecting on that day. "They were the ones that taught me it's far more important to believe than to actually train. I mean, you've got to do both. But that intrinsic belief is so important."
Between the sturdy programs, the great support from the parents, and especially the kids he coaches, Hill says he is happy at Sugar-Salem. And he plans to continue what he has been doing.
"We've got a good thing going here," he acknowledged. "I love teaching. I love coaching. You know how when you serve, what you feel like? That's what I get to feel every day."