Madison and Sugar Salem High Schools qualified numerous girls and boys for individual events and relays for the 2017 State Track & Field Championships.
After winning the Mountain Rivers Conference championships Both boys and girls teams from Sugar Salem High School feel they have a great shot at bringing home the 1st place trophy this weekend when they compete at Middleton High School for the 3A Track & Field State Championships.  Sugar qualified 19 boys and 15 girls for individual events (some in multiple events) along with five relays between the two.
It was a tight meet for both Madison teams at the High Country Conference Championships.  The boys finished a close 2nd behind host Rigby with the girls pulling out a narrow one-point victory over Rigby to secure 1st place.  The Madison boys qualified 14 athletes for individual events with the girls qualifying 11 (some in multiple events) as well as seven relays between the two.  The 5A championships will be held at Dona Larsen Park in Boise.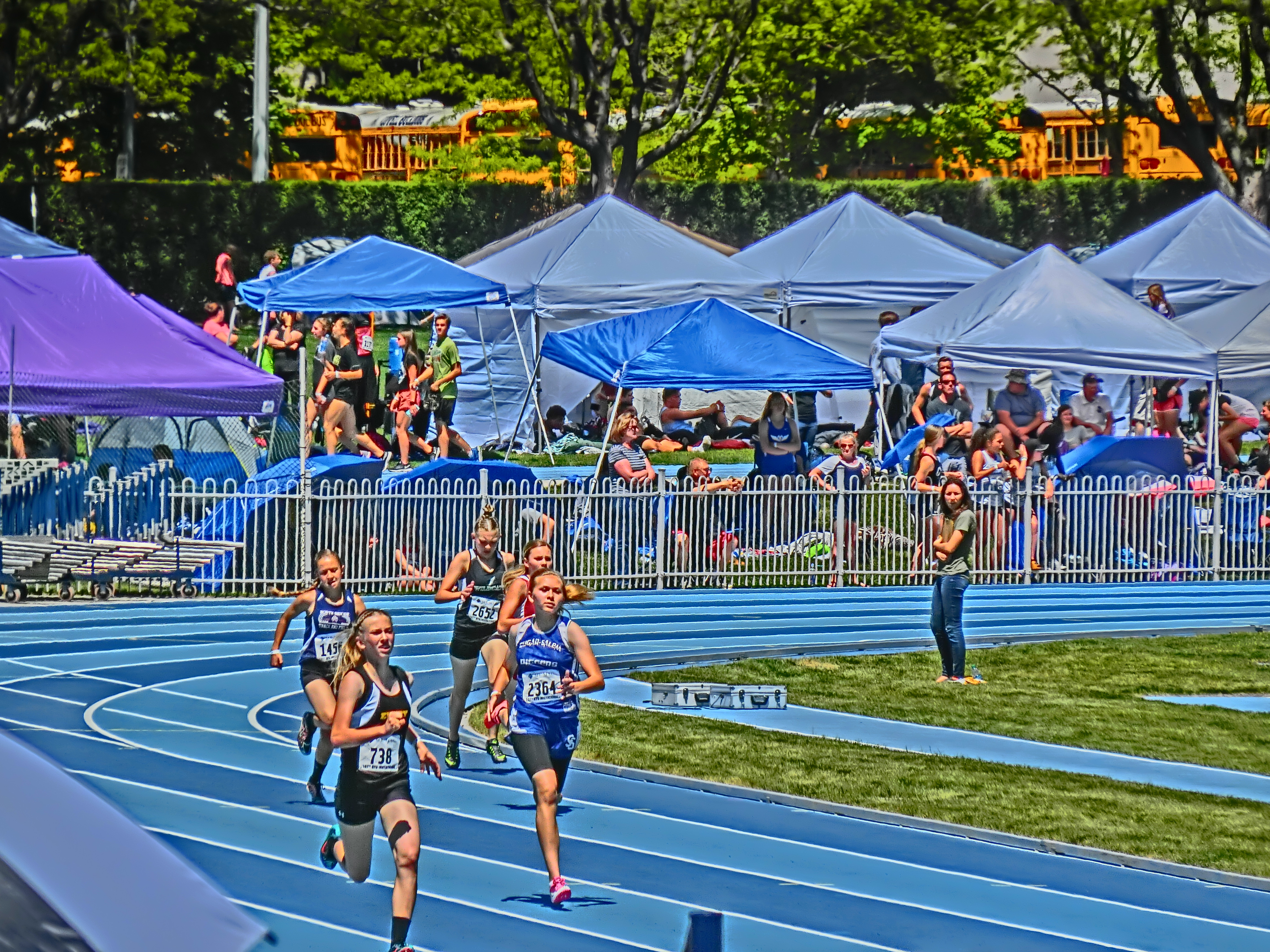 Following is a list of events at the state meet and the athletes that qualified in each of them (DNQ means there were no qualifiers for that event).
Sugar Salem High School
Girls
100 M Dash 
DNQ

200 M Dash
DNQ

400 M
Megan Pannell
Megan Galbraith

800 M
Shaylee Hill

1600 M
Shaylee Hill
Sarenady Price

3200 M
Serenady Price
Shaylee Hill

100 M Hurdles
Kimberly Vail
Jenna Johansen
Brooklyn Moser

300 M Hurdles
Jade Jackson
Kimberly Vail
Brooklyn Moser
4 X 100 Relay
DNQ

4 X 200 Relay
Qualified

4 X 400 Relay
DNQ

Medley Relay
DNQ

High Jump
Celina Adams
Jade Jackson
Mariah Dunn

Pole Vault
Kassi Christensen
Claire Redd

Long Jump
Lindsey Larson
Mariah Dunn
Savannah Crane
Triple Jump
Mariah Dunn

Shot Put
Celina Adams

Discus
Celina Adams
---
Boys
100 M Dash
Jacob Christensen
Dylan Pope
Jaron Rose

200 M Dash
Luke Holt
Luke Terry

400 M
Trasen Jacksen

800 M
Taylor Hill
Cameron Garner

1600 M
Brennan Anderson
Taylor Hill
Kooper Williams
Hunter Galbraith

3200 M
Benjamin Moser
Kooper Williams
Hunter Galbraith
Brennan Anderson

110 M Hurdles
Brysen Barr
Jesse Fogle
Jaron Rose

300 M Hurdles
Brysen Barr
Trason Jackson

4 X 100 Relay
Qualified

4 X 200 Relay
Qualified

4 X 400 Relay
Qualified

Medley Relay
Qualified

High Jump
Brady Blaser
Trason Jackson

Pole Vault
Ace Christensen
Dallin Kinghorn

Long Jump
Luke Holt
Jaron Rose

Triple Jump
Hadley Miller
Jaron Rose

Shot Put
Marcus Maxwell

Discus
DNQ
---
Madison High School
Girls
100 M Dash
Rayven Nealey

200 M Dash
Kayla Horne

400 M
Kayeli Wasden

800 M
Janessa Lemon
Rachel Morrin
Kiley Moldenhauer
Annalise Brunson

1600 M
Kiley Moldenhauer
Janessa Lemon
Rachel Lemon

3200 M
Sara Lemon
Rachel Morrin

100 M Hurdles
Hannah Bolingbroke

300 M Hurdles
Hannah Bolingbroke

4 X 100 Relay
Qualified

4 X 200 Relay
Qualified

4 X 400 Relay
Qualified

4 X 800 Relay
Qualified

High Jump
DNQ

Pole Vault
Morgan Hurst
Lexi Wightman

Long Jump
Rayven Nealey

Triple Jump
Rayven Nealey

Shot Put
DNQ

Discus
DNQ
---
Boys
100 M Dash
Blake Moseley

200 M Dash
DNQ

400 M
DNQ

800 M
Stephen Stutz
Hunter Manner

1600 M
Spencer Stutz
Brandon Lemon

3200 M
Matt Fluckiger

110 M Hurdles
DNQ

300 M Hurdles
Jeremy Jacobson

4 X 100 Relay
Qualified

4 X 200 Relay
Qualified

4 X 400 Relay
DNQ

4 X 800 Relay
Qualified

High Jump
Matt Butler
Hunter Madsen
Kevin Clark
Nathan Fullmer

Pole Vault
DNQ

Long Jump
Karson Hastings

Triple Jump
Hunter Madsen

Shot Put
Zeke Birch

Discus
DNQ