The Yellowstone Challenge, a gymnastics competition involving gymnasts from Idaho, Montana, and Utah, will take place March 2-3 at Sugar-Salem High School.
USAG (USA Gymnastics) has officially sanctioned the competition, which acts as a regular season open competition which Madison Gymnastics has hosted annually since 2010.
"The timing is such that it's just a few weeks before state," says Justin Packard, who has organized the championship these eight years. "So it's the kids' last chance to fine-tune their routines prior to the championship season."
Although the competition took place at Madison Gymnastics on Jetstream Drive in years past, this year the event will take place at Sugar-Salem High School. More than 300 gymnasts will compete in the Yellowstone Challenge over two days, which has driven the need for a larger venue.
"We hosted the men's gymnastics state championships there last year," says Packard. "It went so well and they were so easy to work with, that this year we're hosting our invitational there as well."
Those who attend this competition can expect to experience the gamut of gymnastics events. The men's events will include pommel, horse, rings, vault, parallel bars, and high bar. The women's will feature floor exercise, balance beam, uneven bars, and vault competitors.
Multiple sessions will run each day of the Yellowstone Challenge. Friday, March 1 will feature men's gymnastics, with two sessions at 2:30 and 5:30 p.m. respectively; four sessions for women's gymnastics will run on Saturday at 8:00 and 10:00 a.m. then 12:30 and 4:00 p.m. See the poster below for which levels will compete at which time.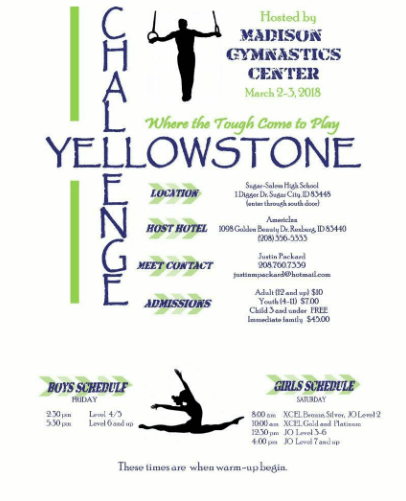 "These athletes spend a tremendous amount of time working on their skills and routines," Packard says. "And because they do, they make it look so much easier than it really is. They put a lot of time and dedication into doing what they do."
The Lerwill brothers, two of the three Madison gymnasts to participate in the Junior Olympics last year, will participate in the competition, as will many others who have competed on regional and national levels.
"These guys spend 15-20 hours a week training year-round for the opportunity to compete," says Packard. "Every gymnasts' goal is to represent their gym and their region and, in the end, their country."
Join Explore Rexburg in supporting all the many gymnasts competing in the Yellowstone Challenge this weekend, March 2-3. Be sure to come out to Sugar-Salem High School for one or more of these sessions, and be ready for a spectacle.
"Some of these athletes will continue all the way to the Junior Olympic National Championships," Packard adds. "You'll see some pretty exciting stuff."