Who do we have to thank for s'mores? The Girl Scouts, of course.
This popular campfire snack first appeared as a recipe in a 1927 publication of Tramping and Trailing with the Girl Scouts. Though its history before it is unknown, Loretta Scott Crew is given credit for the recipe.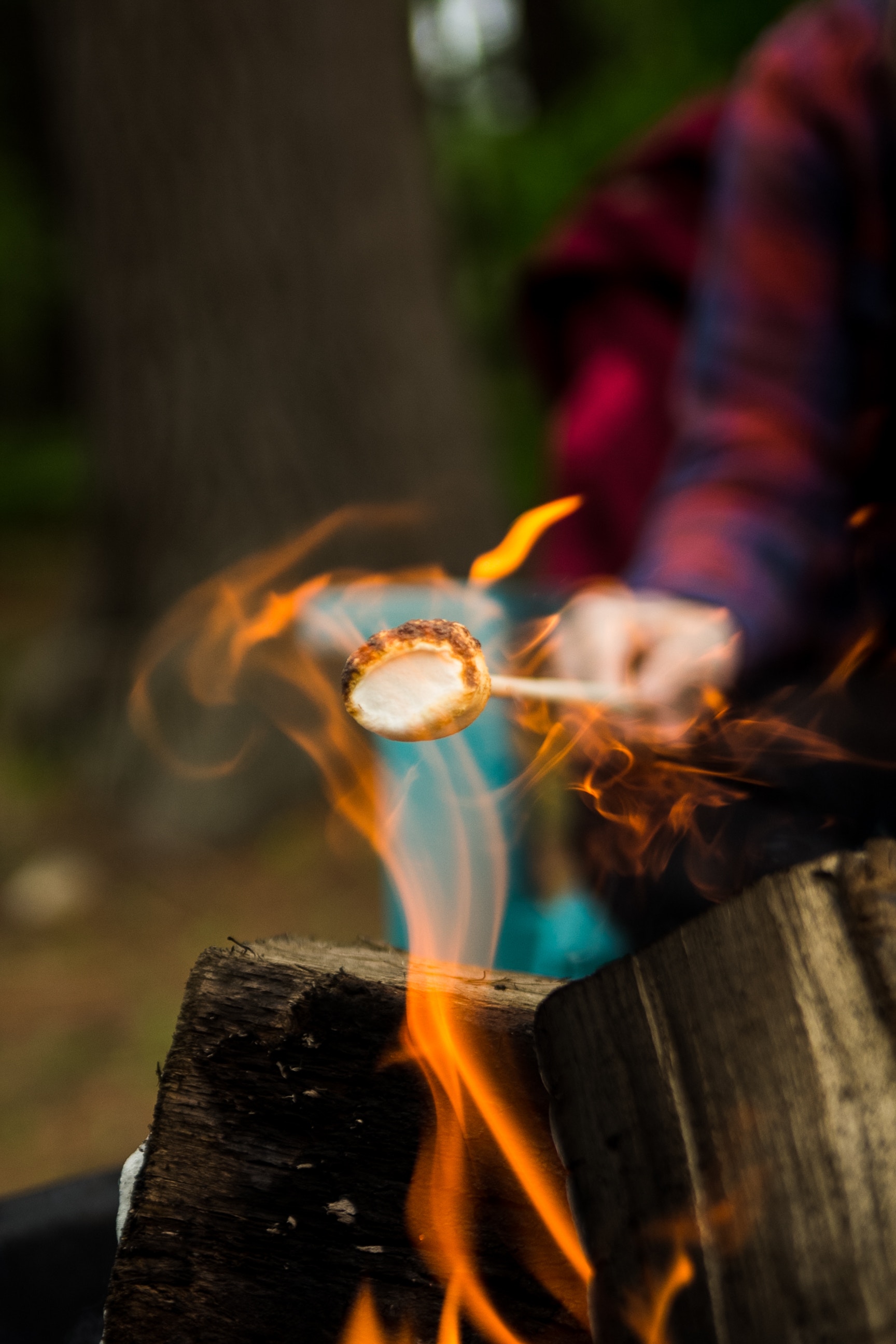 But of course, the history of the s'more is probably the last thing on your mind when you crunch into one (It is good starting material for an article on s'mores, however). At that moment by the light and warmth of the campfire, the gooey, sugary goodness filling your mouth is all you care about. That, and having "some more."
Even with something as simple as a s'more, however, there are many different approaches. Here we offer a few suggestions on how to make a s'more. Know, furthermore, that there actually is no wrong way to make a s'more.
Change out the ingredients
By trading out your standard graham cracker, chocolate bar, and marshmallow for new ingredients, you are sure to keep your s'more experience exciting. As far as possibilities on what to substitute in your s'more, they are practically endless. It is best to allow your imagination and sweet tooth work together on this one. Here are a few ideas to get you started.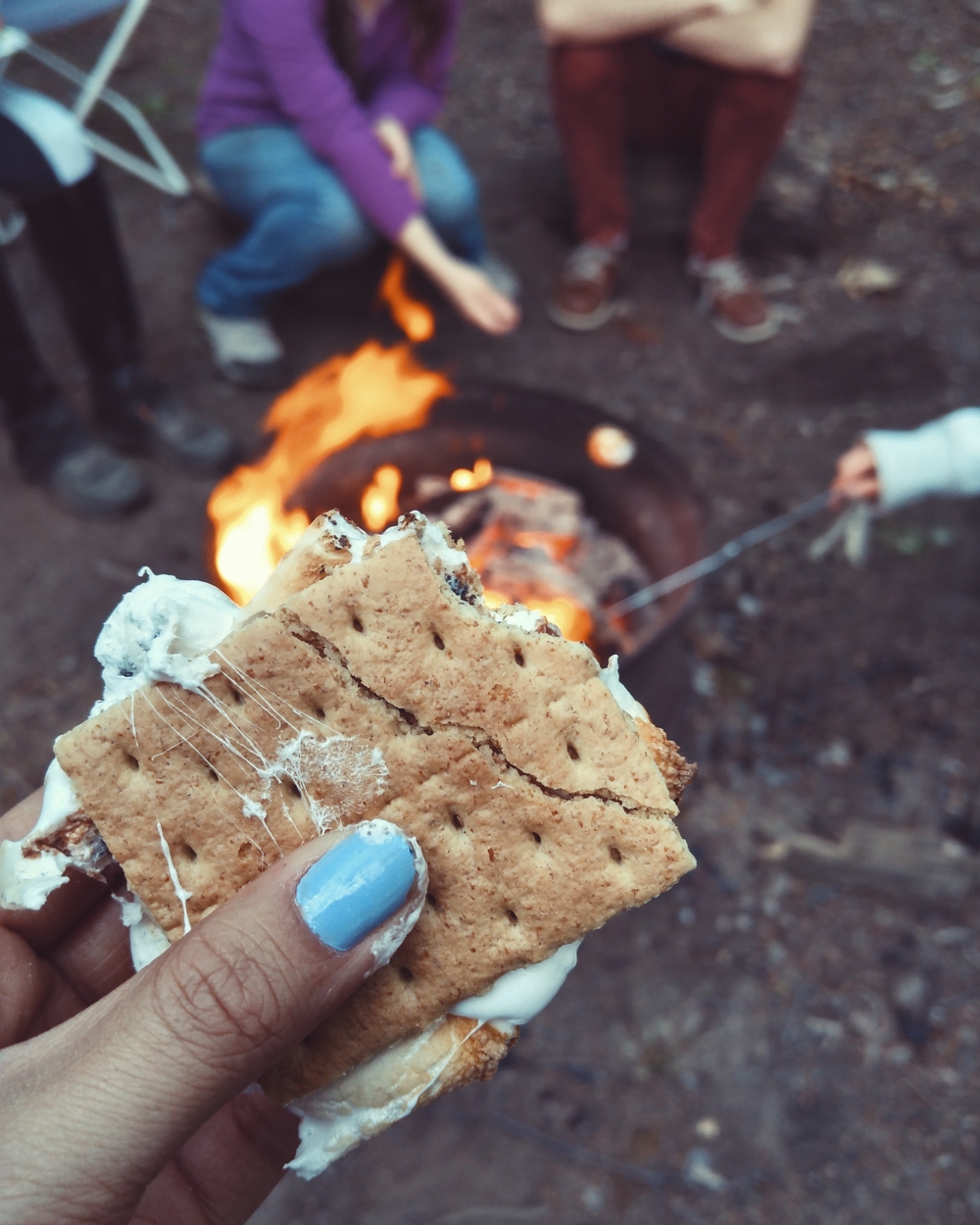 There is a multitude of wafer-type snacks you can substitute for the classic graham cracker. Use single wafer cookies such as Samoas (in keeping with Girl Scout tradition), or a fudge-striped cookie. The latter has the crunch of the Graham and the fudge to complement the chocolate.
You could also bring some home-baked cookies to your campfire as a cracker substitute. Though some may disagree, it is best to keep your cookies simple if you choose to do this. A snickerdoodle, a box cake cookie, and others will help maintain order in your s'more.
Instead of straight chocolate, get some peanut butter and/or caramel in there. Reese's Peanut Butter Cups, Kit Kats, Rolo's, Crunch Bars, and more are acceptable. With the wide variety of offerings from Mars and other chocolate companies, there's no shortage of options.
Some will submit that you can go with a non-chocolate candy instead. We at Explore Rexburg do not condone this. But do as you will.
The marshmallow is such a staple, that you'll probably not want to mess around too much with this. But you do have the option of trying different sizes and flavors of marshmallows. Peeps also give you the same texture, but they're Peeps. Use discretion.

Marshmallow cooking methods
A fire is a classic and preferred method to cook your s'more. There are different ways you can approach the fire with your marshmallows.
Burn it to a crisp
Let the flames lick your marshmallow into a crispy, black heap. From here you can either keep the burnt skin or pull it gently off and keep the gooey interior.
Golden brown
Often referred to as "golden perfection," this is the sweet spot for many. Keep your marshmallow at a medium distance from the coals and let the heat cook the mallow. This allows the marshmallow to maintain a gooey consistency, but keep its malleable form.
As-is, or warmed up
For some, the marshmallow is perfect as it comes out of the bag, so they don't even mess with it. You can also just warm it up by the fire if you wish.
Stick to your basics
You don't have to take our word from it. There are true professionals out there to guide you. Here's one now.[vc_raw_html]JTNDZGl2JTIwc3R5bGUlM0QlMjJwb3NpdGlvbiUzQXJlbGF0aXZlJTNCaGVpZ2h0JTNBMCUzQnBhZGRpbmctYm90dG9tJTNBNzUuMCUyNSUyMiUzRSUzQ2lmcmFtZSUyMHNyYyUzRCUyMmh0dHBzJTNBJTJGJTJGd3d3LnlvdXR1YmUuY29tJTJGZW1iZWQlMkZYbGRkRFpra3hDYyUzRmVjdmVyJTNEMiUyMiUyMHdpZHRoJTNEJTIyNDgwJTIyJTIwaGVpZ2h0JTNEJTIyMzYwJTIyJTIwZnJhbWVib3JkZXIlM0QlMjIwJTIyJTIwc3R5bGUlM0QlMjJwb3NpdGlvbiUzQWFic29sdXRlJTNCd2lkdGglM0ExMDAlMjUlM0JoZWlnaHQlM0ExMDAlMjUlM0JsZWZ0JTNBMCUyMiUyMGFsbG93ZnVsbHNjcmVlbiUzRSUzQyUyRmlmcmFtZSUzRSUzQyUyRmRpdiUzRQ==[/vc_raw_html]
There's still a lot of camping to be done this summer, and no campfire is complete without a delicious s'more. No matter how you serve it up, s'mores are a true blue American tradition. So thank a Girl Scout and have a s'more.